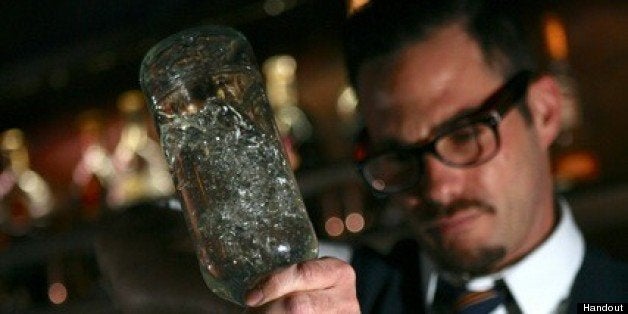 In recent years, Miami's cocktail culture has boomed thanks to a few pioneers who are dedicated to the craft of a perfectly executed drink. At the forefront of Miami's cocktail authority is master mixologist Tommy Merolla, a native of Providence, Rhode Island who adopted Miami as his home 18 years ago.
As the son of two musicians and the grandson of a bar owner in the 1950s, Merolla has been around bars, booze, and live music all his life. Recently, he's been at the helm of Miami's best cocktail bars and lounges, including the Delano, B Bar, Sunset Lounge at the Mondrian, and the Living Room at the W South Beach, just to name a few.
These days, you can imbibe one of his enticing handcrafted cocktails at The Hoxton, an "urban beach house" in the heart of Brickell, where he's currently heading up the bar program. The Hoxton is also launching a mixology course on August 8, where attendees can get a step-by-step lesson from Merolla on how to prepare three classics: the mojito, pisco sour, and old fashioned. He'll answer questions and explain the workings of different bar tools -- all in his charmingly heavy New England accent.
Who are you:
Thomas "Tommy" Merolla
First memory of Miami?
Driving a U-Haul truck down 395 at 18yrs old. I remember seeing Miami's Skyline and the neon 'Welcome to Miami Beach' sign for the first time and just having this feeling that I was in for an adventure -- I just had no idea it was going to last 18 years and counting.

Current neighborhood:
I live in Brickell.

Current gig:
I always have a few projects in the works. I just helped The Hoxton revamp their cocktail program. I am also currently consulting on a couple upcoming programs.

Favorite 'Only in Miami' moment?
It's actually just seeing how all of Miami Beach turns into one huge nonstop party during Miami Music Conference from sun up 'til sun down and seeing the fans going home as I am waking up for a run. But then again, I guess that's pretty much every weekend.

What's your idea of a perfect day in Miami?
Waking up early and going for swim and relaxing at the beach for a few hours. Go home and make a nice home cooked meal and take a siesta. Meet up with good friends and go out for a nice dinner, then hit a couple of my favorite cocktail bars. Friends, cocktails, and good food is always a winning combo!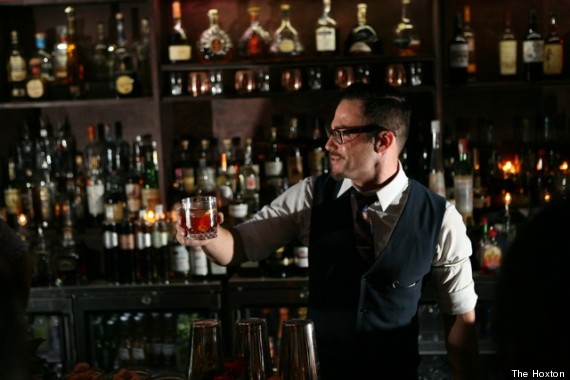 Do you prefer I-395 or I-95?
I-395. It's closer to me when I commute to the beach and it's closer to the beach I like to go to, which is usually South of Fifth.

Where do you take out-of-towners?
The Delano Hotel because it was such a big part of my adult life and simply because it's beautifully designed, iconic. And then of course the beach, Lincoln Road, and all over downtown. If there is time, I love going to Key West so people can expereince the real southern laid back bohemian feel of it. Of course, there's also my favorite bars such as The Hoxton, Blackbird Ordinary, The Regent, The Broken Shaker, and the bar at the Lord Balfour hotel.

What sets your style of mixology apart from the rest?
I'm just a byproduct of passion and have worked with some amazingly talented people throughout my career. I'm not trying to reinvent the wheel, however I also never stop learning, studying, and evolving.

What's your secret to making the perfect cocktail?
Knowing the proper techniques, having the correct information and most importantly, having enough passion to execute every cocktail exactly the same way every single time.

What's your favorite ingredient to use?
It usually changes from week to week. At the moment, I would have to say whiskey -- I'm currently into putting unique twists on an Old Fashioned.

Your favorite drink:
My favorite drink of the week is called a Downing Street. It's a Ocho Anejo, gently stirred with Aperol and Cocchi Vermouth di Torino, with a grapefruit peel. Simple and perfectly balanced.

Most overrated drink:
Any drink that someone orders with rum, tequila or whiskey and an added mixer that ruins all the hard work that brand put into the bottle.
What's one of your best customer stories?
In the late 90s an oil mogul purchased 8 bottles of Cristal on a Wednesday night at Rose Bar while I was just working as a barback. Those were the days during the .com boom and the real estate boom. So much money was flying around.

How do you think Miami's cocktail culture measures up against cities like New York and San Francisco?
I think cities like New York and San Francisco are amazing for cocktails, have very talented and inspiring bar tenders, and have many more options to choose from as far as cocktail bars. However, even though Miami has a smaller talent pool, the creativity and passion in that talent pool is as good in Miami as in any other city.

Last big project you did:
The Lord Balfour hotel in Miami Beach. They're currently in their soft opening phase and should be in full swing in about a month. I put together a little craft program for them that I am very pleased about.

Upcoming projects you're working on:
I'm going to help open and create a cocktail program for Vassilii Group's new project Wolf 44 in Brickell, hopefully by late this year. I'm also working on a cocktail book and business plan to open my own place in the next year or two.

Why do you hate Miami?
I hate Miami when I'm forced to make Blue Long Islands when working downtown.

Why do you love Miami?
I love the melting pot of cultures, the gorgeous beach, the beautiful people, and of course the smell of excitement in the air. It's almost tangible.

In a word or two or three, Miami is...
Growing fast!
REAL LIFE. REAL NEWS. REAL VOICES.
Help us tell more of the stories that matter from voices that too often remain unheard.