NEW YORK -- Tommy Mottola remembers a childhood filled with the lively rhythms of Latin music, hearing it trickle out of houses and shops in his neighborhood in the Bronx. Such is the memory the former Sony Music executive, who's responsible for some of the biggest names in Latin music, recalled as he introduced his new HBO documentary "The Latin Explosion: A New America" at its New York premiere Tuesday.
"It's part of my DNA now," Mottola said of Latino culture, in an exclusive interview with The Huffington Post later.
"The Latin Explosion" features many of Mottola's musical proteges and takes audiences on a historical musical journey, highlighting how Latino artists have influenced American culture from the 1940s to today. The documentary covers the impact of icons like Desi Arnaz, Carlos Santana, Selena Quintanilla, Ricky Martin and many more while weaving in facts about the growing power of the Latino demographic in the United States.
During his 15 years at Sony Music, Mottola was credited for launching the careers of Mariah Carey, Beyoncé and Celine Dion. He guided several Latin artists -- including Gloria Estefan, Ricky Martin, Shakira, J.Lo, Marc Anthony and more -- to international stardom during a time period in music history known as The Latin Explosion.
Mottola used that Latin music boom as a storytelling tool for his documentary, and says it helps draws attention to important issues like immigration, politics and Latino economic power.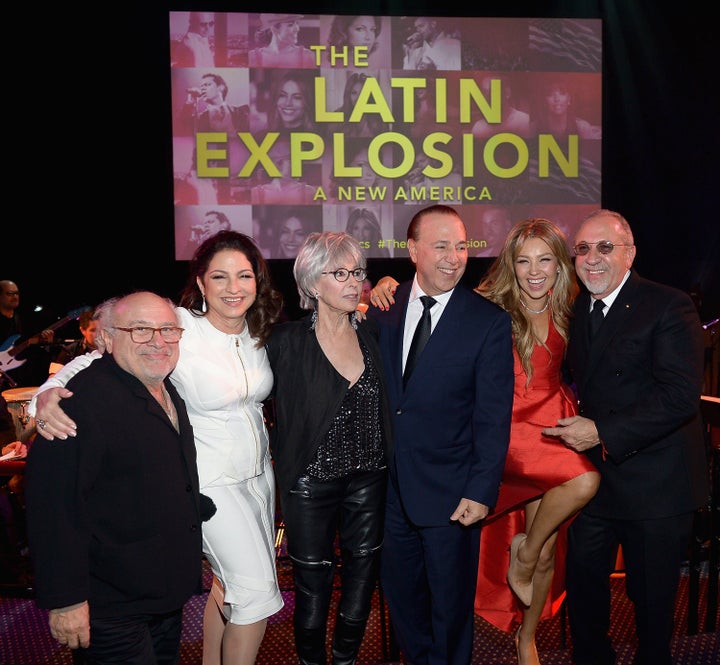 "I wanted to take advantage of the music boom because I knew it would get people's attention, and it would make them pay attention to really important facts," Mottola, who executive produced the project, said. "It was a good thing to carry forward, thematically. To be able to use that brand, so to speak, to tell this really big, very important story about people who are the backbone and the spine of this country."
In fact, the way Mottola sees it, delving into the history of the music was just the "cherry on the cake." The real goal of the documentary, he said, was to "explain to audiences all over the world, particularly in America, the power and the importance of this demographic and the culture."
The documentary highlights facts pertaining to Latinos' political influence and growing buying power, which is over $1.4 trillion today. A point, he said, was perfectly summarized by Mr. 305 in the documentary.
"We see Pitbull at the end say: 'First we clean your houses, now we own the houses; first we serve you in the restaurants, now we own the restaurants; and it won't be long before we get to the White House'," Mottola said. "That to me is the story, that's the whole story right there."
And that sentiment, on the growing power and relevance of the Latino demographic, is what Mottola hopes audiences will take take away from his new project.
"In my opinion, most people in this country even though they say 'Oh we understand the power of Latinos and [we] know what they mean to products' people really just... I find they still don't get it," he lamented.
In the documentary, Latin artists' lives and careers are used to parallel the state of Latinos in the country through the decades, while emphasizing their impact on U.S. pop culture. One name, however, was noticeably missing from the musical roster: Enrique Iglesias, the Spanish-singer who was the best-selling Latin recording artist at the turn of the century.
Mottola attributed this, and other absent artists, to a matter of time and proximity.
"For the most part it came down to most of the people I had the chance to work with," he said. "Unfortunately, I didn't work with Juanes or Enrique."
He added that Iglesias is a good friend of his and he had intended for him to be featured in the film but "there was only so much time," he said. "We got carried away and we had too many [artists]."
But the benefits of featuring artists he'd worked with became evident when it was time to collect footage and music. Mottola said his team began working on the documentary in 2012 and said gathering clips from the 40s, 50s and 60s was "painstaking process." But it could've been worse.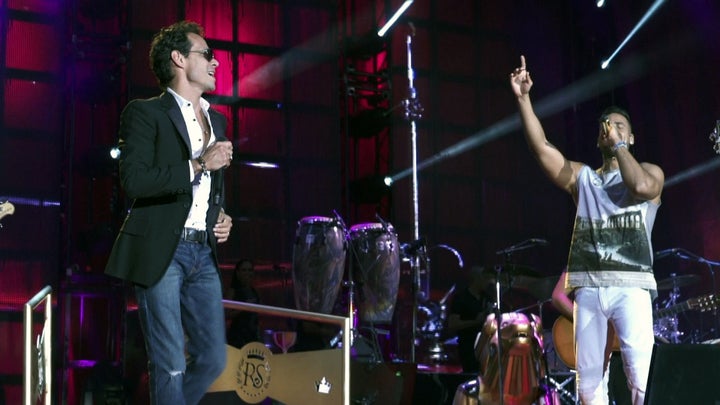 "Luckily, because of the things I've done, and everything I did running that company, Sony, there was a lot of access that I had," he said. "I've worked with most people that were the gatekeepers of that footage. So we had to identify what we wanted but getting it really wasn't that hard."
And many of his closest industry friends were present at HBO special's New York premiere at The Hudson Theater, including Gloria and Emilio Estefan, José Feliciano, Rita Moreno, Pitbull, and more. More importantly to him was the presence of his wife, Mexican singer and actress Thalía.
"I did this [documentary] more as a dedication and a gift to my wife and to my two children, more than anything," Mottola told HuffPost. "I've been married for 15 years now, living together with a girl from Mexico City for 17 years. My children are Latin American as well as Italian-American. It's sort of a full-circle move for me."
And all of Mottola's special guests cheered along with the rest of the crowd as Eva Longoria, Sofia Vergara, George Lopez and more appeared on-screen to give inspiring soundbites of how Latinos are changing the face of America, politically and culturally.
"People have to realize that now Latinos are part of the fabric of this country -- they are Americans, and certainly a part of our culture," Mottola said. "[They] will be become your doctors, lawyers and certainly between fifteen [to] twenty years, or maybe even in a year and half, will end up in the White House."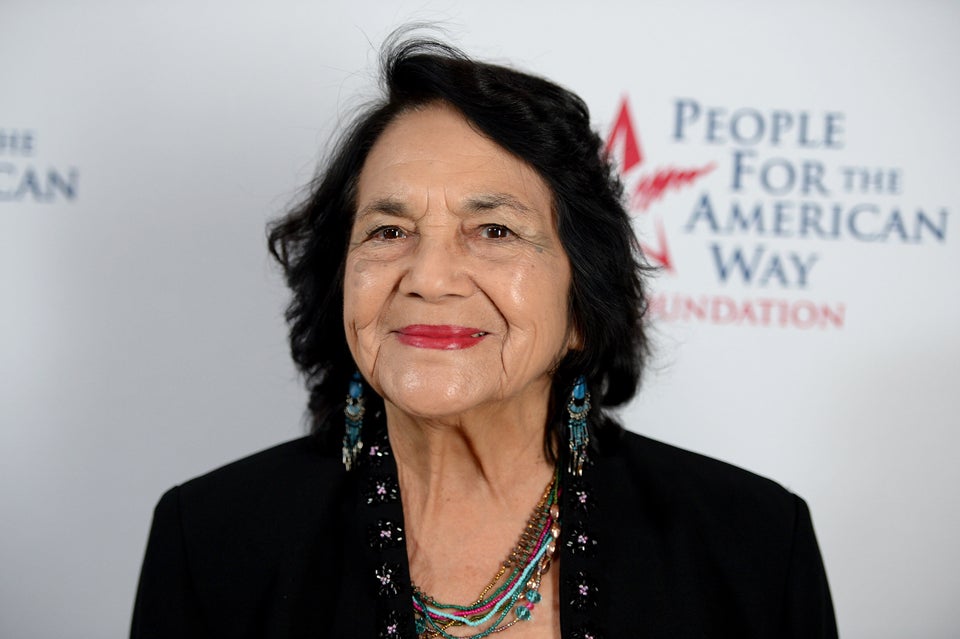 9 Badass Latinas Every American Should Thank