WAUSAU, Wis. -- Wisconsin GOP Senate candidate Tommy Thompson sold his stock in companies that do business with Iran on Thursday, after The Huffington Post reported his significant investments.
Thompson's revelation came during his debate against Rep. Tammy Baldwin (D-Wis.) at the University of Wisconsin-Marathon Center for Civic Engagement on Thursday night. Thompson has accused Baldwin of being too soft on Iran during their bitter campaign for Wisconsin's open Senate seat.
"I didn't know about the fact that my stockbroker had purchased two shares, two company's stocks. I sold it. I sold it today," said Thompson, when Baldwin brought up the issue. The audience reacted audibly in surprise. "I do not -- I found out today, and I sold it today. I do not tolerate -- I do not agree with anybody doing business with Iran -- none whatsoever."
The Huffington Post's Mike McAuliff reported Thompson's investments just hours before the debate, noting that he owned up to $50,000 worth of stock in firms that do business with Iran.
As of Thursday afternoon, Thompson owned $1,000 to $15,000 worth of stock in the mining operator Rio Tinto, which partners with Iran in mining uranium. Iran owns 15 percent of a uranium mining operation in Namibia with Rio Tinto.
Thompson also owned up to $17,000 worth of stock in Royal Dutch Shell -- which the Government Accountability Office has identified as doing business with Iran -- and from $1,000 to $15,000 worth of stock in oil services firm Schlumberger, which has been probed by the Justice Department over its Iran work.
Thompson also had smaller investments in the China National Offshore Oil Corp., Gazprom and the China National Petroleum Corp., which were also cited by the GAO.
Thompson did not specify which companies' stock he divested. His communications director, Lisa Boothe, when asked to name the investments, sent an email that said: "Unlike Tammy Baldwin's record of support for Iran, Governor Thompson took decisive action when he became aware of stocks his financial adviser purchased. He rid himself of them as soon as he found out they had any business dealings with Iran, no matter how minor. The Governor is actively reviewing all of his investments to ensure that does not invest in a company that does business with Iran."
State Rep. Donna Seidel (D-Wausau), who is backing Baldwin, said she doubted Thompson didn't know about his investments.
"He indicated that he was unaware of the holdings of the companies he had in Iran, and yet, he filed about 10 months ago, a financial disclosure listing those companies. So that was certainly an interesting response," said Seidel.
At times, the debate was less than the famous "Wisconsin nice," with the candidates jumping in and interrupting each other. Thompson was particularly animated during the Iran exchange when Baldwin cut in.
"Let me finish! You had two minutes. Let me finish! You want to interrupt me, Joe Biden, just give me a chance," said Thompson, referring to the vice presidential debate last week where the Biden frequently jumped in while Rep. Paul Ryan (R-Wis.) was talking. In response to Thompson's jab, audience members -- who had been mostly silent -- booed.
The issue of Iran has come to the forefront because Thompson has been hammering Baldwin on it in recent days. He recently called the congresswoman "anti-Jewish" and "anti-Israel" for not being tough enough on Iran.
Thompson has said believes the U.S. must consider cutting off trade with Russia, China and other countries that still do business with Iran.
The former Wisconsin governor also repeatedly tried to go after Baldwin for receiving support from an "organization that supports Iran."
His accusation was based on a report in the Milwaukee Journal Sentinel that showed Baldwin has received nearly $60,000 in donations from the Council for a Livable World, which opposes U.S. sanctions on Iran. The group opposes nuclear weapons, but says Iran currently does not pose a threat to the U.S.
Thompson repeatedly bungled the name of the group, however, and referred to it as the "Council for a Living Earth," allowing Baldwin an opportunity to avoid directly addressing the issue.
"I have never heard of the Council for a Living Earth," said Baldwin.
"The real story tonight is that Madison liberal Tammy Baldwin lied to Wisconsin families," Thompson's spokeswoman, Boothe, said in an email after the debate. "She took $60,000 from the Council for a Livable World which opposes sanctions on Iran and supports the current regime. The organization's views on foreign policy directly match Tammy Baldwin's opposition of sanctions on Iran and a continued pattern of putting the interests of left-wing groups above the security of the nation."
While Baldwin has voted against sanctions for Iran in the past, more recently she has voted for them, and her campaign has pointed to other bills she has supported condemning Iran's human rights violations.
According to a HuffPost Pollster average of polls in the race, Baldwin currently has a 4.5 percentage point lead over Thompson.
Before You Go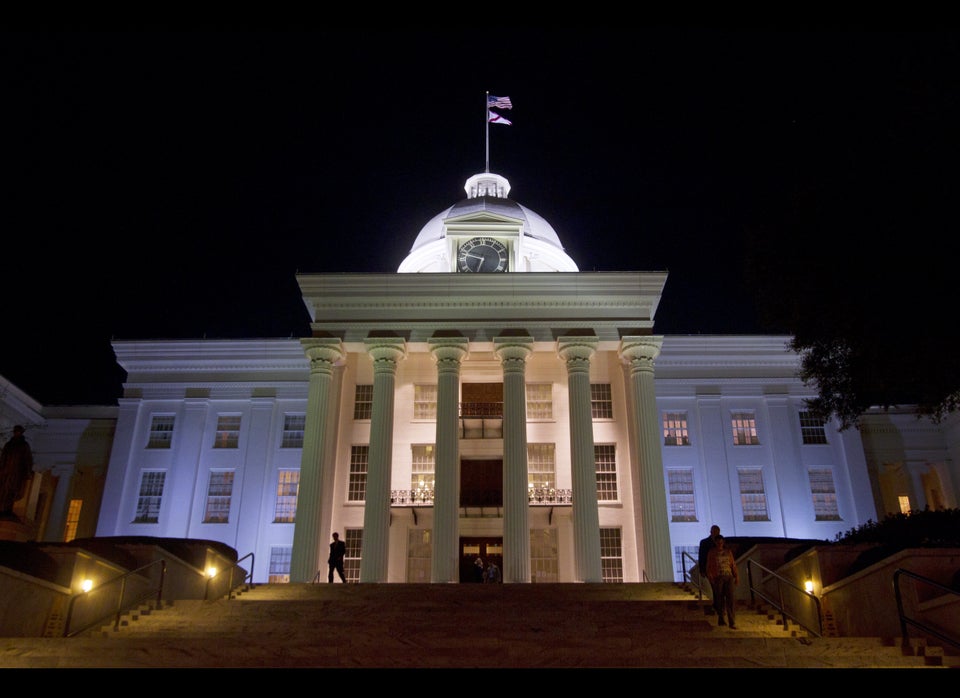 U.S. State Capitol Buildings
Popular in the Community