"Without the blues, I cannot live." ~ Tomo Fujita
If he is not teaching young, aspiring guitar students at the Berklee College of Music, you can find Tomo Fujita hosting guitar clinics, posting guitar videos to his YouTube channel, or on stage playing his unique blend of jazz and blues music. I caught up with Tomo to talk about his influences, the importance of songs, and his teaching philosophies.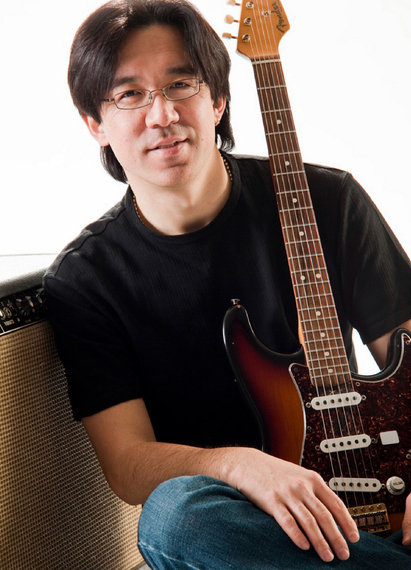 Who were your earliest guitar influences?
TF: The first person to inspire me was a Japanese singer, but he's not well known in America, so I would have to say Larry Carlton. He was the first one who really influenced me in so many ways. That's also when I started listening to Joe Pass. I took lessons from him. I wanted to follow in a similar way because Larry Carlton joined The Crusaders for many years to experience his bluesy R&B feel. I had read that when Larry Carlton was 16 to 18 he took lessons from Joe Pass. That was my passion, so I wanted to do a similar thing. So I came to the United States to study music, but then I stopped playing in blues bands and started playing gospel and going to church every Sunday to work on feel.
Your music tends to be a mash-up of the blues, jazz, and R&B with a little rock. Do you relate to any specific genre of music more than another?
TF: Without the blues, I cannot live. Without the blues, there is no jazz or funk. Once I got the blues, that really made me play better in jazz and in funk. I went to Berklee for four years, and that is when I felt that I could not play blues. I was learning a little bit of theory and could play blues pretty well, but that doesn't mean, really, really, really well--with simplicity. After four years at Berklee, I decided to play blues again. I bought a bunch of old records and stayed up late at night listening to them. Then finally, three or four years later, I got the blues. That's when everything started to melt together--naturally.
From your perspective, explain to me how important "songs" are to the guitar player. It's not just about chords and solos, right?
TF: Exactly. See, I don't sing songs, so I really have to respect deeply about songs. I have to play melodies. It's not so much about showing how much skills that I have in chord scales or harmony scales, I have to have some sort of melody space and rhythmic feel over the song. A lot of people on YouTube learn to play songs note-for-note, and that's very impressive, but live music is being able to connect to the audience--so you have to be able to say something simple to the audience, otherwise they won't get it. So I always try to play something that a five-year-old can understand. That's why I don't really shred. I'm really into blues--simplicity--but, song oriented.
Almost all of your songs are instrumentally driven. Do you ever write songs with lyrics?
TF: No. Never. But my wish is maybe someday I'll sing, but I don't know (laughs).
When you teach guitar to students, do you find a difference between your American students and students back in Japan? Maybe how they approach music or learning?
TF: It's hard to say. Japanese people tend to analyze a little too much. Since YouTube and Google, everybody has too much information to choose from. So I have to teach them how to learn with less information. In other words, having limitations is a great way to focus on something. They will analyze with any information from anywhere. So if I play something nice and jazzy, most people say, "tell me what scale you are playing?" It's like if I'm telling you a good story and you ask me, what kind of sentence are you using? How many nouns are you using? I don't know.
You have taught at Berklee for many years. You must have encountered thousands of aspiring guitar players. Is there something that you notice that stands out in the most promising students right away?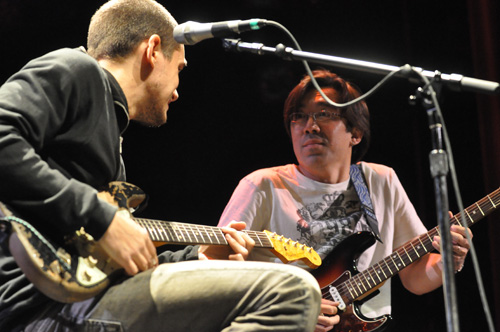 John Mayer and Tomo Fujita. Photo courtesy Phil Farnsworth.
TF: That's hard to say. Because sometimes, there are some students who can play really well, are skillful--musically, but that doesn't mean that it leads to originality right away. I can tell that somebody is skillful, but also sometimes I can see when somebody has a little bit more taste but has a little rough technique or weak timing. Even John Mayer was talented at playing the blues, but we still had to push him. Another guy named Eric Crasno, he played with Soulive, when he took my lessons he was only sixteen. So I taught him about Graham Green and to listen to James Brown. He took that far.
What are the most important things that you express to each student that you hope that they take away from your teachings?
TF: Timing is more important than the right notes, and to have rhythm.
What is the best bit of advice that you have received from a fellow musician?
TF: Joe Pass told me about having choices. He told me, "Think simple". I teach a class on triads at Berklee--triads only contain three notes. I like simplicity.
What is your favorite album of all time?
TF: Donny Hathaway "Live". It's R&B and it's most important.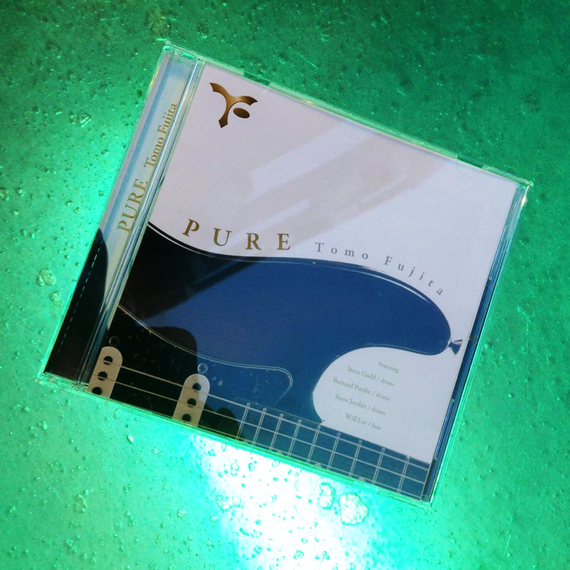 How do you come up with your song titles? For instance, your song Driving in Texas actually sounds and feels like a gritty, Texas blues song.
TF: I have to tell you a funny thing. People tell me that they can see a picture or a view from listening to my music. But since I don't use lyrics, I have to use my imagination. But in Driving in Texas, I didn't name that song, because I'm horrible about naming songs. I always ask my wife or my kids. So I played the song to my little kid Michael and said, "what do you think of this song?" And he says, "I think this is Driving in Texas."
So who came up with the title for your song Catty Woman on your CD, Right Place, Right Time? That couldn't have been one of your kids.
TF: (laughing) Oh, my wife. What happened is, that song was supposed to be a theme song for an F1 Japanese race car driver, but he didn't win. So my old manager said, can you make this song a little bit angrier, because you always have nice melodies because of my personality--I don't get angry. So, it's almost like a catty woman fighting, or the idea, like they're crazy, right? That's the kind of sound I heard when they drive, but it's not what I usually play.
REAL LIFE. REAL NEWS. REAL VOICES.
Help us tell more of the stories that matter from voices that too often remain unheard.