KANSAS CITY, Mo. ― It was just after 8 p.m. last Friday at the Living Room Theatre, a repurposed auto showroom in downtown Kansas City, when the lights went down.
One by one, the cast of area locals took the stage and addressed the audience. "I'm the playwright," one said. "No, I'm the playwright!" said another. "No, I'm the playwright!"
So begins "Tomorrow Inshallah," a play that wants its audience to know right away: These are the voices of real people in the Kansas City area, all of whom have urgent stories to tell about being Muslim in America in 2018.
"Tomorrow Inshallah," nearing the end of its three-week premiere at the Living Room, is based on the reporting of two HuffPost journalists, Rowaida Abdelaziz and Christopher Mathias, who earlier this year went from masjid to masjid and house to house in Kansas City, interviewing Muslims about living with Islamophobia.
HuffPost partnered with StoryWorks ― a project of Reveal from the Center for Investigative Reporting that produces documentary theater ― to adapt this reporting for the stage.
Since launching an Islamophobia tracker at HuffPost in 2016 to document the rising anti-Muslim sentiment across the country, Abdelaziz and Mathias noticed a slew of hate incidents — murders, vandalism and harassment — targeting Kansas City's 30,000 Muslims over the past few years.
Their interviews with Kansas City Muslims showed a community both resilient and fearful.
Rehana Lew Mirza, an award-winning playwright and filmmaker based in New York City, weaves these interviews with court hearings and news clips into an hour of drama aimed partially at dispelling some of the most insidious myths about Muslims in America.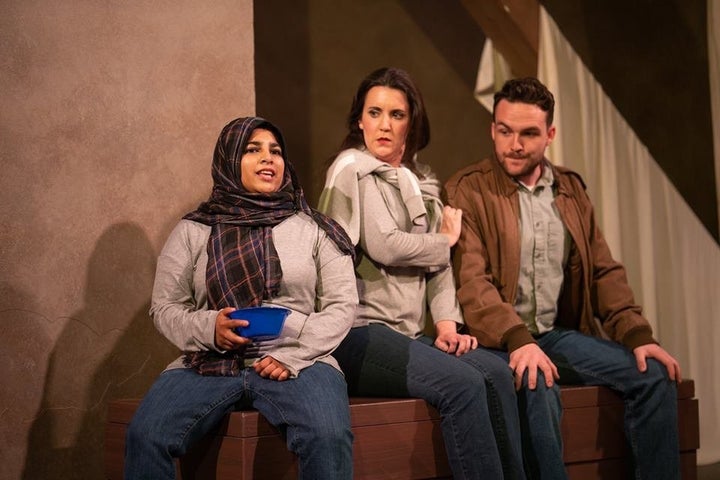 Each production of "Tomorrow Inshallah" is followed by a conversation moderated by Jennifer Welch, the artistic director and co-creator of StoryWorks. Audience members can pose questions to the journalists, members of the play and Muslims in the community.
One audience member was grateful for the opportunity to learn more about the plight of his Muslim neighbors, telling the panel he grew up in a predominantly white neighborhood and was shielded from such interactions for most of his childhood.
Maliha Khan, a local Muslim woman who was interviewed by HuffPost and is represented by an actress in "Tomorrow Inshallah," said watching the play was "surreal" because she had not seen other theater productions that focus on the Muslim-American experience.
When HuffPost first met Khan earlier this year, she spoke about being harassed by customers while working as a cashier during a summer job. She said seeing that encounter replicated on stage validated her experience.
"As Muslims, we're constantly questioning whether what we're feeling is valid or not. So for me it was this moment that was like, 'Wow, other people are also reacting the same way I did,'" Khan said. "To see my part being played, it makes you feel like you're not crazy. To some degree, the play normalized our experience."
Khan said she hopes people who watch the play "come to realize that it's not easy being a Muslim person, especially one that covers her head in this specific country, let alone the world."
"I just hope they now realize what we go through on a daily basis," she said.
"Tomorrow Inshallah" runs until Aug. 5 at the Living Room.
REAL LIFE. REAL NEWS. REAL VOICES.
Help us tell more of the stories that matter from voices that too often remain unheard.