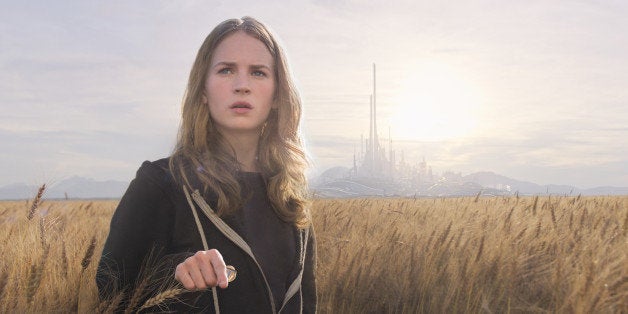 "Tomorrowland" is forecasted to top the Memorial Day Weekend box office. The receipts won't be nearly as hefty as last year's "X-Men: Days of Future Past" or 2013's "Fast & Furious 6," but the movie will nonetheless become one of only a few non-franchise properties to debut at No. 1 this summer. That's even more of a feat given how much secrecy has surrounded the film since it was green-lit in 2011. Inspired by the futuristic region of Disney's theme parks, "Tomorrowland" is a preachy take on the apathy with which humans have treated this planet. But it is not without a deep sense of wonder that director Brad Bird ("The Incredibles," "Mission: Impossible – Ghost Protocol") presents his take on the state of the earthly union. (Bird co-wrote the script with "Lost" and "The Leftovers" co-creator Damon Lindelof, who also earns a story-by credit alongside Entertainment Weekly journalist Jeff Jensen.)
"Tomorrowland' is a secret no more, however. The buzzy $190 million spectacle has two perspectives at its core: that of a young Frank Walker (Thomas Robinson), a precocious kid who attends the 1964 New York World's Fair to present the homemade jet pack he invented. A snooty judge (Hugh Laurie) dismisses Frank's creation after seeing it leaves some functionality to be desired. But wait! An even more precocious young girl named Athena (Raffey Cassidy) tips him off to an underground lair accessed via Disney's "It's a Small World" ride, and there he finds a utopian kingdom that's two or three stylized daydreams removed from the real world. Years later, an ageless Athena tracks down Casey (Britt Robertson), a teenager living with her hothead single father (Tim McGraw) and doting little brother (Pierce Gagnon), who does everything she can to protect the nearby NASA plant from being destroyed. Casey receives a pin that, when touched, transports her -- and only her -- to Tomorrowland, which she comes to discover has been commandeered by that same surly judge who dismissed Frank Walker years ago. Casey tracks down a much older Frank (George Clooney) and insists they rescue this futuristic mecca from doom.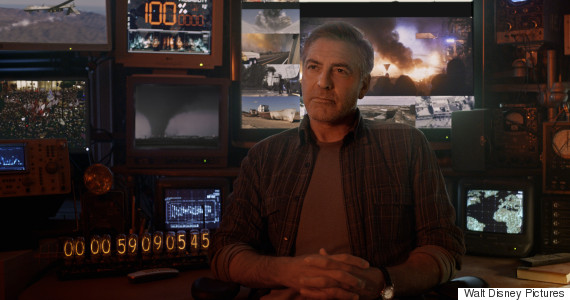 There's a lot of plot in that paragraph, and even if it takes a while for it all to unfold, it only scrapes the surface of "Tomorrowland." There are Big Themes about disregard and environmentalism and pissy worldviews and doomsday media culture and loss of imagination stamped all over the film. Most of them are too heavy-handed, even for a family flick. Still, we wouldn't go so far as to say "Tomorrowland" isn't worth your time. In fact, a lot of it is quite fun and quite refreshing given the tired tropes that both young-adult fare and summer blockbusters cannot escape.
Here are a few things that make Bird's pageant worth your attention:
1. The three kid actors steal the show.
"Tomorrowland" has to contend with an unremarkable (possibly miscast?) George Clooney, who plays present-day Frank Walker, the cranky Tomorrowland alum who is now living in a secluded house bugged with so many whirling gizmos that it belongs in, well, a sci-fi movie. Clooney isn't phoning it in, per se -- he just doesn't bring much to the table that any moderately gruff middle-aged actor couldn't. Instead, count on the marvel of Britt Robertson, Thomas Robinson and especially Raffey Cassidy as the three charming kiddos at the film's center. Robertson is its lead, despite Clooney getting top billing; she plays the young teen recruited to travel with Frank back to Tomorrowland. Robinson is a wide-eyed delight as the younger Frank in flashback scenes, and Cassidy -- a Felicity Jones look-alike with small roles in "Dark Shadows" and "Snow White and the Huntsman" to her name -- dominates the film as the enigmatic British lass who shepherds most of its action. Cassidy's telling eyes are reminiscent of "Parent Trap"-era Lindsay Lohan, and she boasts the same confident comedic caliber to boot.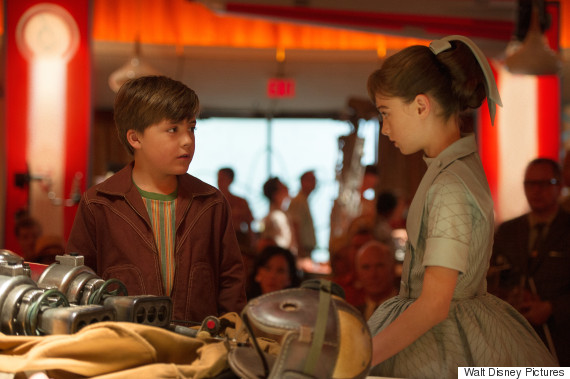 2. The world of Tomorrowland is deeply imaginative.
The moralizing themes of the titular tract -- and the convoluted way the script presents them -- weigh down the second half of "Tomorrowland," but that only barely detracts from the stunning visuals punctuating what resembles a functional amusement park. Maglev trains look like roller-coasters zipping around a plaza of skyscrapers, while a pristine blue sky characterizes a utopia that's both idealistic and utilitarian. Brad Bird and production designer Scott Chambliss ("Alias," "Star Trek") have created a landscape that begs for dreams to be dreamed and new horizons to be plowed.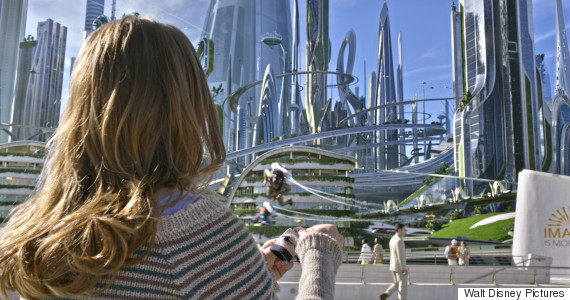 3. Kathryn Hahn and Keegan-Michael Key make fun cameos.
The film's action, centered on a world where collective humanity has shrugged off things like climate control and space exploration, kicks into high gear once Casey (Robertson) leaves home to figure out why she ended up with a mysterious yellow pin ornamented with a blue "T" that transports her to the faraway Tomorrowland. She finds a Texas memorabilia shop looking for the same item on eBay, and after traveling there, meets the kooky married owners whose robotic mannerisms quickly raise suspicions. They're played by Kathryn Hahn and Keegan-Michael Key, both game to embrace the silliness of their scene, which whips out the laser guns as soon as it's clear that these two are not what they seem. Cue clever "Star Wars" allusions throughout.
4. This is a rare non-franchise blockbuster with a great female role model at the center.
"Tomorrowland" is technically an existing property, but it doesn't squeeze into the same franchise category as, say, "The Hunger Games" or "Divergent," two recent literary adaptations with stellar female leads. We know nothing about the "Tomorrowland" players before the movie's first frame, which makes it all the more rewarding to take this journey with the ambitious Casey at its helm. That shouldn't need to be something we celebrate, but considering last year's highest-grossing non-franchise film with a female lead was the very silly "Lucy," it is. Vulture's David Edelstein called this the "anti-'Hunger Games,'" and that makes sense. Katniss Everdeen is worth rooting for, but it's nice to spend time with a heroine whose action sequences don't involve killing other kids or contending with the "faction" to which she must subscribe. That isn't to say the "I'd Love to Teach the World to Sing"-style ending works, but it does add a certain freshness when a movie doesn't need to position the female protagonist in terms of her willingness to take no prisoners or contend with "Fault in Our Stars"-esque tragedy.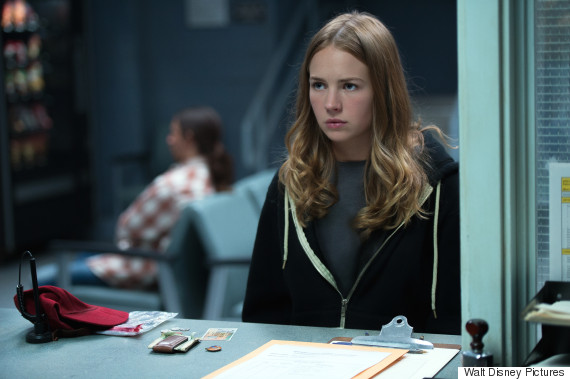 5. Brad Bird and Co. do what most high-voltage blockbusters don't: They manage not to overclog the action.
If there's any reason to bypass comic-book movies -- and apparently there aren't many reasons, given their box-office stamina -- it's because most of them borrow the same plot beats and resort to similar cycles of endless action sequences sandwiched by slight exposition. But the action in "Tomorrowland" remains secondary to the plot. The script doesn't shy away from letting its characters talk, and even with glaring contrivances, it feels like (depressingly) new terrain to see a contemporary summer blockbuster grant its characters the space to think and breathe and brainstorm. That part of Bird's approach marks another quality that sets it apart from the many YA franchises serving action ahead of characterization.
"Tomorrowland" opens in wide release on May 22.
Before You Go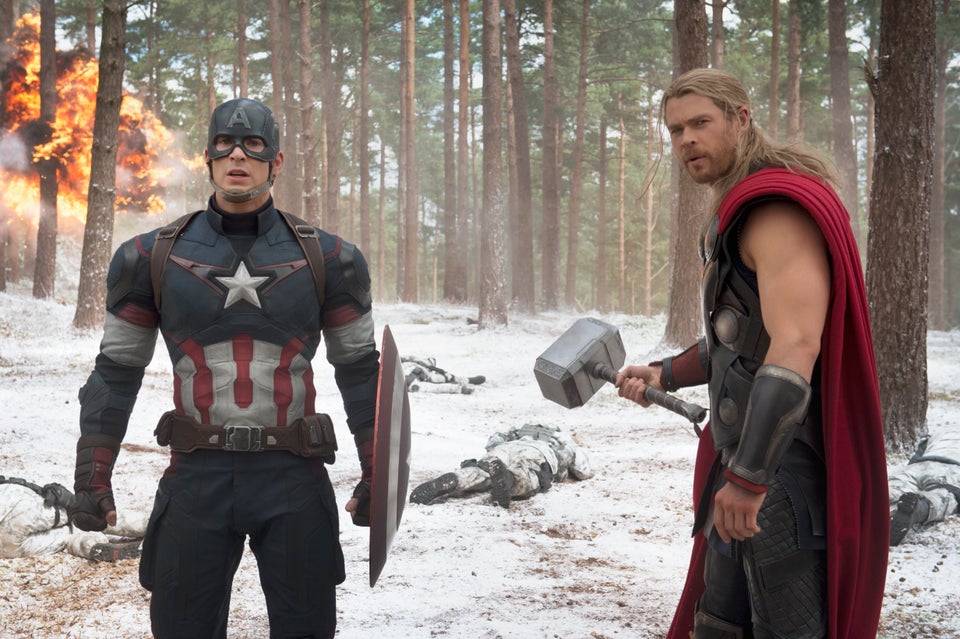 Summer Movie Preview 2015
Popular in the Community