When TomorrowWorld lands in Georgia's Chattahoochee Hills in late September, the mega dance music festival will have notched nine successful events in its native Boom, Belgium (where it's known as Tomorrowland). ID&T, the parent company behind the festival, will have hosted countless more festivals across the world and sold millions of tickets to events split across a myriad of brands including the truly global Sensation, Q Dance, Mystery Land and Dirty Dutch.
But aside from another long weekend with lots of loud music and the DJs who headline plenty of other festivals around the world, what does TomorrowWorld offer? HuffPost Entertainment sought out three veteran Tomorrowland superfans to get a sense of what attendees of TomorrowWorld -- the first event of its kind outside of Belgium -- can expect. Here are their thoughts.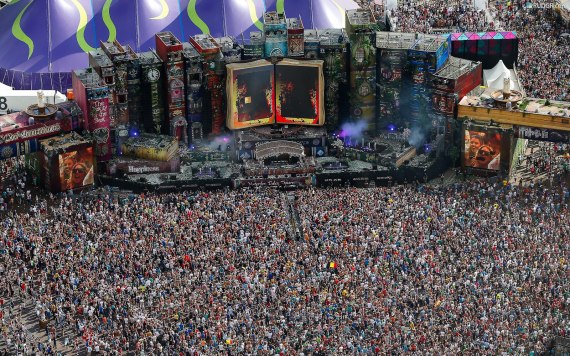 The Site
Tomorrowland takes place in Boom, a small town that's close to Antwerp. The lush setting, replete with lakes, hills and, well, nature, helps set the tone for an event that prides itself on user experience. ID&T's CEO Ritty van Straalen says that Chattahoochee Hills offer a similarly pleasant backdrop. Here's what superfans had to say about how the atmosphere factors into the overall experience.
"The whole site fits the theme of Tomorrowland in giving a very 'dream-like, fantasy-realm,'" says Dominic Phua, who has attended in 2011 and 2012. "A music heaven -- the costumes, the props, the décor. Another thing I loved was the amount of space that was available. It didn't feel congested one bit. People could spend time just walking around taking in the sights and sounds."
Peter Plum, who has attended seven Tomorrowlands and plans to attend this year's edition as well, agrees. "De Schorre is an excellent place and it contributes by its lake, beach, forests and the 'natural' amphitheater where the main stage is located. That amphitheater is one of the reasons why Tomorrowland is magical." Steve Matthyssen attended Tomorrowland for the first time last year, but he too finds the topography a crucial element in the experience. "of people that are raving there with you," he said. "Most other festivals I've attended usually have a flat main stage, and it really makes all the difference."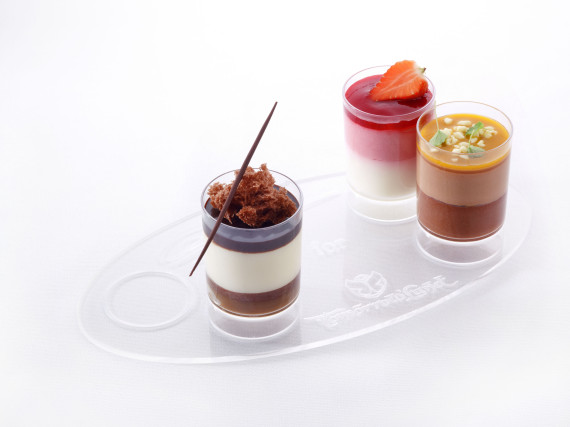 Food & Drink
Music festivals are often characterized by dreary food options that cost way more than they should. The likes of Outside Lands in San Francisco and Governors Ball have endeavored to offer their fans something more than hot dogs and pizza, and TomorrowWorld will boast Michelin starred chefs, a gluten-free area care of Moby, a Gingerbread House, an on-site bakery and more. There are even rumors of a Belgian steak house.
"The food selection goes above and beyond what I was expecting," says Matthyssen. "All the food varieties are covered, the quality is great, queues were very acceptable as there are stands all across the festival grounds."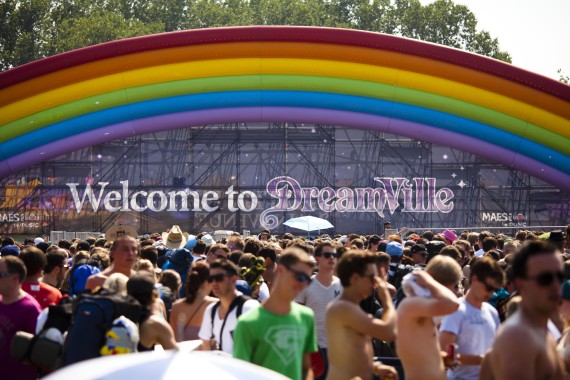 Camping in DreamVille
A number of large-scale festivals offer camping, but TomorrowWorld claims they're taking it a step further by offering tents that are already set up, showers, a food court and a welcome party as well. "You are in the Tomorrowland-fairytale- atmosphere from the first until the last beat on Sunday night," says Plum. "It's as if you entered a dream world for 4-5 days and never have to face reality, or turn off party-mode," Matthyssen adds.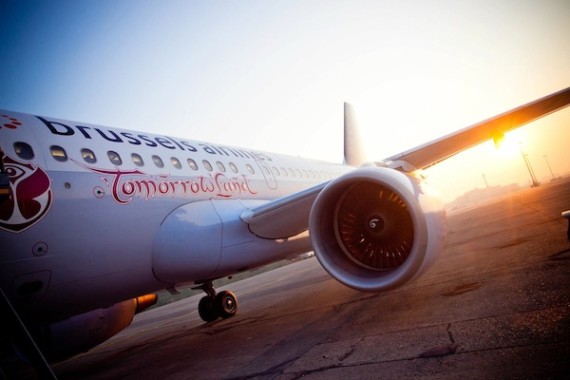 Global Journey
The folks at ID&T want to create as holistic of an experience as possible, which is why they created the Global Journey program, which whisks away attendees on branded planes. A total of 120 flights will be heading to Belgium this year, with 17 prepped for America's first TomorrowWorld. According to the festival, these packages are "the most comprehensive" offered by any major festival. Global Journey customers are able to choose between hotel or DreamVille accommodations.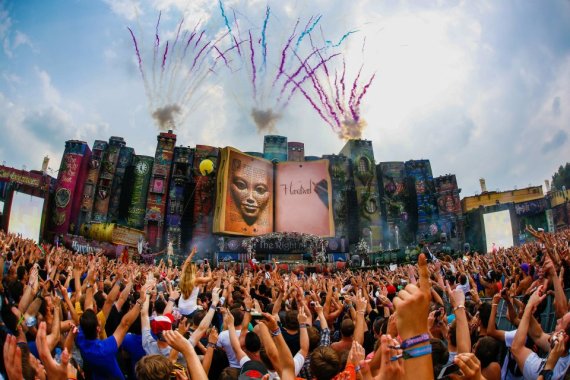 Production & Creative Detail
Finally, onto the main event: how attendees experience the music. Tomorrowland's stages are the stuff of legend -- last year's presented a massive facade of classic books that towered above the DJs and fans (see below). In a festival market that's crowded with promoters able to toss lights and lasers onto scaffolding, it's hard to make an impact. "Being midsummer, a period during which DJs are flying from gig to gig, what makes it stand out is how you can really see the DJs absorb the experience when playing at Tomorrowland," Matthyssen notes. "It truly shows how it's ranked as one of their top gigs, and you can see them stare at the crowd in disbelieve at times at the energy levels that are present, especially on the main stage."
In an earlier interview with The Huffington Post, superstar DJ echoed Matthyssen's thoughts. "It's definitely not just another gig, because it's the first of its kind for me in that part of America," Axwell said. "It's going to be interesting to see how the crowd will be, and that's what I'm most excited about. As for what TomorrowWorld and their plans for America, I'm sure they have all their strategies, but for me, it's more about the crowd."
Calling all HuffPost superfans!
Sign up for membership to become a founding member and help shape HuffPost's next chapter
BEFORE YOU GO
PHOTO GALLERY
Celebrity News & Photos