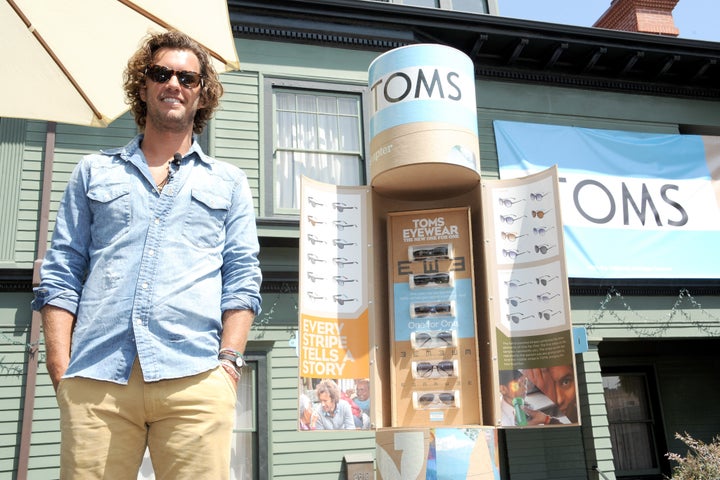 After years of proving that combining style and charitable causes can make a successful business plan, TOMS has decided to expand its philanthropic venture and offer a new product: eyewear.
Blake Mycoskie, founder and CEO of TOMS, spoke in front of a crowd at the California Heritage Museum near Santa Monica, Calif. He said that now, four years after the start of his company in his Venice Beach apartment, was the time to finally expand his "One for One" business model beyond shoes.
Mycoskie had been creating buzz for the launch by carrying a large tube-shaped "mystery box" to speaking events, such as his recent appearance at SXSW.
Just before opening it, he told the crowd in Santa Monica, "What's actually inside this box is not near as important as what it represents."
What was in the box was a presentation of his new eyewear line. Made in Italy, the $135 sunglasses come in three basic styles: Classic 101 (similar to Ray-Ban Wayfarers), Classic 201 (large and round), and Classic 301 (similar to aviators).
Each come in a variety of colors, however they all have one signature design detail. The temples of each pair of sunglasses features a hand-painted color and white stripe. He says it signifies the bond between consumer and person being helped, with the white stripe representing TOMS as bridging the two together.
Just as his company's shoe sales directly funded help to people in need, his eyewear will do the same. Partnered with the Seva Foundation, each sale will directly help the visual health of a person in a developing country.
In a statement, Mycoskie says:
"Sight is a fundamental need. The loss of sight has a dramatic impact on a person's life -- and on his or her family and community. We're so excited to help more people in need and for TOMS to give in a whole new way."
At the Santa Monica event, Mycoskie introduced the following short video that shows his experience working with Seva in Nepal.
According to TOMS, the company has given over one million pairs of shoes to children around the world. But now, as they say in the video, its organizers can't wait to give eyesight to a millionth person.
WATCH:
Blake Mycoskie sat down with HuffPost to discuss the "relief" of finally launching his new product.
He says it all started in 2007 when he returned from a shoe drop in Argentina. Mycoskie immediately saw another area of need that he could help: eyesight.
Mycoskie knew his "One for One" business model was working, however his fledgling company had only just begun and he needed more time.
"We really needed to make sure that we had the infrastructure in place with TOMS Shoes and also, I believe, the community," he says.
Once TOMS was up and running with a loyal fan base, he started planning for the next product, but it was kept hush-hush as a pet project.
"I had a whole little team outside of TOMS... like I had a secret wife or something," he says, laughing. "A mistress, this has been my mistress."
Just as he had to learn the business of shoes from scratch, he committed himself to learn everything about the business of sight -- both in marketing a new product and in choosing a way to invest in the visual health of people in need effectively.
Some of his partners and mentors expressed some concern about starting a new venture so soon after the success of his first, but he knew he had to expand his goals.
"The biggest risk would not be doing something else to help people," he says.
So, Mycoskie spent the past four years building relationships and perfecting his product. After shopping around, he decided to partner with the Seva Foundation. He describes the foundation's organizers as "absolute pros," as they've been in the business of helping people get their eyesight back for over 30 years.
"They have taught me so much," he says. "I've been with them in Nepal, I've sat in the operating room as they've done surgeries. They've really taken me under their wing... They will be critical part for the future of TOMS because, unlike shoes, it's much more complicated and we have to have a great partner like that."
He says the organization helped him learn about three main ways to help: through operations that correct workplace accidents, through prescription glasses, and through cataract surgery. And proceeds from the sale of his sunglasses will help in those specific avenues.
At his Santa Monica appearance, Mycoskie announced: "We're no longer a shoe company, and we're not even an eyewear company. We are the 'One for One' company."
However, his future plans remain as much a mystery to him as to his public.
"I don't know what I can do that could top this," he says. "There will be other 'One for One' products. I don't know when, and I sure don't know what because it's going to have to be as magnificent as this."
So, for now, he wants to focus on the product of four years' research and development -- and encourage others to join in and do some good.
"I think that the fact is that there are 284 million people in the world who are blind or visually impaired, and it's relatively simple to change that," he says. "And when you change that, you change their life -- major."
Related
Popular in the Community