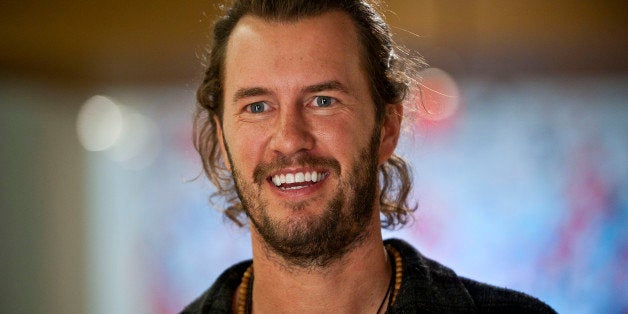 TOMS Shoes has given hundreds of thousands of shoes in Haiti, particularly right after the earthquake when the locals were navigating the rubble and at risk for tetanus. This month, the TOMS Shoes commitment shifts from giving shoes to creating jobs, with a vision of bringing other business into Haiti by forging the path through the red tape and bureaucracy necessary to make Haiti a business-friendly nation. As TOMS founder Blake Mycoskie admits, "Doing business in Haiti is hard." But he's determined to change all of that.
Blake Mycoskie is casual, a bit scruffy, but can hit a camera mark and deliver his company's message in 30 seconds on the nose, like a suited up CEO. He's got a laidback surfer vibe, but speaks with the precision of a fine-tuned press release. He's tanned and athletic, gleaming with a heart of gold, as he describes the seed inspiration for his company -- just to give shoes to kids in Argentina, who needed them for school. And yet this unlikely entrepreneur -- a former Amazing Race competitor -- is the one stepping up to help President Clinton jumpstart an entire country -- Haiti.
Blake Mycoskie started something that matters seven years ago with a simple One for One™ concept -- that every shoe purchased can also fund one for a child in need. As the company moves into its eighth year, he's taking that vision to the next level -- from giving to empowering -- creating jobs. This year, TOMS Shoes will begin manufacturing shoes in a 10,000 square foot manufacturing facility in Port-au-Prince, with the goal of creating 100 new jobs. I caught up with Blake at the Clinton Global Initiative last September to discuss this important commitment.

Natalie Pace. One for One was a great idea. A lot of needy children around the world have benefitted from your policy of giving shoes. Why are you going beyond giving and beginning to manufacture in underserved communities?
Blake Mycoskie: Our mission is to improve people's lives. We've done that by giving shoes. We do that by giving cataract surgeries when people buy our sunglasses. We offer prescription glasses. If you really look at how you improve people's lives, especially in developing countries, one of the main things that they need are jobs. So, we've made a commitment overall as a company to decentralize our manufacturing and to do more manufacturing in the countries where we are giving.
Do you already have manufacturing facilities in other countries?
We have manufacturing going on in Kenya and in South America. We are working on a project in Ethiopia. But the Haiti commitment is probably the most exciting. We will be the only footwear manufacturer in all of Haiti. What Haiti needs more than anything is a company that can talk a success story.
Is your commitment to Haiti inspiring the fashion as well?
We have 31 local artists in Haiti that are painting TOMS Shoes. You can get one-of-a-kind painted TOMS on our website right now.

What do you hope to show the world with this commitment?
If we can show that the quality of the labor, especially the stitching, can be as good as in the U.S. or Europe or wherever, there is an opportunity to have fashion companies manufacture in Haiti. It's not going to change Haiti overnight. But hopefully month by month and year by year, we show and we learn and we can be ambassadors to bring other companies to see that Haiti can really be a great alternative to other manufacturing places in the world.

What role did President Clinton have in this commitment?
I started TOMS about seven years ago. One of the first influential people I met was President Clinton. He invited me up to Harlem. I got to meet with him, and we became fast friends. So, when the earthquake happened, President Clinton came to me and said, "Look. You've got a lot of shoes to give away. Please give some to Haiti." So, hundreds of thousands of shoes have been given in Haiti at the urging of President Clinton and the Clinton Global Initiative. It became very clear that as Haiti got back on its feet, what really was going to be important was development.

What are some of the challenges of setting up manufacturing in Haiti?
Doing business in Haiti is hard. Even being friends with the Prime Minister, there is a lot of red tape, a lot of bureaucracy. So, where President Clinton has been extremely helpful is that when we run into red tape or hit a brick wall, we call him. He calls someone in Haiti, and things happen. It's a nice thing to have that kind of support. And that is a testimony to him and his commitment to Haiti, but also to being a CGI member and them having a vested interest in us being successful in Haiti.

With you stepping up to do business in Haiti, is it possible that Haiti will become more business-friendly?
Absolutely. The new President and Prime Minister both see that if they're going to do what they need to do, they have to be business-friendly, especially with the Prime Minister coming from the private sector and being an entrepreneur himself. He knows how business can be good for the country.

Describe how your life changed when you met those village children in Argentina.
When I started TOMS it was simple, small idea. There were kids in this one village who needed shoes to go to school. I knew that education is critical to poverty alleviation. So, I was going to sell this cool espadrille at Venice Beach, and we'll get these kids shoes, and that gives me an excuse to travel back there twice a year, and it will be a fun project. Little did I know that I was signing up for the ride of a lifetime.

It sounds like your love of travel played a role in sparking TOMS Shoes, perhaps more than formal training and education.
Traveling does change you. Seeing the joy that people have who have very little, and how little they need to take their life and their prospects to the next level is pretty humbling, especially for an entrepreneur and as someone who is always looking for resources to do the next thing. As much as we've given and as much as we've done, it has brought such joy to my life. I really get to spend time with amazing people. I get to be in places like the Clinton Global Initiative. I get to feel like my time and my company's time counts. That's a real blessing. Not everyone gets to do that.

What would you tell other aspiring entrepreneurs, since it wasn't business school and business classes that offered the tipping point for you?
I didn't go to business school. I didn't graduate from college. And I was a philosophy major. It's being curious. Don't be afraid to take a risk -- to go with your gut instinct. You are either going to be right or wrong, but if you analyze every problem in the world and every opportunity, you will always see a reason not to do it. Make sure that when you have passion for an idea that you act on it and you don't over analyze it.

As TOMS Shoes has become bigger, how have you adapted yourself to the changes that are necessary to run a business at that scale?
The difficult thing is that in order to grow to scale, you need skill sets that you're never going to be able to afford to have when you start up. You're going to bring in people who have a lot of experience, which is important, but also their experience is typically from larger, more bureaucratic type companies. So, the key is to really get them integrated into the organization in a way that makes sense. You get their skills and talent and sophisticated knowledge, but you try to beat all of the bad habits of working at these big companies out of them. TOMS is selling in 26 countries and giving in over 60. We have factories in different countries and continents around the world. The supply chain is incredibly complex because it's not just selling, it is also giving. You really need that expertise, but you have to keep that entrepreneurial spirit alive because that is what people want to be a part of.

Any exciting news on the horizon?
This year we will launch our third One for One™ product. It was shoes. Then eyewear. And something really exciting is coming next in late Spring/early Summer. We believe that the One for One model can expand outside of the fashion and lifestyle category. We can help more people and that's the goal.

Thanks Blake. We'll be on the lookout for that. And best of luck creating jobs in Haiti, transforming lives and making the nation more business-friendly. Quite a goal!
You can support TOMS Shoes ambitious goals in Haiti, and Haitian artists by buying their artistic TOMS Shoes at Toms.com.
Popular in the Community