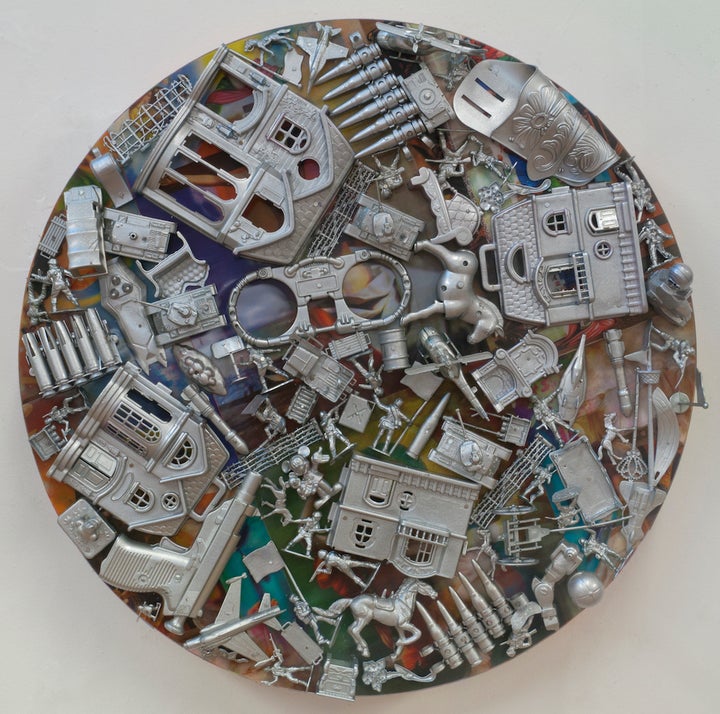 The Tondo or circular format in painting and relief sculpture has been around for centuries. When researched, you will find examples of masterworks by Botticelli and Michelangelo in Renaissance times, to Damien Hirst's Spin paintings in more recent times, and what will inevitably become clear is the fact that this type has both the staying power and the diversity to meet the aesthetic challenges of any age. What I find particularly demanding, being an artist myself, is how difficult it is to maximize the focused force of a circular composition. Artists are most used to the square or rectangle canvases that can suggest either a portrait or landscape just in the way one uses it. The Tondo is a completely different situation. There is one endless side. And as a format, it has a much more focused configuration that has less to do with incorporating a background and more to do with presenting a subject.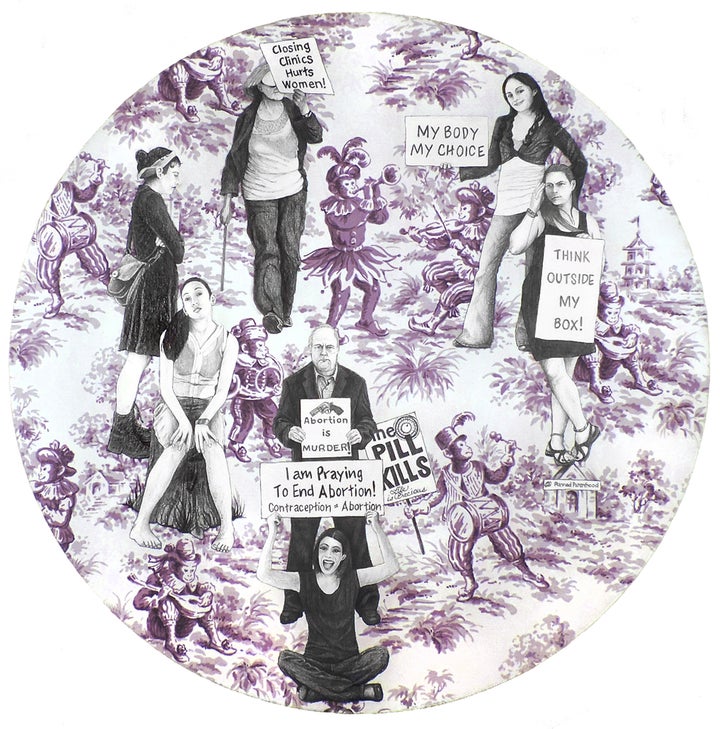 For this exhibition at the Walter Wickiser Gallery in NYC, I have selected seven artists who approach the Tondo configuration in new and challenging ways that greatly expand the field. Laurel Garcia Colvin's What's a Girl to Do, I Can't Believe I'm Still Protesting this Shit, Tondo series (2014) focuses her attention of socio-political, feminist related issues that are truly meant to open eyes. Her vision, her agenda and her technical prowess culminate in a potent narrative that will surely force reaction regardless of which side of the aisle you stand on. Created in 2014, her art is more meaningful now than ever, as our nation's politics and policies are sadly being bent backwards, but hopefully not breaking, under our new administration.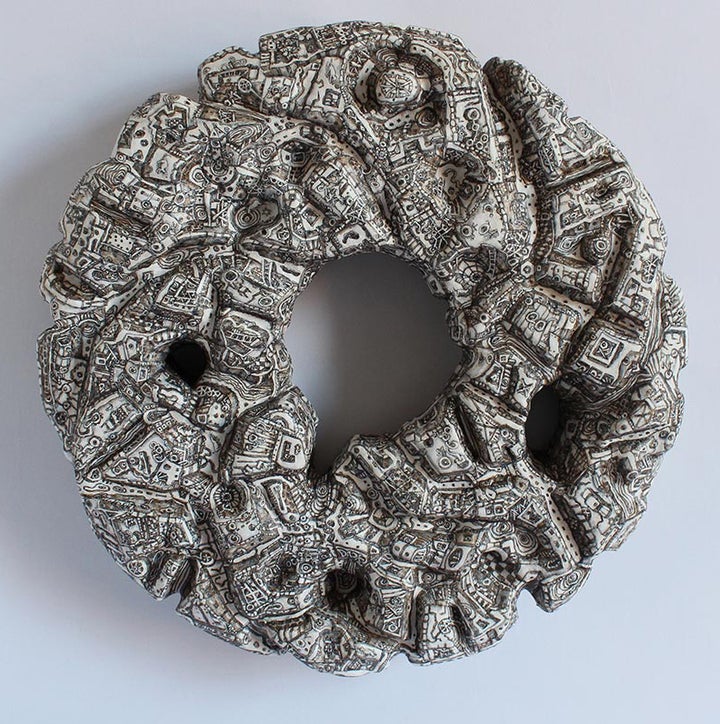 Alexis Duque's Disk (2015) melds abstraction with representation to create an intricate menagerie of hypnotic forms and hazy functions. Duque's work is about the multiplicity of thoughts and ideas that somehow coalesce into a working system. But look closely, see every little detail and all the nuance, and you will begin to sense an endless, continual consciousness with no beginning or end. Life, like anything else, is a cycle, and with each generation comes the next learning curve. The only thing that grows is the mountain of debris.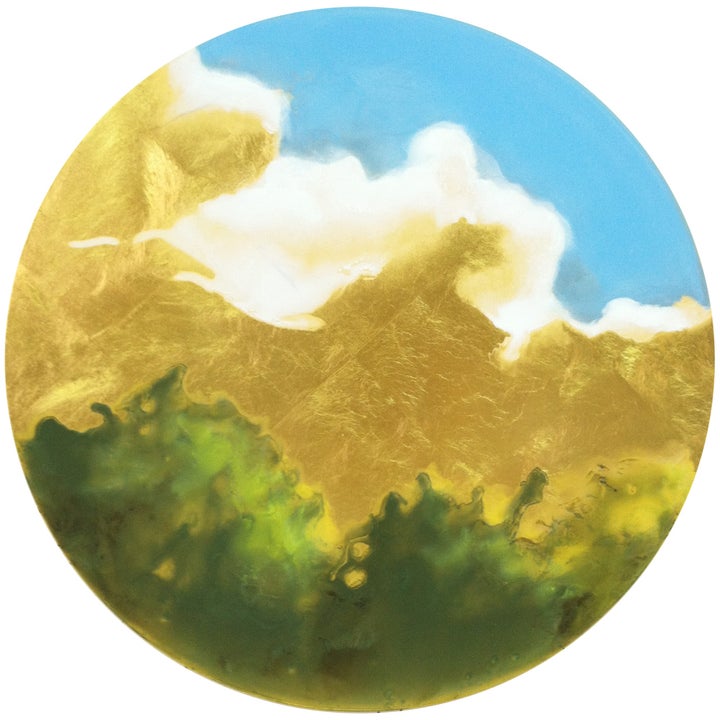 Karen Fitzgerald sees the Tondo as a chance to "convey an essence of interconnection, wholeness and metaphysical purpose." And surely, her intention comes through the moment you see her work as your spirit rises and your thoughts move to a better understanding of the universe as both a micro and macro phenomenon. All natural elements are equally important, and everything is universal in its makeup. One of the things I find most fascinating about Fitzgerald's work is the focus of her vision through the finesse in her technique.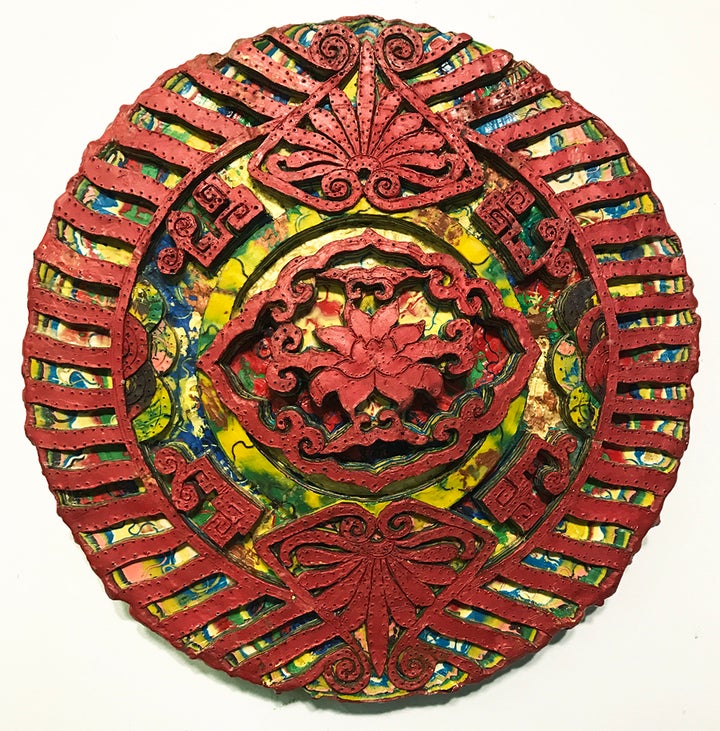 Renee Magnanti combines bold patterning with a suggestion of spirituality in her distinctive, colorful and highly textured encaustic reliefs. In looking at her work, you will get a sense of both Eastern and Western aesthetics as your eyes travel across seductive iconic forms shaped by cut-away caverns of color. Above all, there is a reverence for design in nature – how it stirs in us an understanding of the timeless powers that are greater than our own, while we are reminded of the uncomplicated splendor of life and culture.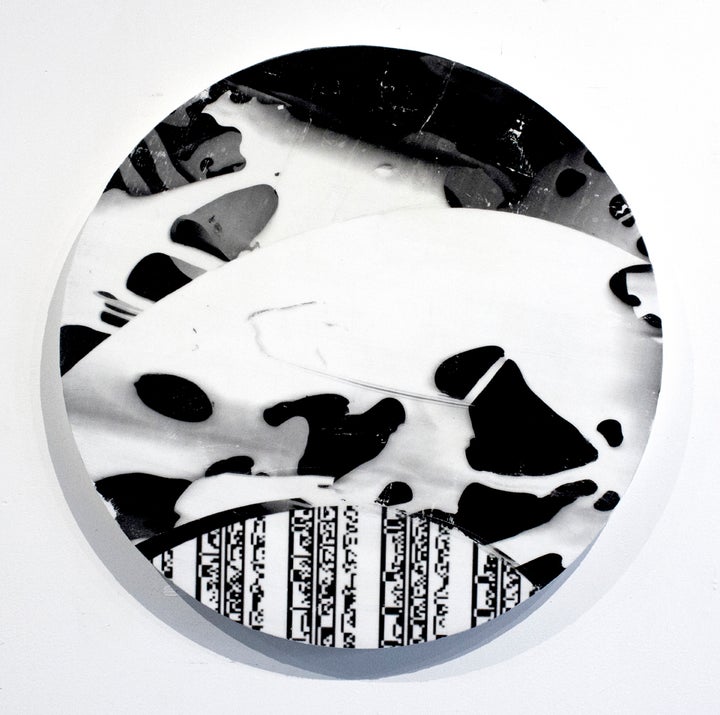 The multi-media Tondi of Creighton Michael express the subconscious connection between human impulse and the language of technology. As we struggle to find a comfort zone with an ever-changing world, a cerebral transformation must occur that may conflict with our instincts. Michael smoothes those transitional moments with a mix of sinuous pours over cryptic patterns balancing them like yin and yang. As a result, this 'complementary' pairing forms a universal aesthetic that crosses boundaries, making what was once awkward elevated.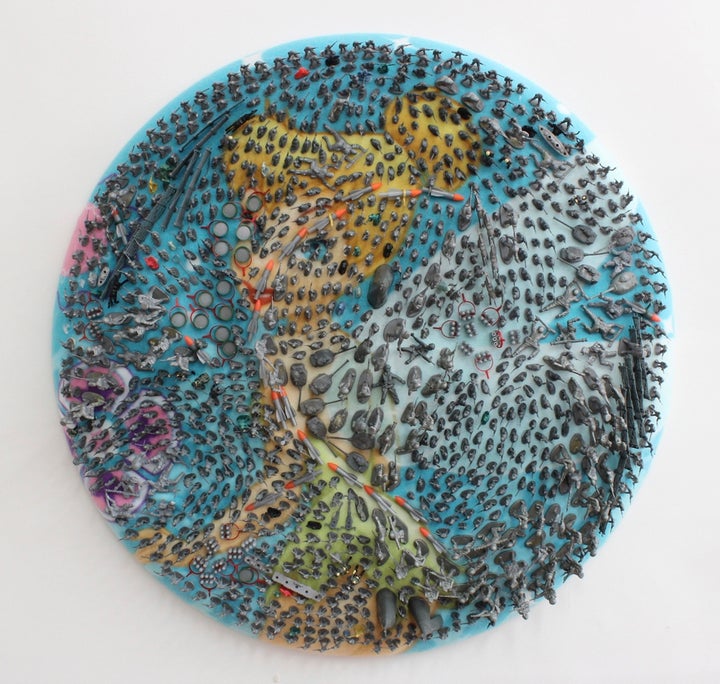 Margaret Roleke's mixed media work puts a dark spin on the state of the world. She reveals, that from a very early age, we are brainwashed, to some extent, to act and think a certain way through fear tactics and false comfort zones. By combining cute Disney imagery with objects of war and aggression, Roleke reveals how pervasive and long standing this approach to social governing is. I am reminded of a quote by Noam Chomsky: "The United States is unusual among the industrial democracies in the rigidity of the system of ideological control – 'indoctrination', we might say – exercised through mass media."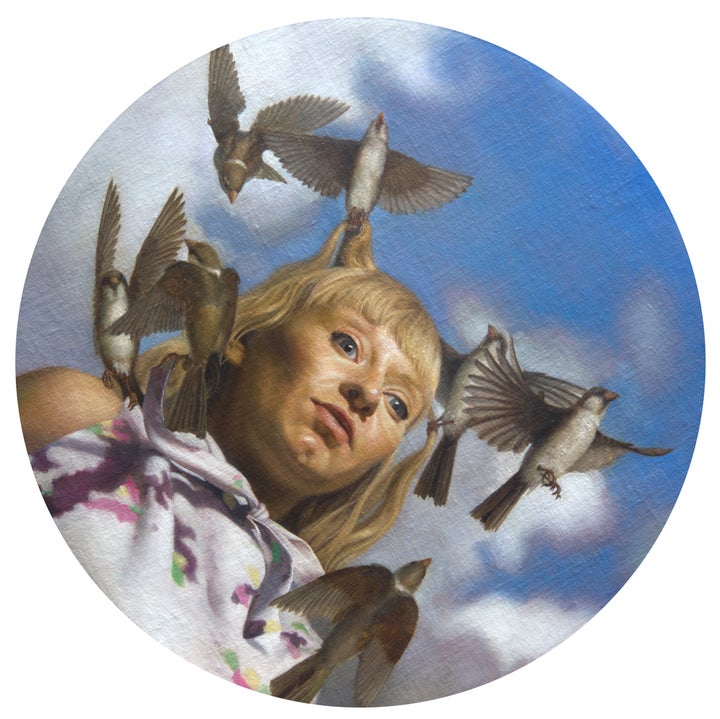 Zane York's hyperrealism is both magical and mesmerizing. The intense and relentless detail in his paintings and drawings is softened by a highly perceptive touch while his subjects reveal both their physical and spiritual sides. In some ways, York's art is more akin to classical, high art, but with an earthier, more naturalistic narrative. At times, he can capture what at first seems near impossible with works like Untitled (2013), where nesting birds see a young woman's hair and clothes as nesting materials. It is only after a few moments of looking that the scene becomes believable, even normal as its naturalistic detail takes hold of your subconscious.
Tondo, Tondo, Tondo opens April 1, 2017. There is an opening reception on Thursday April 6 from 6-8pm, at the Walter Wickiser Gallery located at 210 Eleventh Avenue, Suite 303, New York City.
Popular in the Community