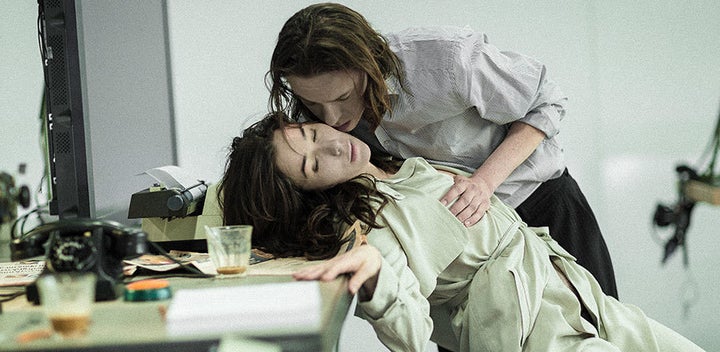 Make sure you're rested, fed and prepared to run an intellectual marathon, or skip it! This Ayn Rand ode to capitalism, "The Fountainhead," (her first novel), is to be relished for its knock out, drag out savage proclamation of individualism vs collectivism, illuminated in more than 4 hours by esteemed Belgian Director Ivo Van Hove — who received the Richard B. Fisher award at BAM on opening night. Van Hove is a single-minded director who betrays nothing in his exemplary aspirations to break through conventional boundaries and explore all the possibilities, as he has done in so many classics from "Hedda Gabler" to "A View From the Bridge". Van Hove has been the General Director of Holland's outstanding Toneelgroep Amsterdam since 2001 and directed them for this theatrical survey of the novel adapted for the stage from the 700 page philosophical epic which tells the story of young rebel architect, Howard Roark; a brooding, egocentric, non-conformist iceberg of a man, who hits a ship carrying characters in the throes of larger-than-life orgasms, while looking in a mirror at their own reflection, selfishly going from port to port, exercising their self-seeking egoism which is unsustainable and poignantly destructive.
Van Hove has succeeded in modernizing the effect of this 1943 novel by setting it in a studio; a "We Work" kind of space which records and videotapes; using the attributes of the environment and music to punctuate moments unfurling and presenting mechanisms to embellish story-lines. It is inventive and yet at times I felt that the actors didn't seem to be connected to the tasks they were doing, with the exception of the character of Roark played by Ramsey Nasr who deftly drew architectural drawings which were displayed on the screens. While it did give Van Hove a way to bring the audience closer to the architects drafting table and present explicitly sexual scenes in shadowy pulpy erotica, I felt the use of the screens were superfluous for minor elementary busy work, especially as one considers the subtitles while enjoying the rich Dutch language; it was a bit distracting.
Roark has an intensely carnal affair which starts out with the rape of Dominque Francon played daringly by Halina Reijn; the beautiful socialite architecture critic at the New York Banner, they are radioactively in love with each other and their sexual connection never meets the embrace of two lovers, rather it is an endless addiction to power and submission, as well as ideals. Dominique, a maverick female character moves from architect Peter Keating (Aus Greidnaus Jr.), Roark's roommate from college who is a mediocre talent and liar and marries Dominique after promising his longtime girlfriend to marry on the same day so he can get architectural rewards he doesn't really deserve. Dominique will then move on to Gail Wynand (Hans Kesting) a publishing plutocrat who "loves" her for her physical perfection; while all the while continuing to love Roark, Dominique remains "broken-apart" and consumed by her sexual attraction to his pure love for architecture, unencumbered by embellishment and excessive curves, passionately keeping to his pure themes. Roark is enraged that a housing project he has built has been compromised and decides to give Dominique the plunger to blow it up when he finds out that his design is ambushed by unwanted adjustments, thus creating a metaphorical climatic orgasm of monumental proportions. Rand was conjuring up a wish to take and be taken; creating a smoldering narcissistic monument to self-indulgent ego-centrism and betrayal matched by the principles behind great art. One must live in the world with all manner of others and find compromise; that's what adults do in order to have peace and yet her portrayal of clarity in art is not lost on the audience, for its veracity should not be muddled by concession and pretense, rather realized for its truth. That being said, I believe that if this mega play shaved off an hour and left some of the non-essential bits behind, it would be better for the construction of the storytelling of the play, tightening the masts of the ship would make the audience more able to follow the nuances than get lost in them.
If you're not familiar with "The Fountainhead", ask Speaker of the House, Paul Ryan and the rest of the GOP, for this notable piece of American literature of Rand's (ironically written by a Russian émigré) has led him by the nose throughout his career in politics (since he graduated from college, where his father's social security checks paid for is education).
Related
Popular in the Community