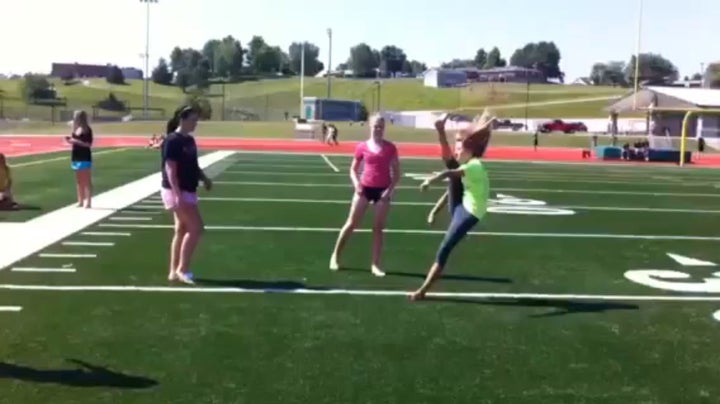 An iconic slice of new wave dance-pop from the early MTV era, Toni Basil's cheerleading anthem, "Mickey," shot to number one 30 years ago -- in 1982. Though she's often considered a "one-hit wonder," Toni Basil was no flash in the pan. What many don't realize is that by the time "Mickey" was released, Basil was actually in the third decade of a varied career, spanning dance/directing/acting/music that began with choreography for ABC's Shindig! (1964), and is still going strong today.
Rewinding 15 years before "Mickey," Basil was recording her first 45 -- an obscure one-off single for A&M called "I'm 28, and It's Getting Late" (1966). The B-side, a groovy Motown-esque stomper called "Breakaway," inspired renowned avant-garde artist/filmmaker, Bruce Conner, to direct an accompanying black-and-white film, featuring a nude, dancing Basil.
"Breakaway" by Toni Basil:
Basil shifted her focus to acting, and hit an impressive streak in the late '60s/early '70s with notable roles in The Last Movie with Dennis Hopper, and two back-to-back films with Jack Nicholson: Five Easy Pieces and Easy Rider.
Toni Basil (with Peter Fonda, Dennis Hopper and Karen Black) in Easy Rider, 1969:
In the early 1970s, she took the dance world by storm by forming The Lockers, a pioneering troupe that changed the face of dance. Groundbreaking both visually (all the members were African-American males except Basil) and artistically (member Don "Campbellock" Campbell invented the dance form of "locking"), The Lockers were featured guests on Soul Train, Saturday Night Live, The Carol Burnett Show and The Tonight Show.
The Lockers on Soul Train:
Through the '70s, Basil choreographed American Graffiti and The Rose while working on tours with Midler and Bowie, which made her yearn to sing again. And sing she did.
In 1976, Basil was one of the very first musical guests ever on Saturday Night Live, belting out "Wham Rebop," a swinging jazz standard. This was followed by live multimedia, music and dance spectaculars at Los Angeles theatres, which garnered the attention of Warner Records.
Toni describes the circuitous path to the American record deal:
For me, the visuals/videos were always the initial focus, and out of the visual concept came the music. "Mickey" was born out of me wanting to do a music video of cheerleaders. The first videos I created in that period were Devo tunes ("Be Stiff," "You Gotta Problem" and "Space Girls") for a European company, because late night music videos were popular overseas. And those videos were such hits, that I was given more money to create more videos. The BBC saw those videos and asked me to do TV specials, which I directed. And all those videos became an album (Word of Mouth). The record company wanted the first single to be a track called "Nobody." They didn't think "Mickey" was a single. "Mickey" was released after the A&R guy's kids thought it was a single, and it became a hit in England. And only then did I get an American deal.
"You Gotta Problem" (Toni Basil cover of Devo's "Pity You")
During that time, Basil also co-directed (with David Byrne) The Talking Heads music video, "Once in a Lifetime."
I never thought anything was going to be a hit. I only focused on making good music videos. And if not for MTV's support, which was brand new at the time, and airing "Mickey" a lot, I'm not sure it would've gone to number one.
"Mickey" was originally a 1979 song called "Kitty" by the UK group, Racey. Basil changed the title to be about a man named "Mickey" ("because it kind of rhymed with 'Kitty'"). She then wrote the iconic cheerleader chant ("Oh Mickey/you're so fine/you're so fine/you blow my mind/Hey Mickey!"), which became the song's hook. The record company felt the cheerleader chant was a terrible idea, but 30 years later we're still singing it. As a result of its enduring appeal, artists from Madonna to Avril Lavigne to Gwen Stefani have adapted "Mickey"-esque elements into their hit singles.
The video took three days to rehearse, and we shot that and two other videos in the same day. The "Mickey" video is somewhat autobiographical of my high school days when I was head cheerleader at Las Vegas High, and I still have that outfit! The last time I tried that sweater on, I thought, "It's so hot, I can't believe I danced in that under those lights."
Basil directed, choreographed and edited the "Mickey" video, and still keeps in touch with the video's cheerleaders.
Up to that point on TV, cheerleaders were dressed up jazz dancers, but the gals in this video were real cheerleaders, and it was the first time a worldwide audience saw what the American champion cheerleaders were doing. With those crazy mounts, multiple tiers of girls and pyramid formation stunts. Cheerleading is a distinctly American art form.
"Mickey" kicks off with a massive drum beat, one of the most recognizable in pop history, created specifically to support the song's chant.
The actual beat you hear is feet stomping on a wood floor by three of the Dorsey High cheerleaders while clapping along, then multiplied many times in the studio, and mixed in with a drum.
"Mickey" (alternate video taken from Basil's BBC Special)
Though I choreograph more than I sing and perform, "Mickey" has never gone away. It has made me a recognizable choreographer. The "Mickey" music video ended up in an exhibit in New York's Museum of Modern Art, and in their annual fine-art calendar.
After "Mickey," Basil recorded one more pop album, and scored a few chart singles including the frenetic "Shopping A-Z" (number 77, 1983), the darker "Over My Head" (number 81, 1984, number four, U.S. dance charts) and the percussive "Street Beat" (number 63, U.S. dance charts). And though those singles didn't scale the chart heights of "Mickey," Basil isn't annoyed when people call her a one-hit wonder.
I am not annoyed at all, because I'm really pleased to be on the wall of the Rock and Roll Hall of Fame, and I don't care how I got there, I'm just glad to be there any way I can.
"Over My Head," nominated in 1984 for an MTV video music award:
And Basil's still making videos. In 2012, she launched her own YouTube channel (Toni Basil's House) with a new film called I Am Don Campbell, a tribute to fellow Locker Don "Campbellock" Campbell, featuring some of the most famous street dancers strutting their stuff in her home dance studio.
Basil actually coined the term "street dance," which refers to the many dance styles (breaking, locking, popping, krumping, hip hop, voguing, waacking, etc.) born and bred in urban America. It should be no surprise that with all of her contribution to the world of street dance, that she received the prestigious Living Legend of Hip Hop Award.
Toni judging on So You Think You Can Dance (FOX):
She's so fine, she's still blowing our minds!
Here were the top 10 Billboard singles for the week that "Mickey" topped the charts:
1. "Mickey," Toni Basil2. "Gloria," Laura Branigan3. "Maneater," Hall & Oates4. "Truly," Lionel Richie5. "The Girl Is Mine," Michael Jackson & Paul McCartney6. "Steppin' Out," Joe Jackson7. "Dirty Laundry," Don Henley8. "Sexual Healing," Marvin Gaye9. "Rock This Town," The Stray Cats10. "Muscles," Diana Ross
For more information on Toni, check out www.tonibasil.net.
Popular in the Community