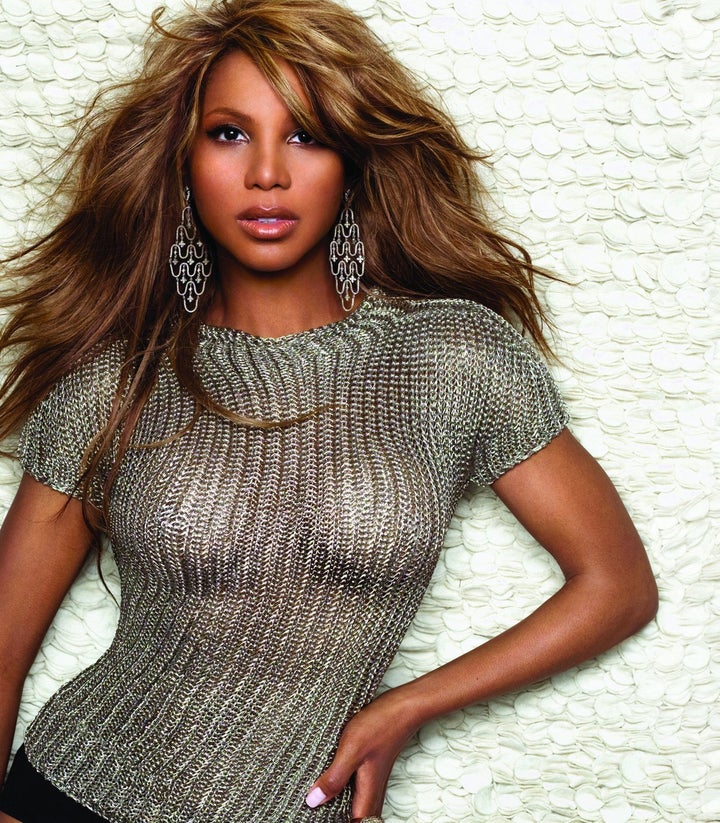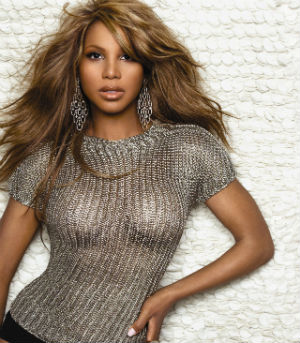 Toni Braxton has won six Grammy Awards, sold over 60 million records worldwide, including "Un-break My Heart," which spent an astounding 11 weeks at number one, and won rave reviews on Broadway in Beauty and the Beast and Aida. Now she is embarking on a new challenge.
"I'm trying to get comfortable with my inner slut!" Braxton said.
After marrying musician Keri Lewis from the group Mint Condition in 2001 and having two sons, Denim, 10, and Diezel, 9, the couple separated in late 2009. Since then rumors have swirled about Braxton's love life, but the songstress admits that she is not ready to settle down anytime soon.
"The inner slut does not just date one person, does she?" Braxton laughed. "I have to find out if it's in me!"
When Braxton is not searching for the bad girl inside, she's busy in the studio making new music. Her latest single is the self-penned, club-thumping "I Heart You." The song will be included on Braxton's upcoming album.
"When I wrote this song, I was thinking about the feeling you get when you walk into a club and you hear the melody; you feel the beat, and you just know it's going to be a good night," Braxton said about "I Heart You."
After two bouts with bankruptcy, a public battle with lupus, and record sales that failed to measure up to previous expectations, Braxton has always found a way to bounce back, proving that she is more than just another sad love song.
Congratulations on your new song, "I Heart You."

I'm excited. It's overdue.
And your upcoming album, titled Heartstrings & Synagogue Vibes.
I don't know where that came from! Someone came up with that. What did you say it was?
Heartstrings & Synagogue Vibes. It's all over the Internet. It's described as an album that will fuse dance and pop music with Jewish and Arabic music.
That's kind of brilliant. I did not come up with that. My grandmother is Jewish. My father is, but I'm not. That's kind of clever, though. But no, it is not the album title. I don't have an album title.
Once you do select a title, what can people expect?
I'm definitely going to have more "I Heart You"s on it. I'm also going to do some sad love songs. It's going to be half and half. The three faces of Toni may appear.
Do you really have three faces?
I do. Sometimes there are four, but usually there are three. Toni the sister. Toni the performer. And usually Toni -- not the bad girl, but I have a little naughtiness in me. Yet my image is so clean, and there's nothing really to talk about. I'm like an empty canvas. The only thing people can really talk about is the bankruptcy, because there's nothing else. I need to put some things on my canvas.
How will this album be different from your others?
I hate to say the word "different," because it won't be different. Who I am as an artist is what I want my music to show. I think in the past there were slow songs that we made dance songs. These dance songs will be dance songs. I'm going to push the envelope a little. Not for anyone else but for myself. I'm feeling kind of sexy. I'm going to be a little more freelance with my sexiness.
The video for "I Heart You" indicates that. That man you're with is hot. Is this the white gentleman you've been seeing whom you refer to as your "Snowflake"?

No, he's like 12! He is not the snowflake in my life. My snowflake would be older! He is yummy, but no.
Are you still seeing "Snowflake"?
I went out with the "Snowflake" for a second. It was something to get me out there. It was my transitional thing. I hate to say that.
What about the rumor that you're involved with Eddie Murphy?
That's just a rumor. We're just friends.

You are very interested in finding your inner slut. Has that been hard for you?

It's a work in progress. I was married for all those years. Now I'm getting out there and dating and figuring out sex. Everyone says you have to wait this long, and some people say you can do it whenever you want. I'm trying to get comfortable with that part.
You will know when it's right for you.
That's what they say. When you're comfortable, you can [have sex] whenever; there are no rules. There are no five dinners anymore. It may be one dinner.
We could talk sex all day, but let's get a little more serious. How are you different now from how you were when you first signed your solo record contract in 1992?
Well, a lot older. As a performer and artist, I'm a lot smarter and have more understanding of the business. It's changed from the '90s. It's completely different now. The younger artists, I feel sorry for them sometimes.
How would you say the business has changed?
Marketing, marketing, marketing. It's not always about even selling records anymore. It's about how big you can make your personality, which creates this image that people want. Now you make records as a platform to tour. At least before, you could make a few pennies from record sales, but that doesn't apply anymore. Now record companies do 360s where they get a part of everything, from the record to touring to merchandising, and the artist doesn't get a big percentage of their monies anymore.
What do you wish could be done to change that?
I wish there was something like they have for athletes where they have pensions. Performers and singers don't get that. We have nothing. You see these big performers, and then they die penniless.

You had that issue. You sold all these records and then had to file for bankruptcy.
Oh, yeah. My royalty statement was less than $2,000. There was a big gag order, and it was something that I could never talk about. Now artists get no money. Actually, they are in the red a lot of the time. But it's OK. It allows you to do what you do. You get lemons and you make lemon meringue pie. What I do love about the younger generation is that they are smarter! They are allowed to be smart. One window does not tell you what your life is. There are lots of windows. When one window closes, you just go to another. You determine your worth. No one else does. I love that about the younger artists. They are not afraid to take chances.
What younger artists do you admire?
My favorite of all the girls is Rihanna. I love her. She's not afraid of her sexuality. I think in our generation - -and not that I'm a million years older than her or anything -- but we could only take sexuality to a point. The brave one was Madonna. She did it. She got beat up a lot for it, but she didn't care. She broke down the original barriers.
No matter what you've gone through in your life and career, the one that that always remained constant was your gay following.
Why do you think they gravitated toward you?
I'm not sure, but I'm glad they did, because I love them. They make me a better woman. I'm going to be honest: I always thought my look was a bit androgynous. I think that look is easy to duplicate. My hairstyle was funky and fresh when I first came out. I just love my boys. They're great.
Speaking of boys, you have two sons. How would you describe your parenting style?
I try to talk to my kids. My generation was not allowed to talk. My children have a voice. My kids can talk to me about anything. Of course, they are only 9 and 10. When they are teenagers, I'll probably say, "Don't tell me anything!"
Diezel was diagnosed with autism when he was close to 3. You have recently been named Global Ambassador for Autism Speaks. What does that role entail?
I'm no stranger to autism. It's my job as an advocate to go out and inform others of different programs and let them know that they are not alone. That's what I felt like immediately. For me it's paying it forward.
You just seem so confident these days. Is that an act, or are you really that secure?
I have confident moments. I think as you get older, you find that you're more confident in yourself, and you don't care about what people say and think as much as you did when you were younger. You will always care what people think. I think when people say they don't care what people think, it's that they don't care what people think today. You care. That's a part of being human. Overall, I'm pretty confident in myself, and I'm not afraid to make mistakes like I was before. If people are going to say something bad about me, who cares? We're all going to be dead someday.
Speaking of which, there was a time when you felt like you were dying. In 2008 you were diagnosed with lupus. You often talk in terms of having good and bad days. Is today a good day?
It's a good day. When I first found out I had lupus, I had to hide it. Everyone said, "You can't tell anyone, or you'll never work." Then I did Dancing with the Stars, and doctors were telling me I shouldn't do it. I remember doing the show and being so tired. I felt like I was dying. The doctors would be on the set, checking my blood pressure and my blood work, before I went onstage. It's something I should not have done, but I'm glad I did, because at that moment I was so afraid of life. That moment on Dancing with the Stars changed my life forever, because I stopped being afraid of life.
The show you're on currently is The Braxton Family Values, with your mother and sisters. It's coming back for a third season, but are you?
Well, I'm going to cut back. I'm going to still be on the show, but I'm not going to be as involved as I was in the past.
You have so many hit songs. Do you have a favorite?
I don't really listen to myself. When I hear me on the radio, I turn it immediately. My favorite song to sing is not the ones you think, like "Un-break My Heart" or "Breathe Again." I like something fun like "Please." I do like "He Wasn't Man Enough."
How important is it for you today to have a top-40 song?
For me, being an established artist, they are important, because they show that I'm still vital. It shows that I'm still current, and that I still matter. For me personally, it's all about the music. It's really just getting out there and doing something that will allow me to tour. I want something that will be a refresher, where people will say, "Oh, I love her. I love this song. I want to go check her out."
Besides the album, what is next for you?
I'm going to St. Lucia on Mother's Day with Diana Ross. We're headlining, and I just can't wait, because I love her. I can't wait to see her perform. I wanted to be like her when I was growing up. She was the chic of fashion. She changed the game for everyone. I know I can learn from her. So, it's like I'm going to school.
After everything you've accomplished, what are you the most proud of?
That I'm still here. That's really a big deal.
Watch the music video for "I Heart You":
Popular in the Community