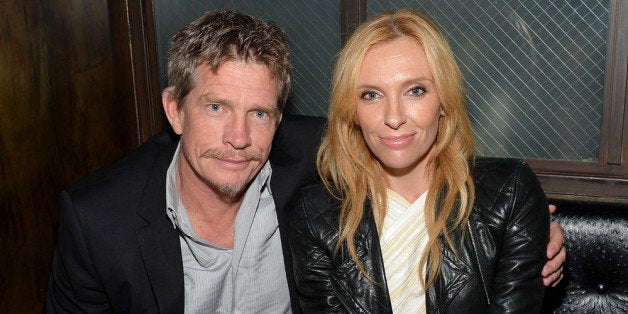 Even if it's just a displaced fantasy left over from "Almost Famous," everyone sort of dreams of being a rock critic and hanging out with their favorite bands on the fast-paced music scene. Toni Collette got to have that vicarious experience while filming her new movie "Lucky Them." Collette plays Ellie, a veteran journalist who has a tendency to sleep with her interview subjects. Her Seattle music magazine is struggling to stay afloat amid media's digitization, so her editor (Oliver Platt) gives her an ultimatum: Track down long-lost rocker Matthew Smith, who may or may not have committed suicide a decade prior (and who definitely is the former love of Ellie's life) or lose your job. Ellie encounters a hapless amateur documentarian (Thomas Haden Church) whom she also happened to date at one point. Together, they set out to locate the enigmatic rock god.
"Lucky Them" premiered at the 2013 Toronto International Film Festival and also screened at this week's Tribeca Film Festival, where Collette and Church gabbed about the film like old pals. The Oscar nominees are part of what is now a storied production history. Paul Newman planned to give notes on the film and possibly make a cameo prior his death in 2008. After his passing, actress Joanne Woodward, Newman's wife of 50 years, signed on as an executive producer. Six years later, IFC Films is preparing to release "Lucky Them" on May 30. HuffPost Entertainment chatted with Collette and Church about the film.
Did you know each other prior to the film?
Collette: No, but it seems like we did. And now we know each other forever.
Collette: I think it was five weeks. Was it five or six?
Church: I swear to God, I don't remember.
What point along the process did you know that each of you was involved?
Collette: When the script was sent to me late 2012, he was already attached.
Church: I was attached for years.
Everyone dreams of being a rock critic.
Of course, in a way. Ever since "Almost Famous" at least.
Collette: Oh yeah! It's pretty cool, right?
Are you music people yourselves?
Collette: I am a big music fan. I'm married to a musician, I know a lot of musicians, I've been on tours and I can't imagine life without music, so I would say the answer is yes. That part of it seemed clear to me. More than anything, it was just making sure Ellie's emotional world was grounded and truthful. That's really it for me.
If each of you had to select the musician you'd most want to hunt down and interview, who would that be?
Collette: I would have gone for a bit of Jeff Buckley actually. But Neil Young or Tom Waits, too.
Church: Zamfir, the world's preeminent pan flutist.
Church: I'm kidding, I'm kidding. You need somebody that may or may not be living?
Church: I saw Cameron Crowe's documentary on Eddie Vedder, and he seems like a pretty fascinating guy.
Church: Yeah, I did a movie with Cameron Crowe ["We Bought A Zoo"], and he was editing the documentary when we were shooting it. And I've been fascinated with Pearl Jam for so long, and Eddie just seems like such an intense, artistic dude. And also everything in Dave Grohl's documentary about Sound City.
Collette: That's a great documentary.
Church: But talking about their roots in Seattle and all the other bands that were breaking at the same time, the band that Eddie Vedder was in before Pearl Jam's original lead singer died of a heroin overdose, and then Eddie Vedder came in after that.
Collette: I was speaking to Eddie about playing Matthew Smith when we were in Seattle.
Collette: And I've kind of had some contact with him since, and he's so lovely.
Church: I remember you were saying there was a chance that he was going to do it but couldn't. Then we got this guy John. Is it John?
Church: Jonathan Dopey? What is it?
Collette: Jonathan Dopey.
Church: John Dopey. John Doe. We have John Doe playing Matthew Smith. [Ed. note: They're talking about Johnny Depp, whose role in the movie is uncredited.]
In all your media dealings over the years, have you observed the same changes Ellie is facing?
Collette: Well, Ellie's only teetering on the edge of losing her job because she is kind of shooting herself in the foot. She's bad at her job, that's why. But I suppose if people are writing about actors and musicians, the part of it that I don't like is that they're often not talking about the work. They're talking about these people as celebrities, and that is a very recent emergence. And I find it quite disturbing. And it's everywhere all the time. Social media has become the norm, and I think it's a strange existence in the world.
Church: The origin of the story, as Toni just commented on, is that she's doing her job very badly and is flirting with getting fired. Oliver Platt's character forces her to pursue what is, in her backstory, the most sensational story she could write, which is to dig up a man she was very much in love with who may or may not have committed suicide and who's completely disappeared from society and from the media for more than a decade. So, really, the magazine is failing, her career is failing, and so he's cornered on some level as she is cornered and pushes her to do this very sensational thing. She clearly is sparring against it, but I compel her by virtue of my money to go for it. So, as far as a rockumentary filmmaker, Charlie is a complete neophyte and doesn't know what the fuck he's doing. I'm sort of expecting a bit of a downward spiral, but then as we're going through these very personal vignettes of her life, when she was a child and then a teenager, losing her virginity, it starts to draw me in a very emotionally compelling way.
While you're recording the trip the two of you take, were actually filming the whole time?
Church: Not the whole time, but a lot of the time I did. I enjoyed watching people through the viewfinder, quite frankly. I wondered how much it unnerved them when the record light was on, if it bothered them at all, because it really was part of who I wanted the character to be: this irritating presence a lot of the time.
Collette: Well, you did that successfully.
Church: I don't know if she's going to do it, but I did film a lot of shit, and [director Megan Griffiths] threatened to cut it all together.
Your character is unlikeable throughout much of the movie.
Church: I had those stupid glasses on.
Collette: Oh my god, yes.
Was anything interesting tweaked through the improv you did?
Church: Yeah, there was some.
Collette: The one scene that I can remember, which you can barely hear in the movie actually, is where I'm with Ryan and he goes in for a swim. It was absolutely freezing, and he didn't have to go in -- they could have wet him down with hot water, but he was determined to do it.
Church: He didn't go in far.
Collette: Yeah, well, it was fucking freezing. He gets out and he says, "I can't feel my balls." And then I say, "I'll feel your balls." But it's so faint, I don't know if anyone can hear it.
So how did Johnny Depp come to be involved?
Collette: I think he just really wanted to work with us. [Collette and Church laugh.]
Church: [Screenwriter Emily Wachtel] pursued him for a long time.
Collette: She's tenacious.
Church: To some extent, and also the legacy of Paul Newman. I think [Joanne Woodward] reached out to him as well, but it's really Emily. She said this to me years ago. I became involved with the movie in 2006. She was talking about Johnny Depp then, because he was a real musician and he just has that musician thing, that essence. She always talked about him being the perfect guy.
Why the gap from 2006 until now?
Church: It just took awhile. It took awhile to get the right actress and the money.
On an unrelated note, it's been 15 years since "The Sixth Sense" and 10 years since "Sideways." How does that make you both feel?
Collette: Time is a weird one.
What do you remember most about those movies?
Church: It was fun. It was a really fun movie to make. I'm still acquainted with a lot of those people. In fact, they're talking about a reunion this summer, which I heard about but I'm not quite sure where we stand.
Church: No, actually, in Santa Ynez.
Collette: Yeah, man, "The Sixth Sense" was funny because when we were making it, we actually had a feeling it was going to be something. We couldn't have a sense that it would be what it ultimately did, but there was a sense of how special it was. And it was just fun. I love being in Philadelphia. On the good ones, you do remain buddies with some of the people you worked with, and that was the case with that one.
Did you know the twist would become so iconic?
Collette: I don't think we can be that specific. It was just a great story.
This interview has been edited and condensed.
Watch Collette and Church discuss "Lucky Them" on HuffPost Live: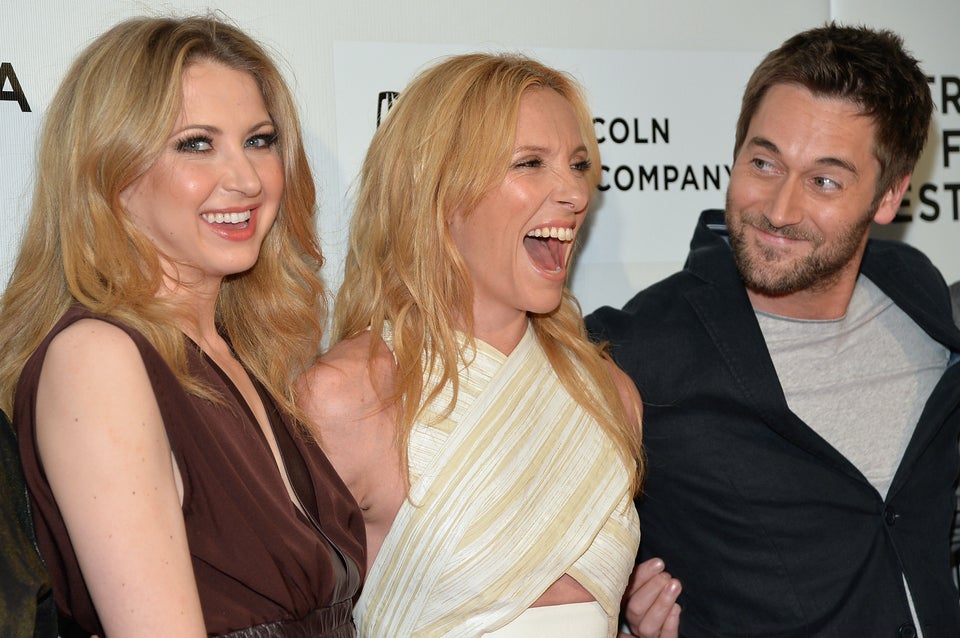 Tribeca Film Festival 2014