Nancy Grace is in the spotlight again following the suicide of a 29-year-old Minnesota mother of four who was recently featured on her television show.
According to the St. Paul Park Police Department, Toni Medrano, of Cottage Grove, Minn., died Saturday at a local hospital. It is believed Medrano's death is the result of a July 2 incident in which she allegedly set herself on fire while visiting her mother's St. Paul Park home.
"Through the preliminary investigation, the officers determined there was a flammable liquid that she used to set herself on fire," St. Paul Park Police Chief Michael Monahan told The Huffington Post.
While authorities say they suspect Medrano's death is a suicide, an official cause of death is pending.
"I can tell you preliminarily that she died of complications from thermal injuries -- that means fire," said Don Gorrie, a spokesman for the Ramsey County Medical Examiner's office. "We won't be signing the death certificate until all of our testing process is done ... and it could be weeks."
"The baby is dead because of vodka mommy," Grace said during her June 11 show on HLN. "I don't care if she was driving a car, holding a pistol or holding a fifth of vodka. [It] doesn't matter to me. The baby is dead at the hands of the mommy."
Medrano's 3-week-old son, Adrian Alexander Medrano, died while sleeping on the couch with her on Nov. 22, 2011. According to the criminal complaint, Toni Medrano told police she had consumed almost an entire fifth of vodka the night before her son died and fell asleep with him on a couch. The following morning, she woke up and found her infant son unresponsive and cold to the touch.
Medrano's husband told authorities he had awoken to his wife screaming, "the baby is dead," according to the criminal complaint. Medrano's husband called 911, but paramedics were unable to resuscitate the child. The baby was pronounced dead at Woodwinds Hospital in Woodbury.
According to the criminal complaint, a preliminary blood-alcohol test conducted by police showed Medrano's level to be .11 percent, which is three points higher than the state's legal driving limit.
An autopsy by the county medical examiner's office determined Adrian Medrano had died of "asphyxia due to being laid upon while sleeping with an adult."
During her television show about the baby's death, Grace said the charges filed against Medrano weren't harsh enough.
"I don't see how this whole thing was an accident and I want murder charges," Grace said.
Greg Malcolm, a detective with the Cottage Grove Police Department, which investigated the infant's death, said he believed the child's death was accidental.
"I sincerely don't believe that she had any intent to cause harm to her child on this evening," Malcolm said. "By all other accounts, she's been a productive mom, a good mom. She's done a decent job of raising her children. She, unfortunately, was in the habit of sleeping with this particular child from the day it came home from the hospital."
Medrano's sister, Maria Phillips, told the Minneapolis Star-Tribune her sister had watched Grace's show about the baby's death. Afterward, she was "shaking and couldn't take a breath," Phillips said.
Medrano's husband, Jason Medrano, told the St. Paul Pioneer Press that the show, as well as the Internet comments that followed it, were cruel.
"The things people said were horrible," he told the newspaper. "It shows that cyberbullying happens to adults, too."
Speaking with Fox 9 News, Medrano's mother, Yvonne Hill, said her daughter fell into a depression.
"She was trying to build and get by and live with what happened," Hill said. "When she saw that, it broke her spirit in the worst way."
Chief Monahan told The Huffington Post his agency is still investigating what prompted Medrano's alleged suicide. Asked if her child's death being featured on national television may have played a role, Michael responded, "It very well could [have]."
CASE PHOTOS: (Article Continues Below)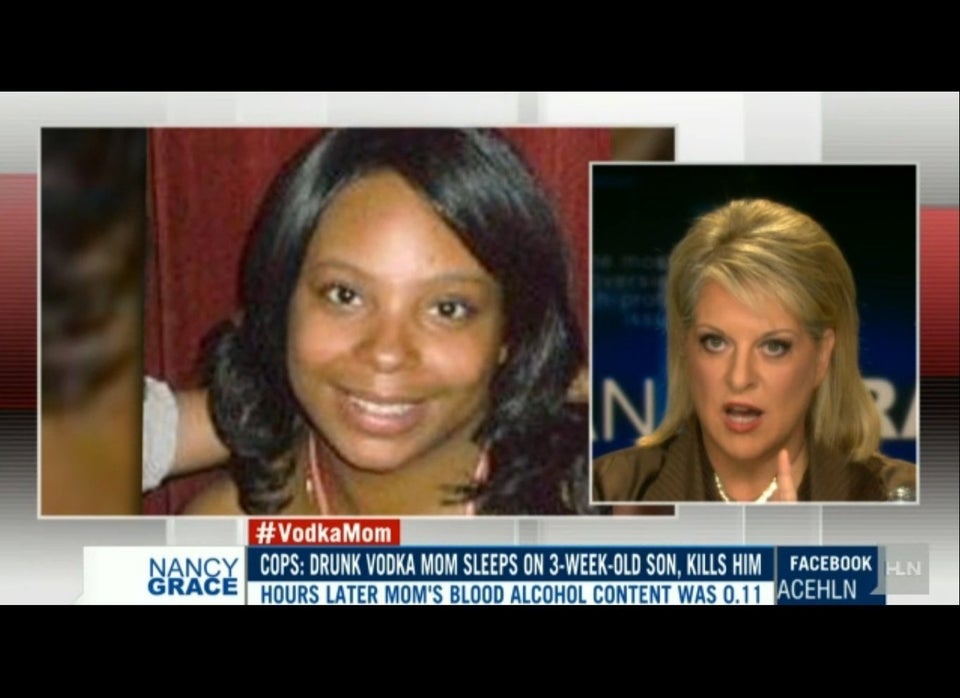 Toni Medrano
Regardless of what pushed her to allegedly take her own life, Washington County Attorney Pete Orput said it was Medrano who ultimately made the decision to set herself on fire.
"She chose a permanent solution to a temporary problem," he told the Star-Tribune.
The case of Medrano's death is not the first in which Grace's name has surfaced.
In Sept. 2006, 21-year-old Melinda Duckett, of Leesburg, Fla., killed herself after Grace interviewed her about the disappearance of her 2-year-old son, Trenton.
Trenton Duckett disappeared on Aug. 27, 2006. According to Melinda Duckett, she put her son to bed that night, only to later discover that he was missing.
"Where were you? Why aren't you telling us where you were that day, you were the last person to be seen with him?" Grace inquired. Duckett responded that she was not going to put "those kind[s] of details out," to which Grace responded, "Ms. Duckett, you are not telling us for a reason. What is the reason? You refuse to give even the simplest facts of where you were with your son before he went missing. It is day 12." Grace then moved on to Dr. Lillian Glass, a psychologist, who stated Duckett was "skirting around the issue."
Melinda Duckett did not give any other interviews following her appearance on Grace's show. She shot and killed herself the same day the pre-taped interview was scheduled to air. Less than two weeks later, the Leesburg Police Department named Duckett the prime suspect in Trenton's disappearance. The child remains missing.
In a Sept. 15, 2006 interview on "Good Morning America," Grace said that she took no responsibility for Duckett's suicide.
"If anything, I would suggest that guilt made her commit suicide," Grace told ABC News' Chris Cuomo. "To suggest that a 15- or 20-minute interview can cause someone to commit suicide is focusing on the wrong thing."
Duckett's family disagreed and filed a lawsuit against Grace, claiming that her intense questioning had pushed Duckett to commit suicide. The lawsuit stated that Grace and her associates inflicted "pain, suffering, embarrassment, humiliation [and] intimidation" on Duckett, which was ultimately the "cause or the proximate cause of her death by suicide."
The family sought damages in excess of $15,000 for funeral expenses and loss of wages, in addition to punitive damages, in an "amount sufficient" to punish the defendants.
On Nov. 8, 2010, Grace reached a settlement with the estate of Melinda Duckett to create a $200,000 trust fund dedicated to locating Trenton. Per the terms of the agreement, if the boy is found alive before he turns 13, the remaining proceeds will be administered by a trustee until he turns 18. Otherwise, the funds will be transferred to the National Center for Missing and Exploited Children.
HLN, Grace's network, did not respond to a request for comment from HuffPost with regards to Medrano's death. Her mother, Yvonne Hill, declined to comment, citing the advice of her attorney.
Whether a lawsuit will be filed in Toni Medrano's case is yet to be seen. There is, however, little doubt that Medrano, like her son before her, died a horrible death.
"It is a terrible, terrible thing," Monahan said.
Support HuffPost
The Stakes Have Never Been Higher
Related
Popular in the Community