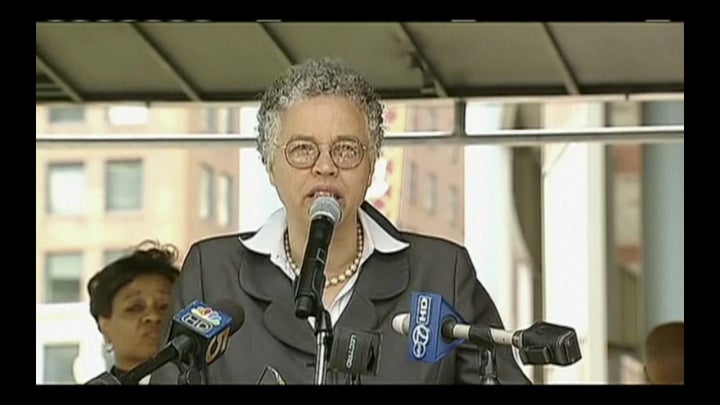 At a rally on Friday, the chief executive of the second-most populous county in the nation declared that the 40-year-old war on drugs "has failed" in its aim to end drug use, instead resulting in mass incarceration.
Cook County Board President Toni Preckwinkle made the remarks at a rally outside the Thompson Center, which was also attended by a number of academics, religious leaders and social service providers. Preckwinkle was the only politician in attendance, according to WGN.
(Scroll down for video from Preckwinkle's remarks.)
The war on drugs, Preckwinkle said, "at a tremendous social and economic cost to all of us. The cost is too great to continue fighting this war on drugs with so little success."
During her campaign for the office, President Preckwinkle often made the case that the county, home to Chicago and many of its suburbs, needed less incarceration and more treatment. She repeated that point on Friday, saying that the $150 a day it costs to keep an inmate in Cook County Jail could be better spent on treatment, education, and jobs training programs, as NBC Chicago reports.
Preckwinkle's statements come on the heels of a new report from the White House saying that arrestees in Chicago have the highest rate of drug use in the country. Around 83 percent of those arrested in the city test positive for drugs, a figure that's been roughly that high since the Office of National Drug Control Policy began issuing such reports in the year 2000.
Arrests involving hard drugs, however, were down sharply: only 29 percent of arrestees tested positive for cocaine and 14 percent for heroin, compared with 50 percent and 36 percent ten years ago, respectively.
"It becomes the issue of mass incarceration," he said during an interview for WBBM-AM 780's "At Issue" program set to air at 9 a.m. and 9 p.m. Sunday. "There is an issue here. And law enforcement has gotten this wrong. Narcotics use is a criminalized social issue. It causes crime. Drug dealers get into violent disputes over turf. It's about the money."

McCarthy added: "It's been so twisted up that law enforcement looks at narcotics as the crime, when it's not. It's the cause of the crime. So, we've had this wrong for a long time in law enforcement."

Preckwinkle says she's working with law enforcement and corrections agencies county-wide to develop a new plan for dealing with nonviolent drug offenders.
Watch video of her speech to the rally:
Related
Popular in the Community