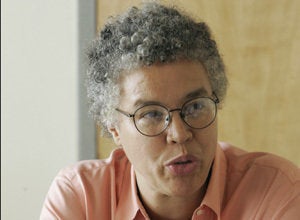 Many new indicators released Friday give Toni Preckwinkle a strong lead in the Cook County Board President's race.
Most telling among them is a new poll from the Trib, in which Preckwinkle has a commanding 12-point lead. She polls at 36%, with Dorothy Brown at 24% and incumbent Todd Stroger in the basement with only 11% of votes.
Stroger strongly disputes the poll, claiming that his own internals show a much tighter race. In Stroger's poll, by Victory, Preckwinkle is at 22.2%, Brown at 20.5% and Stroger at 18.7%.
Meanwhile, a number of major endorsements have come her way in the past week, including the powerful union SEIU, the Daily Herald and Chicago Reader, and Representative Jesse Jackson, Jr.
And new fundraising figures were released today, which showed that Preckwinkle is in the lead among candidates for funds raised in the new year. She's raised more than $165,000 since the new year began.
All in all, a pretty strong news day for Preckwinkle. And with the February 2 elections fast approaching, now's the time to be having days like this.
Related
Popular in the Community