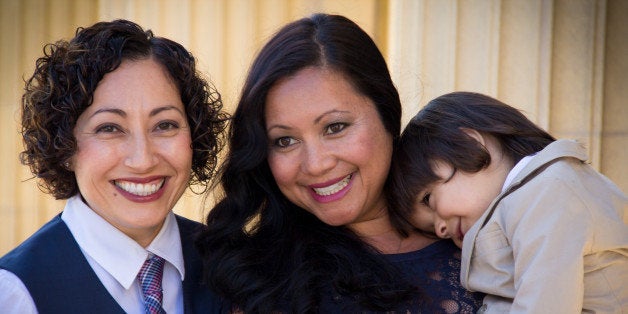 Huffington Post Gay Voices and RaiseAChild.US are collaborating in an 10-part "Let Love Define Family" series for November's National Adoption Month. Each series installment will introduce you to another aspect of fostering and adoption. Together we will meet foster youth, hear from culturally competent foster and adoption agency leaders, chat with cast members from the ABC Family television series "The Fosters," and celebrate LGBT parents and the successful and healthy families they create across the United States. -- Jason Cook, RaiseAChild.US
Long Beach, Calif., residents Bianca Monreal, 39, a licensed therapist, and Tonie Alfonso, 39, a fifth grade teacher, finalized the adoption of their foster son in October 2013. In their adoption announcement, they wrote, "Dreams do come true. The universe has a way of knowing when people belong together." RaiseAChild.US sat down with Tonie to learn more about the couple's path to parenthood.
How did you and Bianca meet?
Tonie: Bianca and I began dating in late 2000 and spent the last thirteen years enjoying every moment. We were immediately drawn to one another and spent the first half of our relationship celebrating our love of travel, culture, and food, renovating our home, and attaining our master's degrees. Our travels took us to Europe, Asia, and Latin America, all the while celebrating our love for one another and passion for life. On June 25, 2006, we got married and had a beautiful reception surrounded by close family and friends. I didn't know I could possibly love Bianca more than I did until we married, and the love has continued to evolve ever since.
Tell us about Jacob and your overall adoption experience.
The universe has a way of bringing people together and our path to Jacob is an example of just that. Our adventure began four and a half years ago on the beaches of Puerto Vallarta. Watching children running around in the sand, Bianca and I decided that it was our moment to build a family. When we returned home, we made multiple attempts to get pregnant through insemination with no success. After our final try, we decided to adjust our path and consider adoption. We attended an orientation with the Los Angeles County Department of Children and Family Services (DCFS) and immediately knew that this would be our path. It took another year and a half to navigate through the application process and receive our first placement call. That evening we picked up twin infant preemies and after six weeks of care, we found out that they would reunify with their birth family. Being a fost-adopt family has its risks and although we knew that, we were sad beyond words. It was one of the toughest moments in our relationship but as we look back now, we embrace our memory of the twins as part of our journey.
Our lives changed forever when we received a call about a baby boy named Jacob. We were on board immediately and after a series of transitional visits, we welcomed Jacob into our homes. He was 18 months old, such a sweet baby boy and a great eater! He fit right into our home and the three of us immediately connected. We recently celebrated his adoption finalization and are excited to say we are finally a "forever family!"
Tell us your thoughts on the importance of adoption and how accessible it is for same sex families.
Adoption is one of the proudest accomplishments of both of our lives, and we say that with complete and total honesty. Getting through this process, keeping our relationship solid through the ups and downs, and ultimately being placed with the most precious little boy imaginable, has brought us closer not only to each other but to our family, friends, and community. Our love for Jacob and the happiness that we feel every day because of him was made possible through adoption, so to us there is no other way. Through adoption we found the gift of family, and that is priceless.
As far as adopting as a same-sex couple, we highly recommend beginning your journey with RaiseAChild.US. Additionally, we recommend adopting through DCFS or any agency affiliated with DCFS. Throughout the entire process, we were treated equally and respectfully. To this day, we are in contact with the amazing social workers, attorneys, and agencies that made our adoption possible.
How has having a child in your home changed your lives?
Just as our wedding solidified our commitment to one another, our adoption finalization solidified our lifelong commitment to Jacob. We are on a forever journey together and this has changed our lives in a tremendous way.
We are first-time parents who have adopted a toddler, so everyday is a learning experience. Seeing the world through Jacob's eyes is probably the best part. He sees beauty in everything from a grasshopper to the moon to the Goodyear blimp flying above our backyard. With Jacob, one day feels like a lifetime because the world is new and he doesn't want to miss a thing.
Jacob has not only changed our lives but the lives of our family and friends. His grandparents, aunts, uncles, cousins, and friends have all embraced Jacob as part of the family. Jacob has adopted all of us.
Share with us anything you'd like to say to other LGBT couples considering adoption.
There are thousands of children in our communities waiting to be adopted into forever homes. Many of these children may have faced a traumatic experience and require homes that understand what this means and how to address their unique situations. Yes, the process is grueling and lengthy, and tests every emotion. Adopting also takes a great deal of trust, courage, and hope. However, we believe that gay individuals/couples have a unique and innate ability to meet the needs of these children. We know what it's like to be different, to face opposition, and tackle challenges. We also know how to be resilient and celebrate life in spite of what others may think. Adopted children need a strong family that will empower them to embrace rather than hide their stories. They also need parents that will advocate for them and teach them that from adversity and challenge come love and humanity.
Why do you recommend RaiseAChild.US for other families as they go through the process?
After the twins reunified with their birth family, one of our social workers mentioned RaiseAChild.US as a place to go for support and direction. We attended an orientation in West Hollywood last December and were immediately impressed by the leadership and quality of support offered by RaiseAChild.US.
When we reached out, we felt alone and unsure about our experiences and were losing hope that we would ever be placed with a child. However, through hearing the stories of other LGBT families and talking with the organization's Parent Advocate, we regained hope and were reminded that we weren't alone in our experience. Once we were placed with Jacob, we continued to access the support of RaiseAChild.US for attorney referrals and advice on adoption finalization. Today, we remain in contact with the RaiseAChild.US team and are inspired by their commitment to the adoption movement in the LGBT community.
Jason Cook is the Parent Advocate at RaiseAChild.US, a nonprofit organization that believes all children deserve a safe, loving and permanent home. We educate and encourage the LGBT community to build families through fostering and adoption to answer the needs of the 400,000 children in our nation's foster care system. RaiseAChild works with foster and adoption agencies that have received training in LGBT cultural competence through the Human Right's Campaign Foundation's "All Children – All Families" initiative [link: http://www.hrc.org/resources/entry/all-children-all-families-about-the-initiative] and received its Seal of Recognition. RaiseAChild's National Adoption Month campaign includes special events for prospective parents in Chicago (November 18), Los Angeles (November 20), Kansas City (November 21), New York City (December 3), and San Francisco (December 5). To RSVP, visit www.raiseachild.us or email info@raiseachild.us.

Before You Go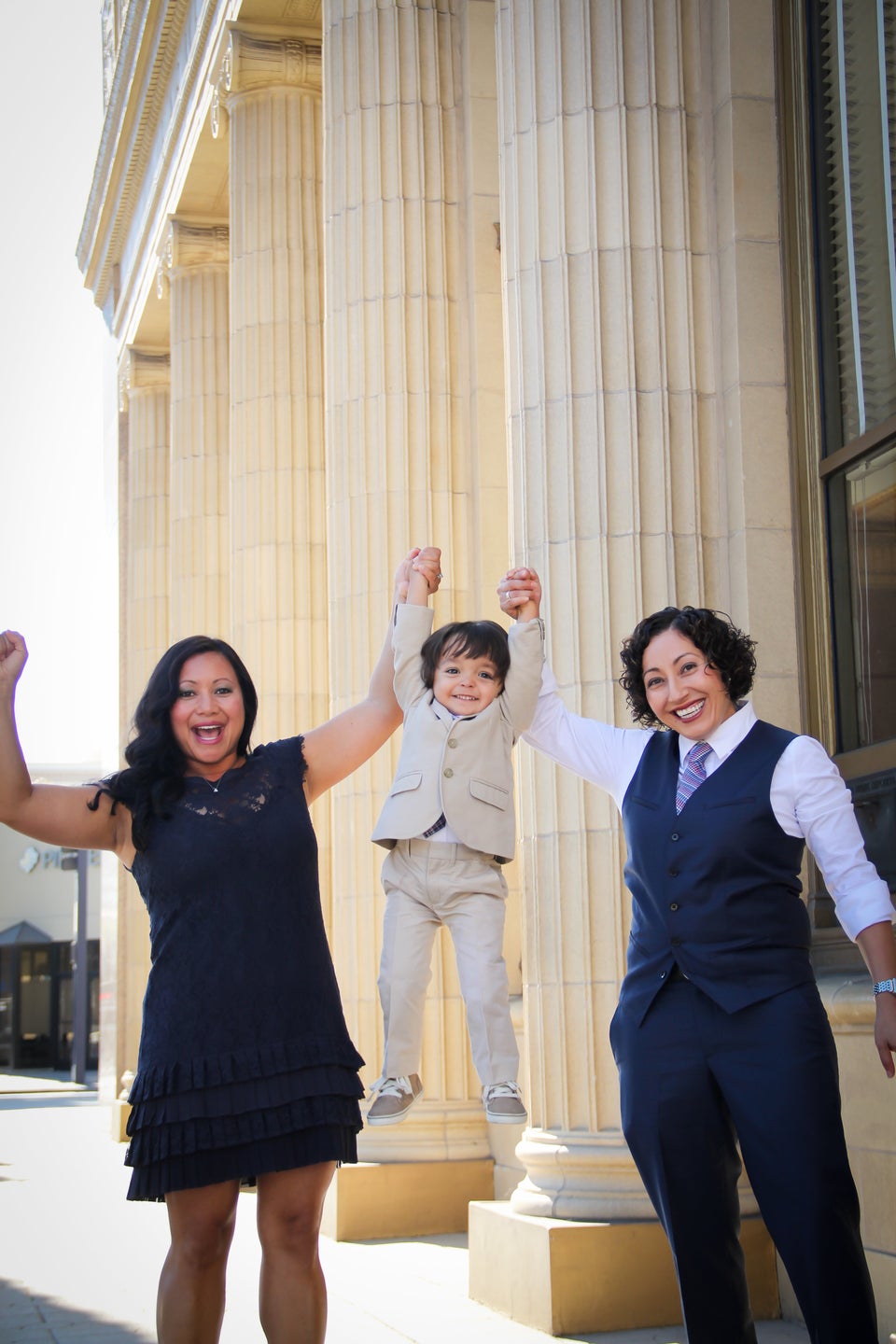 Tonie And Bianca
Popular in the Community