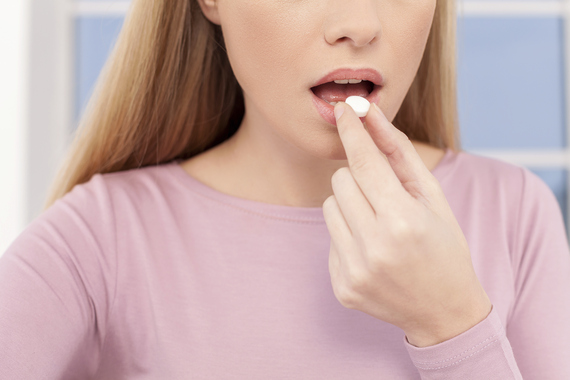 Like many families, my husband, sons and I often have engaging conversations while we're sitting at the dinner table. Something about that environment naturally lends itself to conversation. Sometimes we just share details from our days, or my kids tell me what they learned at school. But sometimes we have our most thought-provoking talks while putting forks to plates.
Tonight we will have one of those discussions. Tonight we are going to talk about drug abuse -- specifically about our nation's opioid crisis.
The most fatally abused drug today is legal and sitting in the medicine cabinet. Opioid prescription painkillers like Vicodin, Oxycontin and Percocet account for more drug overdoses each year than heroin and cocaine combined, killing 44 people every day. Tonight the Dr. Oz Show is doing its part to shed light on this epidemic by hosting "Night of Conversation," encouraging people to have open, meaningful discussions about the risks of opioid painkillers and alternatives to these highly-addictive medicines.
I hope you will participate. Here are some facts and statistics that can jumpstart the conversation:
Opioids painkillers are the legal equivalent of heroin
Heroin and opioid prescription painkillers have nearly identical chemical makeups, so they produce the same kind of effect. Many people struggling with opioid addiction use heroin and opioid painkillers interchangeably, or begin using heroin when painkillers become too expensive or difficult to obtain. Heroin is cheaper and readily available.
In many ways, opioid painkillers have brought heroin out of the shadows. This once-considered back-alley drug is plentiful across suburbia - a trend that directly corresponds with the surge in opioid prescribing that occurred in the late 1990s.
It is a felony to share your prescription painkillers
When we see someone in pain, our reaction is to help. But sharing controlled substances like opioid painkillers is not only risky, but illegal. Most states view it as the legal equivalent to selling heroin - punishable with prison time. Yet, a National Safety Council survey found 70 percent of people who use opioids do not know sharing their drugs is a felony.
Vicodin, Percocet and Oxycontin are not Tylenol - you shouldn't carry these medicines around and just hand them to someone who is complaining of a headache. Not only could you be prosecuted, but you could inadvertently be starting a life-altering addiction.
Opioid painkillers are not necessarily the best way to treat acute pain
Since they became mainstream, opioids have been marketed as the best way to relieve all our aches and pains. We bought onto it, even asking for these drugs by name. We get a backache and ask for Vicodin. But numerous research studies show that a simple combination of over-the-counter pain relievers like ibuprofen and acetaminophen is actually more effective.
If you have to take opioid painkillers - for example, following a surgery or a traumatic injury - take the smallest dose possible for the shortest period of time.
Continuing the conversation
Our opioid crisis did not happen overnight, and it will not go away that quickly, either. Tonight is a great time to start a dialog, but the discussion should be ongoing. Question your doctor if he or she recommends opioid painkillers. If you take these medicines, store them in a locking medicine cabinet so they cannot be stolen or taken unintentionally. Understand that opioid painkillers may hinder your ability to drive or perform your responsibilities at work. Talk to your kids about the risks of these medicines. Just because they are legally prescribed by doctors does not mean they are any safer than drugs you could buy on the street.
If your family is anything like mine, you may have some of your best chats while you're sitting around the dinner table. Have this one tonight, and make it count.
Deborah Hersman is president and CEO of the National Safety Council
Need help with substance abuse or mental health issues? In the U.S., call 800-662-HELP (4357) for the SAMHSA National Helpline.