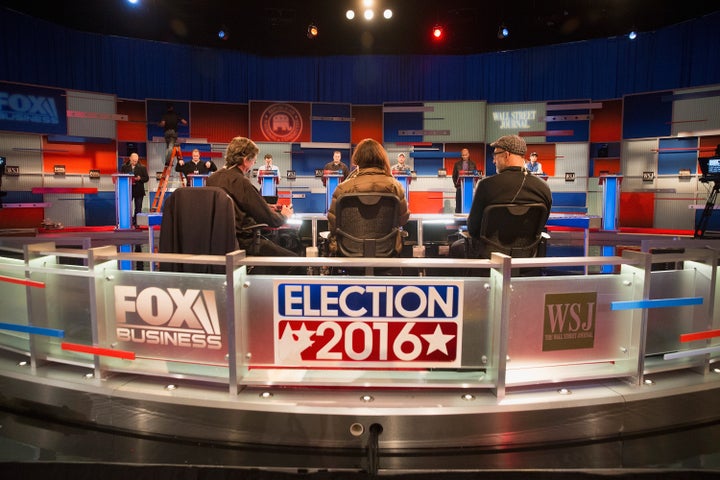 During the next U.S. Republican presidential debate on Tuesday, Fox Business Network aims to keep the candidates talking about economic issues and avoid the criticism leveled at rival CNBC that it failed to keep the focus on substance.
The stakes are high for Fox Business, a younger and smaller cable channel to CNBC that has a chance to attract new viewers from the millions likely to tune in for its first debate in the November 2016 presidential election.
"For Fox Business, this is an important rite of passage," Neil Cavuto, the network's managing editor of business news, said in an interview this week. "I don't want to screw it up."
Cavuto and Fox's Maria Bartiromo will moderate the prime-time debate with eight top-polling candidates alongside Wall Street Journal Editor-in-Chief Gerard Baker. Fox Business is owned by Rupert Murdoch's Twenty-First Century Fox Inc, and the Wall Street Journal is a unit of Murdoch's News Corp.
Moderators for CNBC, the top-rated business network owned by Comcast Corp, came under criticism from candidates who felt questions were unfair, serving up opportunities to criticize each other rather than discuss issues. A CNBC spokesman said presidential hopefuls "should be able to answer substantive, challenging questions."
For the next debate, Cavuto said he aims to keep candidates talking about economic issues such as Social Security, taxes and government spending. While some critics say the network leans conservative, Cavuto said there is no political agenda.
"We are a business network," he said. "We really don't focus on the red or the blue. We are just green. Money in and money out."
Cavuto and Bartiromo declined to critique their rivals' performance. But their network ran a commercial saying CNBC "never asked the real questions" and promised it would offer a "real debate about our economy and our future."
The contenders will have more time for responses at the two-hour debate in Milwaukee - 90 seconds to answer questions and 60 seconds to respond if their name comes up, longer than the traditional 60-second answers and 30-second responses.
"You want to let it breathe and make sure no one is rushed but at the same time no one is showboating," Cavuto said.
Both moderators said they are doing their homework to be prepared for challenges from the contenders.
Bartiromo, global markets editor for Fox Business, said she believes jobs, wages and tax reform are among voters' top concerns in the November 2016 election. "It's amazing to me that we haven't had much focus on the economy and jobs yet and here we are four debates later."
Fox Business Network was founded in 2007, following CNBC's 1989 debut. Fox Business reached 82 million homes on average this year compared with CNBC's 92.7 million, according to SNL Kagan data.
Earlier debates attracted record audiences, topped by the 24 million who tuned in to Fox News Channel's debate in August. Viewership in the millions would far surpass the typical audience for Fox Business, which averaged 102,000 viewers on weekdays in October, according to Nielsen data.
The debates will stream for free on foxbusiness.com. Several pay television distributors will let their customers watch the debate on TV even if they do not subscribe to a package that includes Fox Business Network.
"The reason we do these (debates) is to help viewers get informed on the candidates' positions and help the voter best distinguish the differences," Bartiromo said. "That's missing a bit right now."

Read more at Reutershttp://www.reuters.com/article/2015/11/06/us-usa-election-foxbusiness-idUSKCN0SV2YF20151106#zRquLiCXJFOoTrjk.99
Popular in the Community