Well, another Tony Awards is in the record books. Of course this one will forever go down as the Hamiltonys, although the musical did not break or even tie the record for most Tony Awards ever. Hamilton dominated the season and book-ended the broadcast. The broadcast was also notable for one other thing -- the fact that it happened after such a horrible day of grief. Host James Corden filmed a cold open to address the mass shooting in Orlando. Many mentioned it throughout the night. Ribbons were worn in honor of the victims. It was a tough night to celebrate anything. But celebrate the theater world did; as the anti-Trump slogan goes: Love trumps hate.
I personally found the broadcast a disappointment, but the season was very strong and that did come across. Kudos to On Your Feet!, which was not nominated, for best use of a famous writer. Gloria Estefan joined the cast onstage for a medley of her hits. It was perhaps the best commercial for a show of the night. I wish the outdoor gimmick worked better--I thought current shows performing songs from classic shows sounded like an amazing idea. In execution it fell flat for me. (Though I loved the one featuring Best Score nominees, obviously.) Shame on the Tony Awards for offering no place to watch live as honorees--such as legend Sheldon Harnick--accept their Tony honors or creative folks pick up their Tonys. I did find host James Corden enthusiastic and engaging. To me though the fun of award shows is often reacting to the surprises; there were none at the Tonys. Except of course the producers thinking nominated featured actor Christopher Fitzgerald was nominated director Michael Arden. (Remember when the Golden Globes confused Gina Rodriguez With America Ferrera? This was the white dude version of that, except thankfully not in print.) All this said, because of some strong musical numbers and infectious spirit, it was still vastly more entertaining than the majority of award shows. And, as with every year, afterwards, we partied!
I decided to skip the big Hamilton celebration at Tavern on the Green, assuming that was well covered by everyone else in the world. I intended to start at School of Rock's party at Howl at the Moon, but my schedule got switched all around and I missed it. I was sad to miss it, because I heard many of the kids took the stage to perform, but children mean an early end time, and given the long broadcast, it wasn't meant to be.
Instead I started at Hudson Terrace where there were was a boisterous crowd celebrating The Color Purple's wins for Best Revival of a Musical and Best Actress for Cynthia Erivo. When I arrived at midnight, there was a lot of dancing going on--appropriately, to a Prince song--and a basket of bags of Terra Chips. Shortly after I heard a huge cheer. I thought Erivo must have arrived, but the applause were for producers Scott Sanders and Oprah Winfrey. A five minute crunch ensued where everyone tried to get pictures of Oprah with the Tony or Oprah with themselves. I've never seen such a reaction for a producer. Then again, most Broadway producers aren't exactly Oprah level. Sanders and Winfrey were also behind the original, less acclaimed, Broadway production of The Color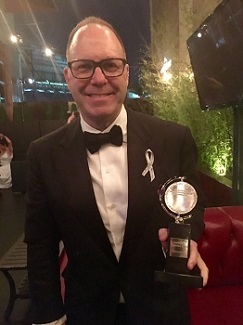 Purple. After his Tony win, Sanders told me he never thought he'd see the show on Broadway again during his lifetime until he saw it in London. "Seeing Cynthia Erivo play Celie and seeing what [director] John Doyle did with it - it was extraordinary," Sanders said of his trip to the Menier Chocolate Factory, where this production originated. "British audiences are usually reserved, but they were standing and stomping their feet." The show received great acclaim overseas and upon its transfer, but it was a strong year for musical revivals, and Sanders acknowledged the Tony wasn't a sure thing. "I was nervous going into tonight," he admitted, noting that he told his husband as he was getting dressed that he was prepared for She Loves Me, a revival he loved, to win. However the big honor went to The Color Purple, which some consider the best, and most transformative, revival ever.
After a couple of drinks at The Color Purple party, I headed over to the well-known O&M, now officially DKC/O&M, after-after party which is more of an "every show" melting pot. Traditionally the party has been held at the Carlyle, but this year it was at the swank Baccarat Hotel, located close to some other festivities. Outside about six fans (including one older woman) were standing in their own cordoned off area. I asked them how they knew about the location of the party--more secret than in past years--and they said they just found out. Most weren't there to get autographs, but rather to get selfies with stars. Big ticket names such as Diane Lane (who, according to one fan, refuses to be photographed with flash) and Jesse Tyler Ferguson had happily complied.
As for inside, while the Baccarat doesn't have the storied history of the Carlyle, I much preferred it, as there was actually room to walk and you could hear people talk. Though of course it helped that no one (or very few folks--I did see The Color Purple's Sanders and Danielle Brooks) from Hamilton or The Color Purple ventured over - less true pandemonium and attempts to get Tony selfies. A super-exclusive upstairs room was kept mostly off-limits from the plebeians. (I didn't try to go upstairs and had no desire to do so, but as the main floor shut down at 4am, many tried to keep the party going by arguing their way onto the "up" elevator.) The venue also had the perfect dance floor for "Disco Lloyd Webber," an offshoot that the Lord himself helped DJ for a minute or two.
I was disappointed Shuffle Along went home empty-handed, so I was thrilled to see Savion Glover (who I think deserved to win for his tap-happy choreography) having a great time, taking selfies and chatting with folks, as soon as I walked in. Later in the evening, I saw Shuffle librettist and director George C. Wolfe and Glover lying on a couch partially embracing in a moment so peaceful and beautiful that I wanted to capture it on camera, but felt I couldn't, as it seemed like snapping away secretly would be rude and asking would be disruptive.
David Rockwell--a well-deserved winner for his She Loves Me set design and longtime client of Rick Miramontez, DKC/O&M Director--was the first person I spied with an actual Tony Award. He said it was a "real joy" to finally win and laughed when someone called him the real killer of Hamilton. (Hamilton, the show, would have tied the record for most Tonys had it won set design.) The Humans winners, including producer Scott Rudin and stars Jayne Houdyshell and Reed Birney, also happily celebrated their big night at the soiree. In many ways, Lloyd Webber was a winner too--though he didn't take home any Tonys, not only did he DJ for a bit at his own disco, he spoke at the School of Rock party, made a big splash when he played tambourine during the aforementioned telecast number with other Best Score nominees and also granted $1.3 million to the American Theatre Wing to fund theater education opportunities in the US. When asked, he said it was a "great honor" to be able to help the Wing. Which is the first time I've ever heard anyone refer to giving $1.3 million as an honor, but that is class I suppose.
This was an unusual Tony Award year in many ways. But every Tony Award night is special. Theater is such a small community, but every year it welcomes new members and gets to know them very well. After all, Broadway isn't so big--the Broadway theaters farthest apart are three subway stops away from each other. It's a community that is inclusive and welcoming. Everyone appreciates the effort everyone else puts in to get a show up eight performances a week. The night is about celebrating that effort and the humans who make it possible.
Photo is of Producer Scott Sanders with his Tony Award on the terrace of Hudson Terrace.
Calling all HuffPost superfans!
Sign up for membership to become a founding member and help shape HuffPost's next chapter