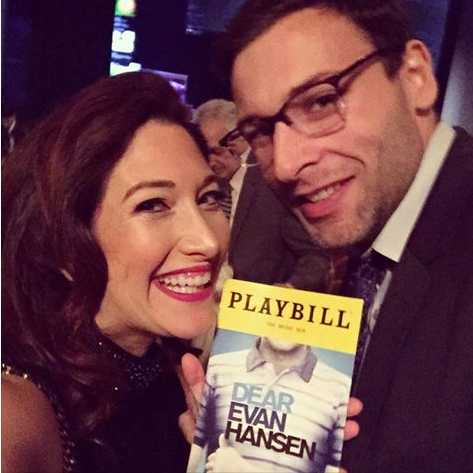 The TONY Awards are here! Here's my cheat sheet of what to look for tonight and highlights from this incredible season (featuring Dear Evan Hansen, Bette Midler, and much much more)
While the day passes as merely a blip for most people, for theater lovers, today marks the biggest annual celebration of the live performing arts in this country. I would argue that we are in a critical moment for the performing arts - for millions of children, the arts are the ONLY reason they choose to stay in school, yet they are the first thing to get cut from the school budget. And for millions more Americans, the performing arts are the only exposure to politically sensitive and diverse opinions and viewpoints with the potential to open minds and hearts on difficult, divided issues.
This is my second year serving on the tech advisory committee for the American Theatre Wing and I am proud of the incredible work this organization does to introduce millions of children to the arts and advocate for arts education around the country. And of course, I am especially proud of the Wing's work tonight in putting on The TONY Awards. Ian Weiss Jim Glaub Binta Niambi Brown
This year, I served as a TONY voter, which means that I saw every single show on Broadway, and many of them twice (especially if I saw a show back in the fall and didn't want recency effect to play a role in casting my ballot, which was due on Friday.) That means that between September 2016 and June 8, 2017, I saw approximately 40 Broadway shows.
So in my humble opinion, here's what to watch for tonight and my personal highlights from the season:
1) Musicals tackling crazy weighty issues in a beautiful way.
When you think about musicals, most people think of jazz hands and tap dancing. You don't typically think of teen suicide, 9/11, and the start of the AIDS crises as the peppy subject matter for successful musicals. Yet, this year's musicals provided us with a perfect dose of grit, mixed with sensitivity, soul, and heart. Dear Evan Hansen (disclaimer: I am an investor in the show) is a modern coming of age story for a high school boy in today's digital age. It makes you laugh and then moments later breaks your heart, over and over again. But it also opens up an incredible opportunity for dialogue around teen suicide, bullying, and social media. Come From Away, the sleeper hit of the season, tells a beautiful story of a tiny town Gander, in Newfoundland Canada, that suddenly swelled in population when dozens of planes from around the world had to land there for a week after the US airspace closed during the 911 aftermath. I grinned for the entire 90 minutes of this delightful musical and left talking about how important it is to have a musical that advocates for opening our hearts to strangers in a time where politically we are becoming more and more closed off every day. I also loved Falsettos on Broadway, a beautiful musical about a modern family torn apart at the beginning of the AIDS crisis. Again, funny, sad, and poignant, all in one. And Bandstand Broadway, a new musical that opened recently about army vets grappling with PTSD. I'm so glad that shows this season didn't shy away from tackling weighty issues in a way that only the performing arts can do. Tonight's TONY Awards will surely be a celebration of some of the powerful messages that can be told through the arts, and theater as a way to connect and potentially open doors to people with very different viewpoints. Congrats to all my friends involved in bringing these incredible shows to life: Tony LePage Jordan Roth Cynthia Stroum Kelly DevineMichael Kriak Eric Kuhn
2) The economic power of older women!
Ever since the nominations came out, I have had a perma-smile on my face when I see that in the leading actress category, THREE OF THE FIVE WOMEN ARE OVER 65 YEARS OLD! I'm sorry, but how amazing is that?!?! Bette Midler, at 72 years old, is laying it out there on the stage in Hello, Dolly on Broadway seven shows a week, grossing $2 MILLION dollars a week. First, that is some serious badass female economic power that should be celebrated for the Girl power awesomeness it is. But also, it made me hope that in my life, I love what I do so much that in my 70s, I still want to work my ass off like Bette Midler, Pattie LuPone, Glenn Close, and Christine Ebersole do this season, just because they love what they do so damn much. Brava ladies. It is truly amazing and inspiring.
3) A celebration of seasoned stars and new stars being born.
While there is incredible (and well deserved) buzz around Bette Midler and Kevin Kline, there is no doubt that a new star was born this season, and that star is Ben Platt in Dear Evan Hansen. To see Ben lay it all out there every night - crying, sweating, trembling, screaming high notes that would make most tenors wet the bed in fear - night after night after night for two years(!) is truly amazing. RUN to get tickets to this show, before it becomes harder than Hamilton!
As someone who cares deeply about my Jewish identity as well, it was wonderful to see a Broadway season so rich with Jewish-themed work that is also so incredibly relatable and enjoyable to broader audiences. Oslo, one of the front runners for best new play, is about the unlikely Norwegian couple who brokers the Israeli-Palestinian peace negotiations that led to the Oslo Accords. Indecent on Broadway is an incredibly beautiful play about a Yiddish theater troupe who risked their lives and deportation back to Nazi Germany to take a show to Broadway that depicted two women kissing on stage for the first time ever in Broadway history in the late 1930s. And even the new musical @WarPaint deals extensively with the prejudice that Helena Rubinstein, beauty industry pioneer, faced as a female executive in a time when that didn't exist at all, and a Jewish female executive to boot.
5) Innovative new ways to view theater
Natasha, Pierre, and the Great Comet of 1812 is truly a work of art. If you make it to NYC, go see it (and try to get a seat on the stage if you can!) Love it, hate it, whatever you feel about an eclectic modern opera set to a section of Tolstoy's War and Peace, there is no doubt you will walk away from the show mesmerized and feeling like you just saw something incredibly important and boundary pushing in the way the show was staged. Rachel Chavkin is a national treasure! On the play side, The Little Foxes is memorable because it stars Laura Linney and Cynthia Nixon, who switch roles every single night! So depending on which night you go, you see one of them in the lead one night with the other in the supporting role, and the other one in the lead the next night!
6) Let's talk about sets, baby! Turntable Sets and Projections were all the rage this year.
Hamilton brought back the rotating stage and boy was it back in full force this year! Come From Away used the rotating stage beautifully to compliment a minimalist set using only chairs. Groundhog Day MusicalDay used a rotating stage to show how time passed while standing still.Anastasia The Musical used beautiful on stage projections, especially during one scene with a prolonged train ride that was particularly beautiful. And Dear Evan Hansen, wow, the projections on stage of social media posts and digital media feel like another character in the show. I also want to give a special shoutout to @Playthatgoeswrong, a hilarious Monty Python-style slapstick show, where the set is perhaps more important than any of the actors!
Those of you who know me well know that I could go on and on and on about this for days. Thankfully for all of you, I'll stop for a few weeks now that we've reached the TONY Awards. But in a world where we risk the defunding of the NEA, where students aren't getting arts education in schools, where we are creating these incredible technology platforms that are only as valuable as what we share...I am proud to be a lifelong theater lover and ambassador for the arts.
Much love to everyone tonight, especially all my friends who are nominated for awards and those of you performers around the globe who lay your souls on stage night after night after night, in order to inspire people, open up hearts and minds, and be part of something bigger than yourself.
Calling all HuffPost superfans!
Sign up for membership to become a founding member and help shape HuffPost's next chapter
This post was published on the now-closed HuffPost Contributor platform. Contributors control their own work and posted freely to our site. If you need to flag this entry as abusive,
send us an email
.