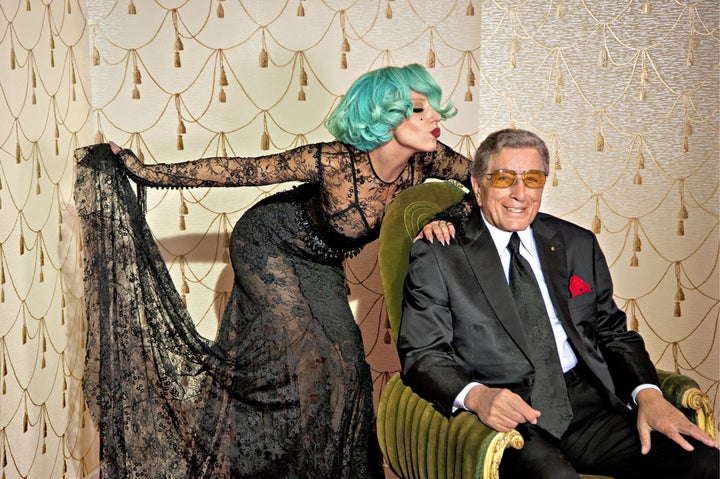 If I'm even half as spry and debonair as Tony Bennett when I'm 85 years old, I'll be a happy man.
The American icon outdid himself Sunday night in New York City, coasting through renditions of "I Left My Heart in San Francisco," "The Good Life," and a moving a cappella version of "Fly Me To The Moon," which he sang alone, sans microphone, to cap off the night.
The showman -- whose new album, Duets II, is already number one in 10 countries and was released today in the U.S. -- strutted onto the grand Metropolitan Opera House stage for his birthday concert, where Robert De Niro, Katie Couric, Mitch Winehouse, both Hilary and Bill Clinton, and Whoopi Goldberg were among the guests.
President Clinton provided a surprise introduction to the show, praising Bennett's singularity in the music business, and even giving a shout out to his painting skills. You can find a "Benedetto" original in each of the Clinton's homes.
On Bennett's new album his vocals are flanked by an orchestra, and the broader string instruments tend to take center stage. Performing live, however, Bennett needed only a tight four-piece jazz band, stripped down and complementary; his voice the main attraction.
"I'm so happy to be here," Bennett said repeatedly, his arms outstretched. And the crowd responded in kind, erupting in rapturous applause countless times throughout the performance, even, at times, midway through songs. At one point, Bennett merely shuffled his feet and spun around, and the applause lasted a good 10 seconds.
Speaking with The Huffington Post on Monday, Bennett said that was his favorite part of the job.
"When I know the audience feels happy, it makes me feel so content," he said. "That's why I do this."
After the show -- which included special appearances from Elton John, Alejandro Sanz, and a showstopper from a very healthy Aretha Franklin -- a gala dinner was held at Lincoln Center in honor of Exploring the Arts, the non-profit Bennett founded with his wife, Susan Crow, to benefit arts education. Alec Baldwin hosted the event, bypassing the Emmy Awards in Los Angeles, where he was nominated for Best Actor in a Comedy Series (which ended up going to Jim Parsons for "Big Bang Theory"). Baldwin said he could watch them on YouTube tomorrow with everyone else. Tonight, he was there for Tony.
"You sound beautiful, man," Baldwin told Bennett at the gala. "You sound so beautiful."
As one who has appreciated Bennett from a distance, but never personally responded to his music, watching him command the stage with grace, talent and a clear appreciation for his audience was eye-opening. Here's a guy who, after all these years, still hits every note he aims for, and you feel every word he sings. Is it possible he sounds better now than he ever has?
And somehow, he shows no signs of slowing down.
"You should always keep going," he said. "I like that philosophy. Because the people that I've met, that retired, they regretted it. They're looking at a wall and they don't know what to do with themselves."
But what's the secret for staying so damn healthy? To the point where, at 85, he can not only sing, but dance and hold high notes and stay out late and look good in a suit?
"I had great training," he said. "My teachers were magnificent. I still live by what they taught me at school, at the American Theatre Wing. They taught me the proper way to handle yourself and your voice on and offstage."
Nowadays, Bennett juggles multiple projects at once, and he's even taking up sculpture, receiving lessons from a private teacher in his home art studio.
Though Bennett has had his share of struggles -- we forget that he practically disappeared from the spotlight for over a decade as he struggled with tax and drug problems and a changing musical landscape -- he's now deeply proud of his career, and his unwavering devotion to the classics. When other contemporaries changed with the times, Bennett kept his tailored suit on, his hair combed tight, and continued to sing whatever he felt like.
"I never compromised," he said. "I always said: Never do something just for a quick buck. Even if a song isn't a hit, it was well written with great musicians -- that's been the premise. And at 85 it's just starting to pay off."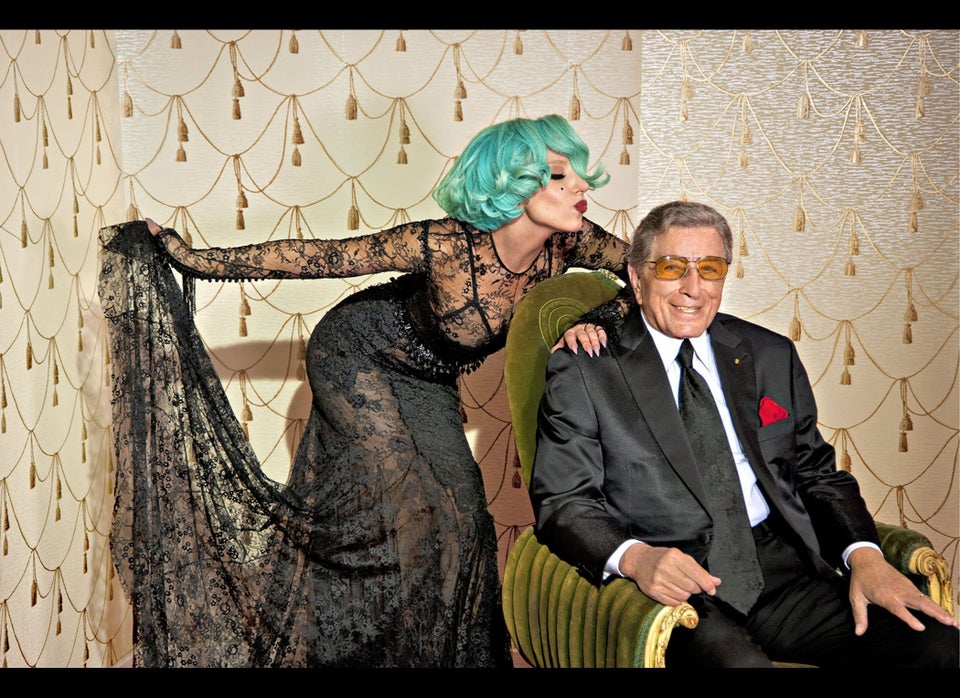 Related
Popular in the Community