Okay. There's Fred & Ginger. Sonny & Cher. Beyonce & Jay-Z. And then there's Bennett & Gaga. A match made in jazz heaven.
Let's face it. We're dragging and sagging under heavy headlines. We all need a quick escape from global gloom, and I don't mean Soul Cycle. We're plugging IN, shutting OUT, cutting OFF. Call me bitter on twitter, but I'd rather talk face to face. It's called conversation.
There's one conversation that's turning the world from charcoal gray to cobalt blue: the jazz minglings of Tony B & Lady G. Two stars destined for duet-dom, this pair is the perfect antidote to dreary news and summertime blues. Hopping from New York to Perugia, Bethel Woods to Borgata, this smashing duo is doo-wopping us right out of our doldrums.
What better way to ring in the summer Solstice than Tony Bennett & Lady Gaga dazzling the stage at Radio City Music Hall? It's all part of an international tour from Tanglewood to Copenhagen called Cheek to Cheek, celebrating the iconic duo's latest jazz album, mini Lincoln Center concert, DVD and PBS broadcast of the same name.
Personally I would have called it Chic to Chic. Think Bogey & Bacall. Clooney and Crosby. Elegance sprinkled with wit. After all, Gaga & Bennett's crooning and swooning are throwbacks to Stardust Ballroom days when gals wore gowns, not capris; and men wore silk duds, not tees. Simply put, Lady Gaga fits Tony Bennett like a long, velvet glove.

Yup. There I sat in the historic hall, witnessing a night of glamour and glitter, a panorama of big band musicians -- reminiscent of Dorsey and Goodman -- rising up in a horizontal spread of violinists, cellists and bass players. The room scintillated with silver, strings and saxophones. I thought any minute the Ziegfield girls would descend.
Bennett & Gaga: Better than rum and coke, bagels and lox, eggplant and mozzarella. Theirs is an exuberant musical conversation, backlit with a soft blend of turquoise, lavender and magenta. (No surprise, since Bennett is an established painter). The pair is a blend of sparkle and subtle; they giggle and snuggle, flirting and flitting, posing and prancing around the stage. Tony -- at 88, the number of keys on the piano -- as suave as ever. Gaga -- at 29, a luscious blend of Ella, Etta, Sara and Dinah -- at ease with herself and with the crowd.
I sat transfixed amidst 6,000 fans, yet part of an intimate chat. After all, weren't there just three of us in the room? It felt as if I'd silently entered an exclusive jazz salon, eavesdropping on a private Tony-Gaga tête-a-tête, a one-on-one exchange of luscious harmonies and life musings.
We hear the contrast between Tony's dapper and Gaga's shock-pop style; a stream of jazz standards flows in and around their smooth patter: Stepping Out. Let's Face the Music and Dance. Beautiful. In the Wee Small Hours of the Morning. This is one conversation we don't ever want to stop.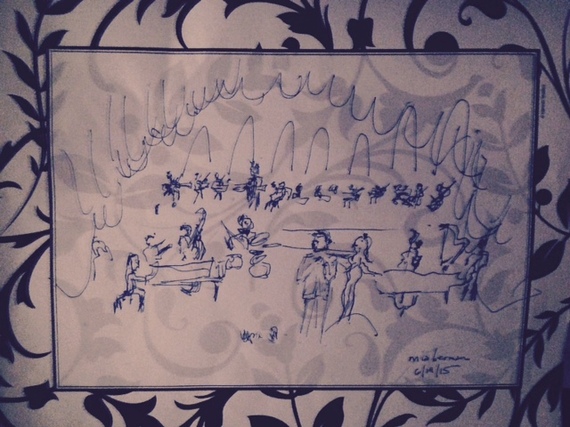 Two off-the-charts pop stars, nearly six decades apart. One with bobby soxer fans, the other with Little Monsters. One exploded in 1951, the other 60 years later; one with a hit single selling 1 million copies; the other with 42 million Twitter followers. One a suave Italian with designer suit and tie; the other an animated Italian with performance art pop star designer costumes.
Gaga's a mystery of opposites -- an innocent child with a splash of mature. A little girl with adult insights. A kittenish Monroe purring inside a voluptuous Sophia Loren. A "plain Jane" regazza -- Stefania Joanne Angelina Germanotta -- turned coquettish Brigitte Bardot, turned poignant Piaf singing La Vie en Rose. One moment she's twirling a red feathery boa; another she's dressed in 50's Americana: decked out in blonde flip, cotton candy pink dress and giant satin bow.
Tony -- born Anthony Benedetto -- leans entranced on the Steinway concert grand, listening to his jazz dudes (conductor/pianist, Mike Renzi, drummer Harold Jones, bassist Marshall Wood, and guitarist Gary Sargent) momentarily enter the conversation.
But just like in real life conversation, duets have some solo time. Gaga and Bennett intersperse their musical dialogue with soliloquies and silence. It's not a power struggle. Nope. it's about give and take, pauses for reflection, intelligent listening and responding.
So listen up, millennials, work-out fanatics, World Summit negotiators, and Presidential candidates. You just might learn a thing or two from masters Tony Bennett and Lady Gaga.
Bennett-Gaga Congressional Pop-in: Syncopation, Legislation & Meditation -
I say stream in a Gaga-Bennett guest lecture throughout Capitol Hill. Post some You-tube vocal lessons on the White House Facebook page. Teach the Senators some jazzy duets. Let Congress find their inner Irving Berlin; analyze less, play more. Then sit back and watch them harmonize, improvise, and compromise.
Yoga or To-Ga: It's a new form of meditation...better than zen or zumba. It's listening to a few bars of TO-ny & GA-ga. Call it TO-GA. Marketing genius. Shouldn't it be trademarked?
Rhythm & Barre or Rhythm & Blues - Tired of Barre burn, cardio crunches and body sculpting? My gym classes sound more like detergents than workouts: Liquid Strength & Deep Extreme. Instead, try a touch of Germanotta & Benedetto. Your Abs will be Abs-olutely spinning on clouds. Life-time warranty of bliss. Xanadu minus the Xanax.
Pilates or Porter? Gyms are great, but really...how much treadmill can one take? Even Alice in Wonderland said it: There's only so much one can run in place. Gaga gives us a sultry glimpse of Cole -- and this Porter will give Pilates a run for my money any day. Listen up, personal trainers: Her version of Every Time We Say Goodbye stretches my heart and soul cycle, working out my core. Equinox, eat your heart out.
Astronomer Unplugged - It's a lunar monologue. When Bennett unplugs so we can all hear the raw, non-electrified melody in the stellar acoustics of Radio City Hall, his smooth-as-silk Fly Me to the Moon sends us up to the stars in heavenly bliss. Simplicity. Clarity. Less is more.
Dalai Lama or Dalai Gaga - A songstress/philosopher/commentator, somewhere between Deepak Chopra and The Narrator in Our Town, Gaga steps a bit closer to speak to us, drawing us into the conversation. Observing her generation's obsession with staying young, Gaga concludes "we're like fine wine...we get better with age." Intoducing a melancholy Duke Ellington song, she recalls "those dark evening hours," sadly remembering all her mistakes, thanking God that "in this LUSH LIFE... I'm a fine wine."
P.R.O. - Poignancy Rules Overwhelmingly. For pros Bennett and Gaga, humility is key. She dedicates one torch song to her way-back-when vocal teacher, who accepted her -- faults and all. Then, just before the enchanting Rodgers & Hart song, Bewitched Bothered & Bewildered, she admits: "I'm almost 30 and things are getting confusing," thanking the handful of friends in the front row who stuck with her through ups and downs. Bennett, too, reminisces about things that have touched his heart, like receiving a note from Charlie Chaplin, the composer of his hit song Smile.
Off The Cuff and Off-The-Couch Therapy- Vulnerable Gaga relives her days of coping with "all things that chase you from yourself," regretting the time she said goodbye to herself: "Don't do that - it's a lotta work to come back," then easing into another Porter heartbreaker, Every Time We Say Goodbye.
Tony/Gaga 2016 ticket - Both political activists and musical pacifists, Tony marched in 1965 at Selma with MLK; Gaga is the champion for so many "born that way" underdogs. If they announced the Tony/Gaga 2016 ticket, they could out-Trump, out-Hilary and out-Jeb pretty much anyone. Their campaign motto? Harmony rules.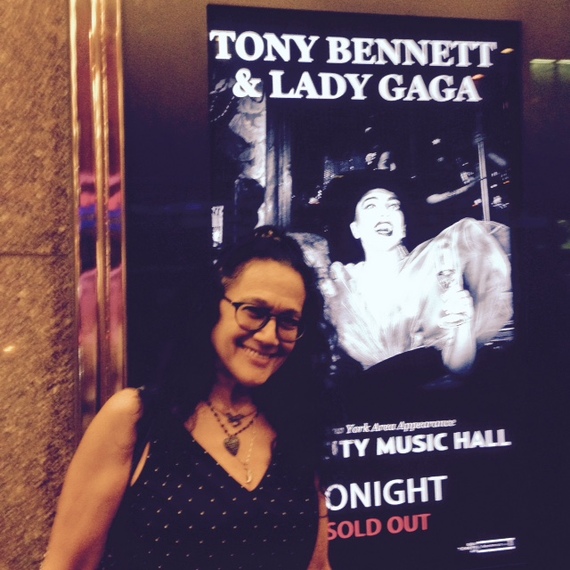 No Ifs, Ands or Tiffs Great conversations have riffs. Gaga intersperses her strutting and harmonizing with nuggets of wisdom. Profound verbal patter -- lessons she 's learned the hard way, teaching her class of thousands like a tutorial. Avoid tumult, confrontation, and regrets. It's summer. Savor the conversation. Sip a jazz cocktail.
Think Pink & In Sync- Gaga beguiles, from the salmon pink of Anything Goes to the metallic sparkle of Bang Bang, shimmering like the entire brass section in saxophone gold. Bennett beams with a nostalgic voice. Two soloists in the universe--independent stars blinking light years apart--unexpectedly intersected paths across constellations. There's hope for politicians across the aisle and 180 degrees apart -- they can eventually be in sync.
Swing Vote or Swing Bill - To prevent a filibuster, try playing some Gaga singing Gershwin in Congress; politicians could sure use an injection of jazz pizzazz; then maybe something would actually get passed.
Fluke or Duke? Sure you can randomly stumble on something that floats your boat. But it just takes one word from your boss, one more CNN announcement that one more candidate is running for President, one more post-it break-up, and w'ere all off-course. One word of advice to get you back on track: DUKE. Think solace. Solo. IN MY SOLITUDE. Hearing a few bars of Bennett probing the mysteries of loneliness can melt you into a sweet calm faster than you can say Ellington.

Bullying or Bust - Mean girls, move over. They may have all laughed at Christopher Columbus or the new girl in town, but... Got a bullying problem, babe? Try Gershwin. Listening to Bennett and Gaga sing "who's got the last laugh now" might just do the trick.
Real Thing - As for Tony Bennett & Lady Gaga, they've sure got the world on a string. They've got zing, they've got swing, and yes, it don't mean a thing. No, it means everything.
Behold: Olden is Golden - Bridging the old with the new, Bennett salutes a 1945 Gershwin song, whose lyrics -- still applicable 60 years later -- suggest that what really matters in life is timeless.
Let it rain & thunder/Let million firms go under
I love you and you love me/That's how it'll always be
Love's the only thing that matters.
In the end, the Bennett-Gaga jazz duo is a conversation about love, which triumphs above all.
Popular in the Community