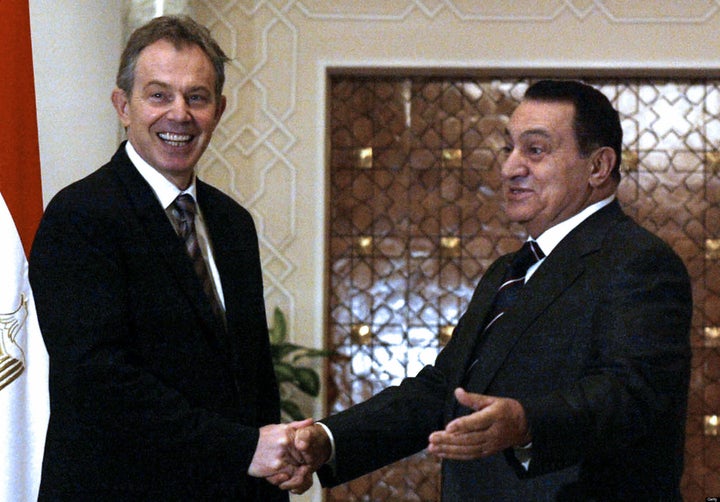 Tony Blair took an adversarial stance this week by defending Egypt's autocratic president as "immensely courageous, and a force for good." According to the Guardian, the former British prime minister drew attention to Hosni Mubarak's role in the Israeli-Palestinian peace process during a Feb. 1 appearance on Piers Morgan's CNN program. He went on to note that Western governments would be best served by backing Mubarak, despite the ongoing series of increasingly deadly protests throughout Egypt.
"Where you stand on him depends on whether you've worked with him from the outside or on the inside. I've worked with him on the Middle East peace process between the Israelis and the Palestinians so this is somebody I'm constantly in contact with and working with and on that issue, I have to say, he's been immensely courageous and a force for good," he said.

"Inside Egypt, and I have many Egyptian friends, it's clear that there's been a huge desire for change. I don't think the West should be the slightest bit embarrassed about the fact that it's been working with Mubarak over the peace process but at the same time it's been urging change in Egypt," he said.
Though Blair acknowledged that political change was coming to Egypt, he warned against rushing into elections.
"I don't think there's a majority for the Muslim Brotherhood in Egypt. On the other hand, what you've got to watch is that they are extremely well-organized and well-funded whereas those people who are out on the street at the moment, many of them will be extremely well-intentioned people but they're not organized in political parties yet. So one of the issues in the transition is to give time for those political parties to get themselves properly organized," he said.

"People want a different system of government. They're going to get it. The question is what emerges from that. In particular I think the key challenge for us is how do we help partner this process of change and help manage it in such a way that what comes out of it is open minded, fair, democratic government," he said.
Related
Popular in the Community