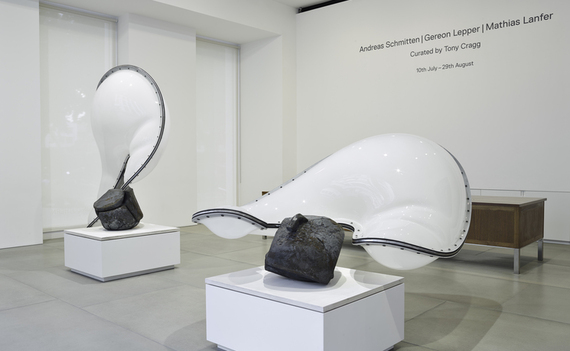 I was pleasantly surprised to see a good art exhibition at Blain Southern Hanover Square after such a long time with rubbish ones. Curated by Tony Cragg, this show is an opportunity to see how difficult is for the German to get in touch with their own bodies. The show is a group exhibition that features work by the wonderful Mathias Lanfer, Andreas Schmiten and Gereon Leper, all alumni of the Kunstakademie Dusseldorf which seems to be the place where the German try to explore this relationship with the body only to represent their own failure.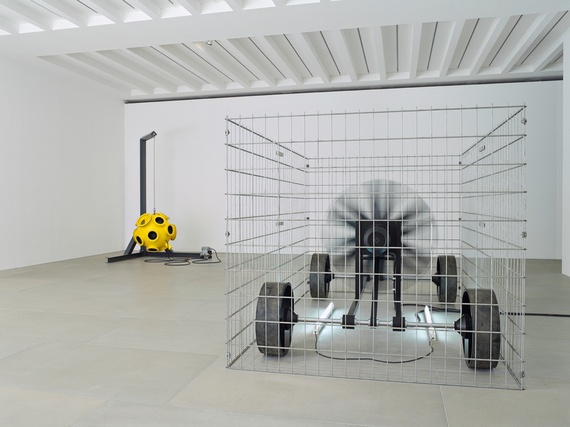 A long-standing professor at the Kunstakademie Düsseldorf and founder of the Sculpture Park Waldfrieden, Tony Cragg has been producing the same thing over and over. His sculptures are sensuous but so pristine and polished that instead of invite the viewer to touch, they keep him or her at a distant. It is in this paradox that the complicated relationship with our own body is allegorised. In a culture where we overexpose our bodies only not to be touched (or, if touched, not properly feel it), his objects have become a sign of the times. Having said this, Cragg's ambitious overproduction has made him incresingly boring and uninteresting. Maybe this is why, in spite of Lisson Gallery's marketing power (or, probably, because of that), Cragg's prices have stagnated during the past years.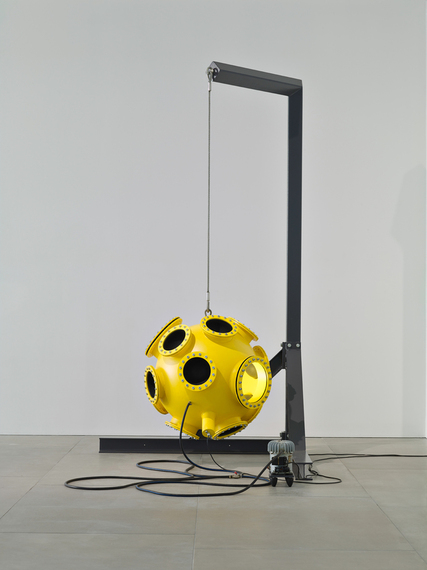 In the Blain Southern show, Cragg seems to be able to get out of his vicious circle of over production to look at some art that is not his and in th process he gets back in touch with that conflation of sensuality and technolgy that characterised the beginnings of his carer. The work of one of his pupils, Mathias Lanfer is, probably, the most interesting work I have seen in a long time in a corporate gallery like this one. Using industrial technology and product engineering, he frames with steel perspex domes that have been blown into soft curves and placed on modernist plynths. Following traditional sculpture, these pieces invite the viewer to walk around them only to find out their bipolar nature for they are, at the same time, steel and plastic, curve and straight lines, gestualists and have a kind of finishing that is reminiscent of the car industry. From the point of view of iconography, these objects are both sensual (because they invite to feel them) and sexual (because they look like spermatozoids).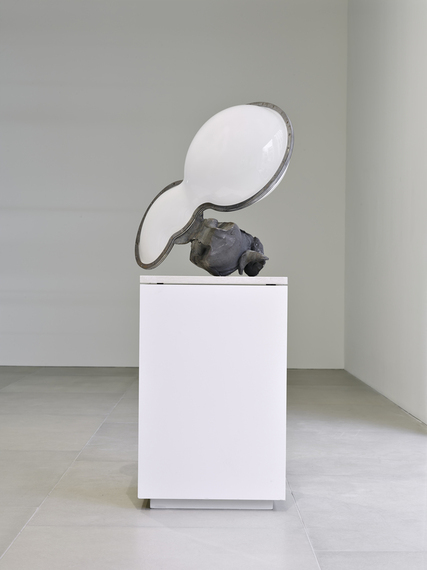 This very German approach to sexuality is confirmed when we approach the work of Gereon Lepper where engineering and physics conflate to produce images of industrial sado-masochism. Although his body of work allegedly demonstrates 'the Newtonian forces that shape our lives', their sexual appeal makes them an allegory of physical domination and submition. The dark eroticism of Horro Vacui (1990) is apparent in the inclusion of a steel ball with circular windows with an electric tube inside that hangs from a pole. His 'Der Apparat fast unbewegt' (1992) is a cage with two wheeled electric motors facing each other. The detached sensuality of this piece reminds of an age of disconnection which functions as the counterpart of the excessive subjectivism of the long past, German neoexpressionist era.
What I like about this show is that, in spite of its aggressive coldness and technicality, manages to convey some sense of hope. I wonder why it is always in Germany that inhuman optimism carries the seeds of human connection. Scary but very erotic, if you ask me. J A T
Calling all HuffPost superfans!
Sign up for membership to become a founding member and help shape HuffPost's next chapter