Wisconsin Gov.-elect Tony Evers believes the political situation in his state is a "hot mess," but he doesn't think other Democrats are using the right word when they describe it as a "coup."
"It seems strong," Evers said Sunday on NBC's "Meet the Press."
Republican lawmakers in the state passed a series of measures last week limiting the power of the incoming governor and attorney general ― both Democrats ― before they take office next year. The legislation now awaits a signature from outgoing GOP Gov. Scott Walker, who narrowly lost to Evers.
"I believe he should veto the entire package," Evers added in the interview, framing the decision as a legacy-defining moment for Walker.
Evers said that he pressed his case to Walker over the phone several days ago and that the Republican remained "noncommittal" about his plans regarding the legislation. 
"I'm not particularly encouraged at this point in time. ... We're hopeful he'll veto the whole thing," Evers said.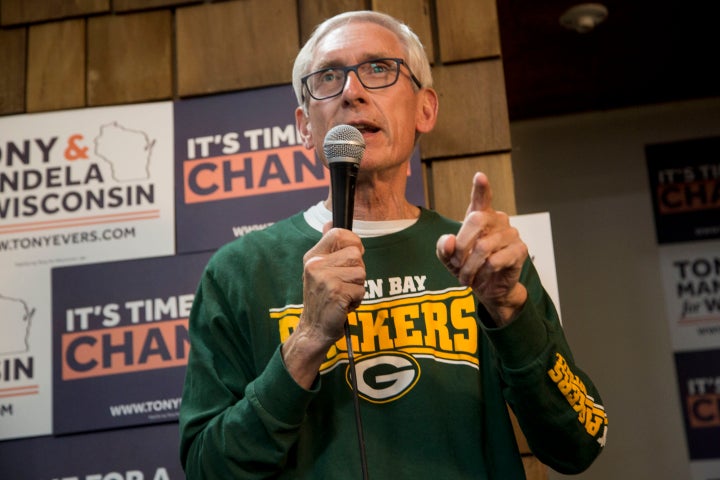 U.S. Rep. Gwen Moore (D-Wis.), one of those critics, accused Wisconsin Republicans last week of engineering a "coup" befitting a "strong man dictatorship."
"Their actions amount to a smash and grab hijacking of the voters' will. This power grab is a direct threat to our state's democracy," Moore said in a statement.
The efforts to kneecap Evers and his administration haven't gone unnoticed by some Republicans in Wisconsin either. Sheldon Lubar, a top Republican businessman and a Walker supporter, called on the governor and other GOP lawmakers to stop what he called the "conniving" move to hobble Democrats next year.
"What they are planning for the Republican Party of Wisconsin will malign its integrity and lead to its downfall," Lubar wrote in an email to Walker last week.
In his interview on Sunday, Evers said he was leaving open the possibility of taking legal action if Walker signs the bills into law.
"All issues are on the table. I am not making any promises one way or another. I need to stand up for the people of Wisconsin," Evers said.
REAL LIFE. REAL NEWS. REAL VOICES.
Help us tell more of the stories that matter from voices that too often remain unheard.