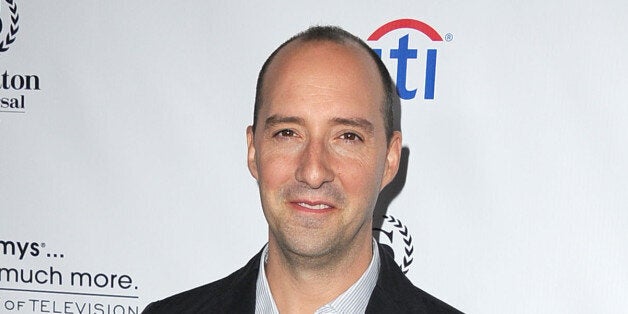 There are still four months left in 2013, but Tony Hale has already had a pretty great year. The actor starred on two beloved comedy series ("Arrested Development" and "Veep") and appeared with Melissa McCarthy in this summer's hit comedy "The Heat."
"You've got to be prepped when you're working with Melissa," Hale said in an interview with The Huffington Post. "She is such a fantastic improver. She will throw stuff at you that's hilarious. It's hard to keep a straight face. I failed."
Where Hale didn't fail this year is on "Veep." The hit HBO comedy about foot-in-mouth prone Vice President of the United States Selena Meyer and her staff, scored Emmy nominations for Outstanding Comedy, Julia-Louis Dreyfus (Outstanding Actress in a Comedy), Anna Chlumsky (Outstanding Supporting Supporting Actress in a Comedy), and Hale himself (Outstanding Supporting Actor in a Comedy). This is Hale's first Emmy nomination, and it pits him against actors like Bill Hader ("Saturday Night Live"), Adam Driver ("Girls") and Jesse Tyler Ferguson, Ed O'Neill and Ty Burrell ("Modern Family").
HuffPost spoke to Hale about his Emmy nomination, the "Veep" episode he chose to submit for voter consideration, and what he wants out of the next "Arrested Development" season (assuming there is one).
The Emmys aren't necessarily like the Oscars, where the nominees are all but assured on nomination morning. Were you stunned when they called your name? It was a complete shock. I was hoping "Veep" would get nominated, but when they read my name it just felt out of body. Even talking about it doesn't seem real. To be a list with all of those guys -- who I'm a big fan of -- it's just incredibly humbling. Bill Hader is unbelievable; I'm just excited about meeting him. All the other guys: Adam Driver, the "Modern Family" nominees. The thought of winning is kind of -- I don't even want to go there because it seems so out there. To be on that list is mind blowing to me.
Your Emmy submission episode was "Running." Why did you pick that one? The reason I decided on that one is because everything [Hale's character] Gary wants in life is to have some kind of relationship with Selena. The fact that he doped her up accidentally on St. John's Wart, and all of a sudden she was free and going to come to his parents' 40th wedding anniversary [was great]. She was so warm! They were going to go dancing. It was Gary's dream coming real. Then the devastation that it was because of the drugs was just so heartbreaking. Gary does not have an identity; Gary's identity is Selena.
What do you want to see happen for Selena and Gary in Season Three? I don't know -- hopefully Selena and Gary will get married. Gary doesn't really know that much about politics, he wants to just serve Selena for the rest of his life. As long as he doesn't get fired, it's good.
It's crazy that you had both "Veep" this year and "Arrested Development." To appear on two shows like that simultaneously is pretty extraordinary. It's pretty humbling, because we're all just actors. We're looking for that next gig. Sometimes you have to take gigs that you might not necessarily love but you do it because you have to pay the bills. To be on two gigs that I'm a huge fan of, where I love the writing and respect the writing, it's just one massive gift. It's been a really fun year. I have such respect for the people working on it.
One of the things I found disappointing about "Arrested Development" was that there weren't enough scenes of the whole family together. I understand that was a byproduct of the circumstances, and Mitch Hurwitz structured the show in a different way for Netflix, but do you want to have more family scenes in the next season -- assuming there is one? Yeah, absolutely. I understood that the way Mitch did it was a perfect model for Netflix. There was one scene where we were all together -- it was my first day and the whole cast was there. Everyone was in their wardrobe and hearing everybody's characters again was just so fun. I would love to do more of that. Again, though, it kind of goes back to Mitch's writing. His writing is so good that no matter what he writes, we're all jumping at the chance. It's just vibrating; you never know what you're going to get.
Did you binge watch "Arrested Development" after it premiered? I'm not really a binge watcher. I kind of spaced it out. It takes me a long time to figure out what's going on in anything really. So I took my time. People will come up to me and go, "Oh, I loved this bit." I'll say, "I have no idea what you're talking about." There are plenty of things, believe me, that I miss because the show is so dense.
What do you like watching on TV? The show I absolutely love is "Wipeout." It's on ABC. I can't get enough of it. It is the best show. I don't see how everybody's neck is not broken. The insurance policy must be through the roof. It's like "America's Funniest Home Videos" on steroids. It is so funny to me, because stuff comes out of the blue and just throws people. You can't fake people's natural reactions on it. So I watch it constantly. The people on the show don't realize how much physical comedy they're doing. They're not even aware they're on a physical comedy. People are just getting thrown all over the place.
The 2013 Emmy Awards air on Sunday, Sept. 22 at 8 p.m. EST on CBS.
This interview has been edited and condensed.
PHOTO GALLERY
Emmy Nominations 2013
Calling all HuffPost superfans!
Sign up for membership to become a founding member and help shape HuffPost's next chapter
BEFORE YOU GO