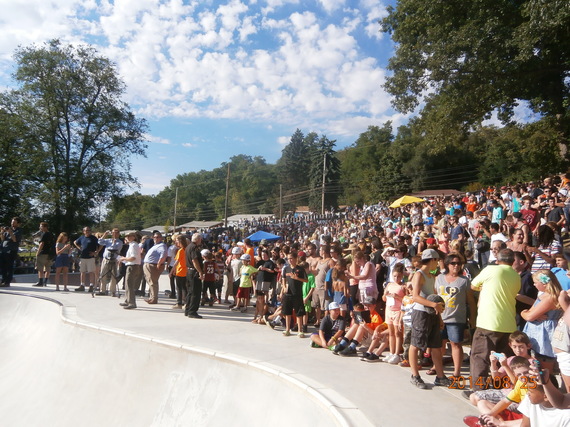 "A mother's love for her child is like nothing else in the world. It knows no law, no pity, it dares all things and crushes down remorselessly all that stands in its path." -- Agatha Christie
Six years ago, Mary Shea Pitcher lost two of her four sons in a drowning accident in Allegheny National Forest; Ms. Pitcher's sons Stephen and Vincent were avid skateboarders and BMXers. This terrible personal tragedy was the inspiration for what is now Pitcher Park Memorial Skatepark in Carnegie, Pennsylvania, a suburb of Pittsburgh. Pitcher Park is a beautiful 17,000 square foot concrete skatepark created by Grindline Skateparks of Seattle, Washington. Mary Pitcher and her team, through tremendous efforts, a significant amount of red tape, and goodwill from the community, saw their labor of love come to fruition. This park is hallowed ground and the love that went into its creation is palpable.
Funds for Pitcher Park Memorial Skatepark came from fundraising events, a generous grant from the Ken and Carol Schultz Foundation and a grant from the Tony Hawk Foundation. "Carol and I have supported Tony Hawk Foundation's efforts to build safe space for kids to exercise and be creative for many years," said Ken Schultz of Bridgeville, a suburb of Pittsburgh. "So we knew the impact that a world-class skatepark could have in the Pittsburgh area."
If you build it, they will come
On August 25, the Birdman, Tony Hawk, along with skaters from Birdhouse Skateboards extended their Birdhouse Goes Midwest Tour to come to Pittsburgh in an act of goodwill to christen Pitcher Park. It was hot and sunny and the park was filled with young, old, and every age in between crammed together on the deck, in the grass, and on hillsides outside of the fence to be part of this historic event.
The park is not officially open yet, so all of the skaters who came with their boards, hopeful and prepared to skate, were more than a little disappointed when relegated to skating the perimeter parking areas and sidewalks. Once the Birdhouse crew took over, the place was packed and the disappointment was replaced by the stoke of skateboarding.
"It's state-of-the-art," Hawk said of the park. "It's well-designed, well-built and well-suited for any level of skateboarding. It's the perfect example of things to come in skateboarding." There is a street section with granite ledges, hubbas, rails, and ramps, and a bowl that runs from shallow to deep with a 20-foot diameter full pipe in the middle. As someone who grew up in Pittsburgh in the 1970s, desperate for any smooth surface to ride and seeing skaters riding pools and concrete pipes only in magazines, Pitcher Park is nothing short of miraculous.
Action sports events always have a family reunion element; people who love the sport and the lifestyle come together to share it. This gala being headlined by Hawk, one of the patriarchs of skateboarding, who also helped make this new East Coast skate mecca a reality, brought the event full circle. Along with Hawk, Birdhouse riders David Loy, Clint Walker, Clive Dixon, Shawn Hale, Shaun Gregoire, and another long-time skate legend, Kevin Staab helped to break in the park and test out the features.
"I realized when you look at your mother, you are looking at the purest love you will ever know." -- Mitch Albom, For One More Day
Mary Pitcher summed it up:
I am honored to have worked with the Ken and Carol Schultz Foundation, the Tony Hawk Foundation, the Borough of Carnegie, and the many companies and people who stepped up to make this dream a reality to honor my sons. Seeing this park come alive and anticipating the appearance by Tony Hawk and the Birdhouse team just proves that anything is possible if you don't give up.
Sponsors of the Birdhouse Summer Tour: Sony; Circuit Boards/Hex Bug; Kohl's Tony Hawk; Mini; Aqua Hydrate, and Ride Channel
This article also appears on News Pronto, where Leigh is a columnist and editor in Action Sports.
REAL LIFE. REAL NEWS. REAL VOICES.
Help us tell more of the stories that matter from voices that too often remain unheard.