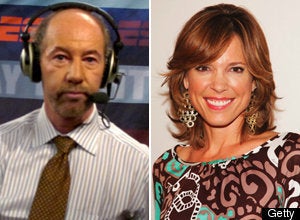 ESPN has suspended Tony Kornheiser "for some time" over comments he made about Hannah Storm's wardrobe.
On his radio show last week, Kornheiser mocked Storm for her "horrifying, horrifying outfit" on ESPN's "Sportscenter." Kornheiser hosts "Pardon the Interruption" on the sports network.
"Hannah Storm in a horrifying, horrifying outfit today. She's got on red go-go boots and a catholic school plaid skirt ... way too short for somebody in her 40s or maybe early 50s by now...She's got on her typically very, very tight shirt. She looks like she has sausage casing wrapping around her upper body ... I know she's very good, and I'm not supposed to be critical of ESPN people, so I won't ... but Hannah Storm ... come on now! Stop! What are you doing? ... She's what I would call a Holden Caulfield fantasy at this point."
"I apologize unequivocally. ... I was wrong. This is sort of what I do, and I'm sorry for it. ... Not the first time and won't be the last time but I apology for it this time."
An ESPN spokesperson said Tuesday that Kornheiser will be suspended "for some time" from "Pardon the Interruption."
"I have been sent to sidelines from PTI for a while and when I'm allowed back on PTI, I will happily go back because I love the PTI show and love all the people on the PTI show."
My preference is fitted and feminine clothes and I am really happy with my style now because its much more reflective of my personality and a lot more fun, rather than being so anchor-ish!...

It doesn't take me any time at all to get dressed at work because I put together a bunch of outfits at once, jewelry and all, and take them en masse to work. When I get there at about 5:30 AM, I just pick an outfit depending on how I am feeling that day.
Popular in the Community