With the celebrations for the St. Louis Cardinals' World Series triumph barely concluded, there is already news likely to devastate Redbirds fans. And, no, Albert Pujols has not signed a contract with the rival Chicago Cubs.
"There isn't one [factor] that dominates [my decision]," La Russa said during a press conference at Busch Stadium on Monday morning. "They all just come together telling you your time is over."
"I'm looking forward to what's ahead," added La Russa, who informed the Cardinals' front office in August that he'd be stepping down at the conclusion of the season. "I'm ready to do something different."
Both La Russa and the Cardinals held a mutual contract option for the 2012 season. Not surprisingly, Cardinals general manager John Mozeliak was hoping to exercise that option. On Sunday, the team announced that it had chosen to pick up an option on catcher Yadier Molina.
If La Russa's retirement is the prelude to Pujols' departure then surely the 2011 World Series will be viewed as the end of particularly fruitful era in the storied history of the Cardinals. Since being appointed manager in 1996, La Russa led the Cardinals to nine postseason berths, three pennants and two world championships.
Before You Go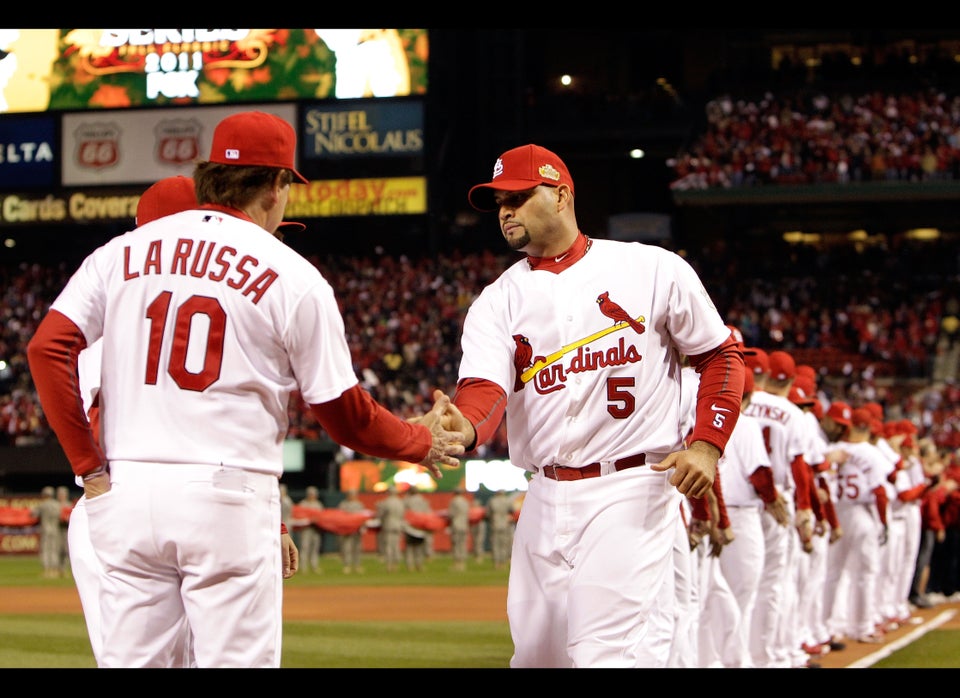 Tony La Russa's 3rd World Series Title
Popular in the Community