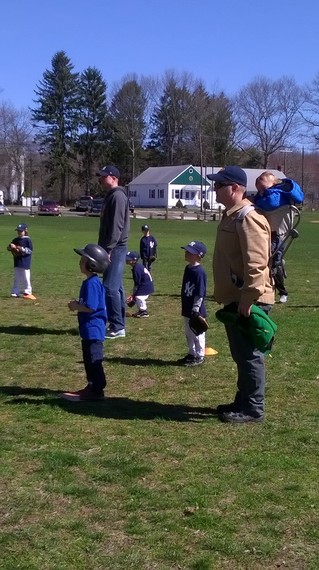 I happened upon a situation at my son's t-ball game the other day that struck me so hard, I just had to share. No, it wasn't an out-of-control parent or misjudged call. It was a coach who arrived to the game with one child in tow and another on his back. Yes, ladies and gentlemen, the baby was on his back -- in a carrier, ready for the game, and out in the field, no less. The tyke must have been all of a year old, and there he was positioned somewhere between first and second bases, tucked securely behind his dad's head and shoulders. The kid had the best seat in the house. I couldn't help but marvel. I also couldn't help but wonder how this father managed to defy gravity by keeping the kid in his carrier every time he bent over. My few cringes bore little substance.
Suffice-it-to-say, while watching this coach engage with the players as naturally as if he wasn't wearing a baby on his back, my thoughts couldn't help but contemplate the events that transpired that morning leading this coach to arrive with his youngest flapping his feet in the air behind him. Did mom need a well-deserved break? Was she obligated to be at, yet, another child's sporting event? Was she at work, causing dad to have to pitch in for the day while teaching a team of four and five year olds how to pitch? I don't have the answer to that.
What I do know is that this coach -- unbeknownst to him -- couldn't have provided a better example of what teamwork is really all about for the boys and girls he was mentoring than that of arriving to the field with his offspring strapped to him. Nor could he have exampled the characteristics of commitment, responsibility, love, confidence, enthusiasm, or intelligence any better in my book. Beyond just teaching T-ball, this man was teaching "life" and he did so for the entire two hours he spent building the skills and self-esteem of our children.
Needles-to-say, I was really impressed. I left the game thinking, "that coach could have stayed home and taken the easy way out. He could have pulled a Jakubi, made an excuse and become a 'couch potato' for the entire time he was supposed to be coaching, but he chose not to. In the heat of the moment, he stood tall." Isn't that one of the most important lessons one can learn from a coach, overall, whether it be in Tball or in life? I think so.
Sometimes, I believe that we forget how powerful one man's actions can be. This moment was a nice reminder for me... and hopefully for you too!
Popular in the Community