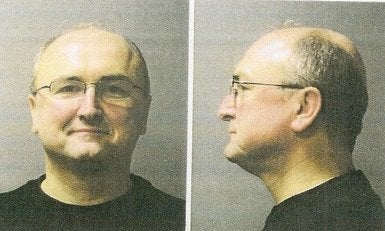 Cook County Commissioner Tony Peraica was arrested Saturday night for allegedly vandalizing his Democratic opponent's yard signs in southwest suburban McCook.
Peraica, a Republican, has held the commissioner position for two terms, but is in a nasty battle with Democratic challenger and McCook Mayor Jeff Tobolski to keep the seat.
Police told the Chicago Tribune that an officer spotted a van leaving an elderly resident's home in the suburb at about 11:15 p.m. Saturday. The officer pulled the van over when it failed to use a turn signal.
Another officer noticed a Tobolski sign at the woman's home had been destroyed, and Peraica was a passenger in the vehicle, Wolfe said. While the officer talked to Peraica, the owner of a building about a block away said someone had similarly vandalized a sign on his property, the site of a restaurant, the chief said.
A witness allegedly told officers that he spotted Peraica tearing town Tobolski signs on a business property in the area as well, the Chicago Sun-Times reports.
Peraica, however, calls the entire situation an abuse of police powers.
"When passing through McCook at about 11 PM, on our way to Willow Springs, a marked McCook police car almost immediately began to follow us as we were going south on Joliet Road," Peraica wrote in a press release obtained by the Capitol Fax Blog. "We were followed for about half mile, pulled over without reason given and harassed. Police searched the vehicle, found nothing, and were about to let us continue.
Then, a police sergeant came to the scene followed by another, third police car, with a male wearing only jeans who pointed to me and alleged that I caused criminal damage to his property -a cardboard sign. This apparently inebriated male, who was barefoot and without any clothes above waist, proceeded to say that he saw me damage his cardboard sign. None of this is remotely true. I never even got out of the van."
Peraica said the arresting officers were apologetic but told him they were ordered to make the arrest.
McCook Police Chief Frank Wolfe, however, told the Sun-Times Peraica was dressed "head to toe in black for his nighttime mission."
"I was shocked when I heard the news late last night," Tobolski said in a release. "This clearly is the erratic behavior of a desperate man. This just goes to show you the length that Tony Peraica will go to steal an election. The voters of the 16th District have to see that he is unfit to serve in any public office."
Peraica told ABC 7 he will move to have the misdemeanor charge dismissed.
Related
Popular in the Community