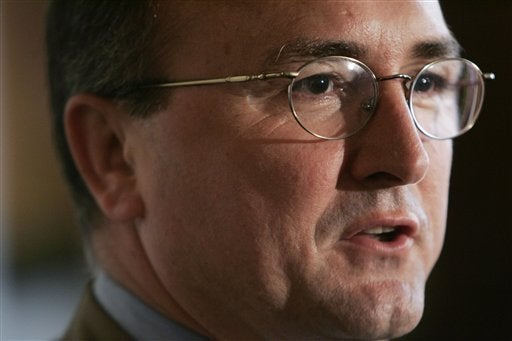 Riverside police are investigating whether shots fired into a West Suburban home next door to Cook County Commissioner Tony Peraica's family may have been intended for the outspoken politician.
"My wife and children are very much upset, as are the neighbors," Peraica told the Huffington Post. "This is a quiet subdivision where this sort of thing does not usually occur."
Seven gunshots were fired around 3 a.m. Wednesday, according to Riverside Police Chief Thomas Weitzel. No one was injured. Peraica said he woke up to the sound of the popping but did not know they were gunshots.
"I woke up and looked outside my bedroom window, but it was dark and I didn't see anything, so I went back to sleep," Peraica said.
It wasn't until Wednesday evening that Peraica learned the sounds were gunshots -- and that the police thought they might have been meant for him.
For Peraica, an opinionated politician and practicing lawyer, the news didn't come as much of a shock.
"It's part of the crooked and corrupt politics of Crook County," Peraica said, "where people who try to do the right things and govern according to their principles have to be subjected to this kind of intimidation."
Peraica believes the incident fit a larger pattern of systematic intimidation that goes back to when he was running for Cook County State's Attorney and his law offices were burglarized four times.
Weitzel said that the home's remote location and the fact that the neighbors were two schoolteachers with a 10-year-old daughter led them to believe the high-profile Peraica was the intended target.
One of the address numbers on the neighbors' house was also missing, making it easier to mistake their home for Peraica's next door, Weitzel said.
No shell casings were recovered at the scene, leading police to believe the shots were fired from inside a car.
No other incidents were reported in the neighborhood that night.
Weitzel said they have no suspects, but that a neighbor reported seeing a dark four-door sedan with a loud muffler drive off after the shots were fired.
Cook County Sheriff's Police are performing a routine threat assessment, but have not yet adjusted security measures, according to a spokesman for Sheriff Tom Dart.
Police have increased patrols around Peraica's home, though he said he does not feel at any more risk than usual and he has no intention of changing his routine.
"This is Chicago, a town unfortunately with a long history of violence. But I'm not going to be dissuaded, and I'm not going to stop."

Related
Popular in the Community