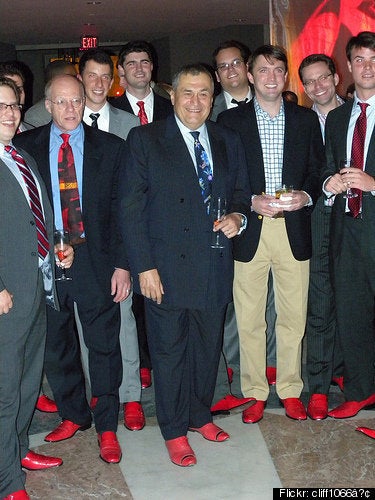 Washington luminaries raised glasses in honor of lobbyist Tony Podesta, who celebrated his 65th birthday on Friday night with a party at the National Museum of Women in the Arts.
Roll Call, Politico, and the Examiner all covered the event, which was billed as a "Red Shoe Affair" -- per Podesta's fashion proclivities, guests were asked to wear red shoes.
(Podesta's red shoe thing goes back at least until 1993, when the Associated Press reported that he wore red hightops with a tuxedo to a pre-inaugural fundraiser because, he said, "I want to be comfortable standing around.")
Among those spotted at the birthday bash: House Speaker Nancy Pelosi, Health and Human Services Secretary Kathleen Sebelius, and Project on Government Oversight's Adam Zagorin(!).
But a sourpuss lurks among the journos toasting Podesta in print: Bloomberg's Al Hunt, who writes that Tony and Heather Podesta "are raking in millions from the insurance and drug industries, tobacco companies and corporate interests fighting changes to labor laws or the overhaul of the student-loan program."
Hunt calls the Podestas "conscientious objectors to the culture of change in Washington" and says they personify the "ingrained money and political culture."
But Podesta told Al Hunt that "We have only some small differences with the administration and the Democratic leadership."
Those differences certainly aren't big enough to keep administration officials and Democratic leadership away from A Red Shoe Affair. Get with the party, Al Hunt!
Popular in the Community