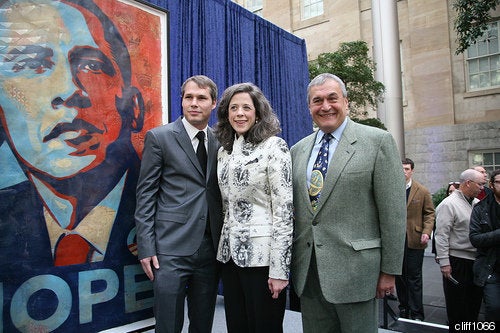 Tony and Heather Podesta basked in the praise when they donated the iconic, five-foot tall "Hope" portrait of Barack Obama to the National Portrait Gallery just before Inauguration Day. But to those who hoped Obama would reduce the influence of lobbyists in Washington, there was also something uniquely depressing about the gift -- because the Podestas are exactly the sort of K Street powerbrokers candidate Obama railed against.
And while Obama's presidency so far has in many ways failed to live up to his campaign poster, it's been a cash cow for the Podestas, who have been able to leverage their insider status into a slew of new high-paying clients. The husband-and-wife lobbyist couple have become icons themselves -- of the lobbying industry's imperviousness to Obama's change agenda.
In just the first nine months of the year, the couple's separate lobby shops have already made more money than in all of 2008, according to disclosure forms filed with Congress. Heather Podesta's firm, Heather Podesta + Partners, surpassed last year's total of $4.7 million with $5.1 million in lobbying income.
Tony Podesta's firm, the Podesta Group, has already reported nearly $19 million from more than 130 clients -- blowing last year's full-year-total, a record high of $16 million, out of the water. He's registered 50 new clients -- way up from the average clip of 20 new clients a year for previous decade.
Tony Podesta declined interview requests from the Huffington Post. But in March, he told Legal Times what parts of his business he expected would prosper under the Obama change regime:
"The president has signaled defense acquisition reforms, defense budget cuts...The Hill will take up those issues, so there's a lot of work in that field," he said. "We're doing a lot more work in financial services than we had done previously, and also doing more health care work and more energy work."
The Podesta Group's biggest boost appears to have come from the health industry. The firm reported lobbying on health issues for 32 clients that have paid $5.1 million for lobbying so far this year, up from $3.8 million from 18 clients in all of 2008.
Twenty-three clients focused on defense issues -- including seven new ones -- paid the Podesta Group $3.2 million, a 60 percent increase from 2008.
The firm took in $2.2 million this year from clients concerned with energy issues, compared to $1.8 million from seven clients in 2008. And when it came to financial issues, the Podesta Group reported billing 17 clients $2.1 million this year, up from $1.3 million from seven clients last year.
(The numbers may be somewhat imprecise as the firm often lobbies for any given client on more than one issue. And it only accounts for direct lobbying of the federal government, not for public relations work.)
For their money, those clients get a small army of former congressional staffers and Obama campaign officials who can tell them what's happening behind the scenes on the Hill, and can plead their case with former colleagues. From the Podesta Group's website:
"Podesta Group professionals have experience in every aspect of the legislative process as well as expertise in public relations...We understand the politics and publicity that determine our clients' fate in Washington, and we have a track record to prove it."
What the website doesn't mention, because it doesn't have to, is that Podesta's brother, former Clinton administration honcho John Podesta, chaired Obama's transition and remains a top adviser.
Tony Podesta has said that he'd never use the family connection to win favors for clients. But from a business standpoint, it doesn't really matter. Craig Holman, a lobbyist with Public Citizen, told the Huffington Post that the appearance is the payoff. "This is the sort of close family tie that inevitably provides very, very handsome profits for the lobbying firm," he said.
Heather Podesta took the Podesta name six months into the marriage, she told the Washington Post -- after she learned firsthand how much it could impress folks on the Hill.
"I'm the third husband, but this is the first time she's changed her name," Tony Podesta told the Post. "That should tell you something."
One of the Podesta Group's biggest new financial-industry clients this year is Sallie Mae, which hired the firm at a rate of about $30,000 a month. The student loan giant needs help because the Obama administration has proposed bypassing government-backed lenders like Sallie Mae and lending directly to students, which the Congressional Budget Office estimated would save $94 billion over the next ten years, and which would pretty much put Sallie Mae out of business. The lender has long devoted significant resources to lobbying, but this year expanded its roster of outside firms.
The Podesta principals handling Sallie Mae are former Department of Education staffer Lauren Maddox and Israel Klein, a former staffer for Senator Chuck Schumer (D-N.Y.)
The measure passed the House in September, despite opposition from four Democrats -- one of whom, Rep. Paul Kanjorski (D-Pa.), was the beneficiary of a fundraising dinner thrown by the Podestas in July.
New clients on the energy front include Duke Energy, a utility company somewhat sympathetic to the Obama climate change agenda, and the American Coalition for Clean Coal Electricity, which is much less so.
The ACCCE achieved notoriety this year after reports that that one of its subcontractors sent forged letters opposing climate change legislation to members of Congress. The House launched an inquiry that culminated in lawmakers scolding ACCCE president Steve Miller in a hearing.
Podesta's new defense clients this year joined the ranks of longer-standing clients Northrop Grumman, Boeing, Raytheon, and other stalwarts of the military-industrial complex that reap enormous amounts of money through the congressional appropriations process. It's another group for whom change is not a good thing.
The president threatened to veto a defense spending bill unless lawmakers stripped $1.75 billion in funding for unneeded F-22 fighter jets. In July, the Senate voted 58 to 40 to kill the funding after an intense industry lobbying effort.
Despite the veto threat, fourteen Democrats voted to keep funding the F-22. In the springtime, the Podestas set up fundraisers for three of them: Patty Murray (Wash.), Dianne Feinstein (Calif.), and Daniel Inouye (Hawaii). The Feinstein fundraiser was canceled, however, after the invitation listing Feinstein's committees as the different courses of a meal was made public. (Guests who made contributions between $1,000 and $2,500 could order up Feintstein's "Select Committee on Intelligence for the first course" and "your choice of Appropriations, Judiciary or Rules committees" for other courses.)
Most of the Podesta Group's health industry clients are drugmakers and biotech firms. Podesta clients Amgen, Amylin Pharmaceuticals, Genzyme Corporation, and new signup Eisai are among the Big Pharma members that stand to benefit from current health care reform proposals -- particularly after the White House cut an $80 million deal with the industry. For them, change is good.
Tony and Heather Podesta visited the White House eight times in just the first six months of the year, according to the White House's recently-released visitor logs -- with John Podesta visiting an additional 17 times during that period -- as good an advertisement for their firms in the change era as they could possibly ask for.
UPDATE: The final paragraph of this story has been modified to distinguish between White House visit by Tony and Heather Podesta, on the one hand, and John Podesta on the other.
Julian Hattem contributed to this article.

Support HuffPost
The Stakes Have Never Been Higher
Related
Popular in the Community