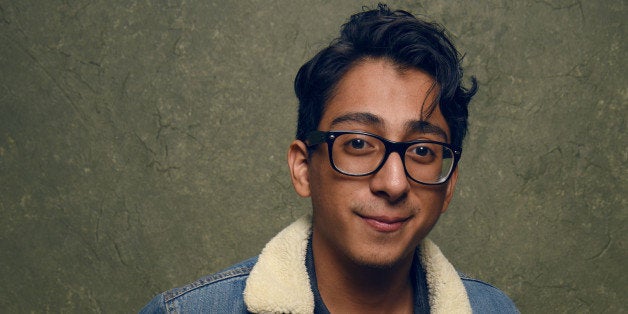 "Dope" goes beyond the coming-of-age movie genre. It's a comedy that, above all, reveals what life can be like for black and Hispanic teens growing up in impoverished and violent neighborhoods -- even when the kids are "geeks."
If that isn't enough to make "Dope" stand out in a sea of summer blockbusters, the fact that the main cast consists almost entirely of actors of color should do the trick. The indie film was directed by Rick Famuyiwa ("The Wood") and received critical acclaim at the Sundance Film Festival before its theatrical release on June 19.
The story follows three teenagers -- Malcolm (Shameik Moore), Diggy (Kiersey Clemons) and Jib (Tony Revolori) -- who are misfit nerds in a particularly dangerous part of Inglewood, California, known as the Bottoms. The teens are juggling SATs, college applications, hormones and more when they're thrust into a life-threatening situation that could undo all their work toward a brighter future.
Revolori, 19, is best known for making his film debut as Zero, a lobby boy in Wes Anderson's Oscar-nominated "The Grand Budapest Hotel." But the young actor, who is of Guatemalan descent, jumps into a very different character for "Dope."
Recently, the star spoke to The Huffington Post about his experience on set, his favorite scene in the film and what it was like to work with Pharrell Williams.
So, I want to ask you about "The Grand Budapest Hotel" first, actually. That's quite an entrance into Hollywood. What was that experience like for you at such a young age?
It was great. "The Grand Budapest Hotel" was a once-in-a-lifetime experience that I don't think I'll ever get again. It was just fabulous to work with all those great actors and just to learn so much on set from Wes [Anderson] to Jason Schwartzman to [cinematographer] Robert Yeoman, and just learn everything from each and every one of them. I think that's so big.
"Dope" is a very different film, of course. What was your take on the script when you first read it?
I thought it was a really good script and I thought it was very fun. It was a fun character and I was just happy to read a script with such originality.
I know Pharrell Williams was an executive producer of the film and Forest Whitaker and his production company were behind it as well. What was it like to work with these big names from the music and film industry?
So Pharrell, he did all our music. The three leads -- Shameik Moore, Kiersey Clemons and myself -- all sing on the soundtrack. So we got to go into the studio and actually work with Pharrell and record in the studio and kind of be produced by him.
And as for Forest, he was just a presence. He came to set a couple of times and to the recording studio when we were recording with Pharrell. And it was just great to see that and have that sense of security when you see someone of his caliber on set.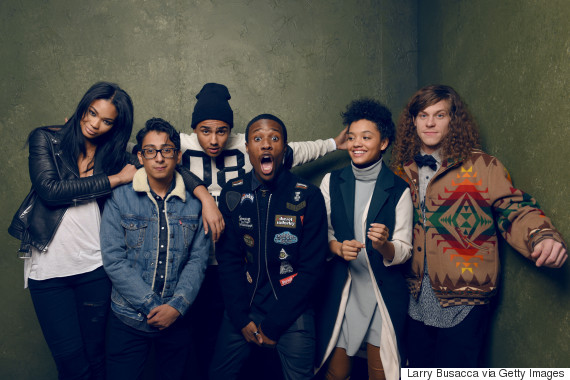 (From left to right) Chanel Iman, Tony Revolori, Quincy Brown, Shameik Moore, Kiersey Clemons and Blake Anderson pose for a portrait during the 2015 Sundance Film Festival. (Photo by Larry Busacca/Getty Images)
Not only does the film have a very diverse cast, but it's really not often that we see black and Latino actors as leads, performing side by side. How was that experience on set?
I come from a Hispanic background, so seeing all of these different communities and the way people speak -- it was fun to kind of join in and really get a feel for the culture, as well as just their lifestyle and way of living. Of course, it's great to see interracial pairings and that's what I really loved about this.
The film has several messages. But what do you think is the most important thing the film can teach audiences?
I hope it'll just open a lot of eyes and help them see that it's fine to be who you are. And I know it's difficult, but you can really strive to do better, as well as also just not judge a book by its cover. Because you never know who is who and what's what.
But because the film tackles so many things on a cultural level, I think it's difficult to really describe the film in a nutshell. How do you describe it?
It is a difficult one to explain. In interviews and press junkets, I don't know how to categorize it because I think it's so unique. The message of the movie is to not pigeonhole and not to judge a book by its cover. So I think the fact that you can't explain it means that it did its job. The movie, just like the message, is trying to preach that philosophy.
Do you have a favorite scene in the film?
Probably the scene where Blake Anderson [who plays hacker Will Sherwood] is talking about white women and how white girls have sex at a young age at band camp. I think that's probably my favorite scene.
What is it about that scene that makes it your favorite?
I don't know. I thought it was just funny to see different people talking about different cultures. The movie is predominantly a black cast and I'm pretty much the only Hispanic and Blake is one of the few white people. So just seeing that, I don't know, he's hilarious. Blake is hilarious.
This interview has been edited and condensed for clarity.
Calling all HuffPost superfans!
Sign up for membership to become a founding member and help shape HuffPost's next chapter
BEFORE YOU GO
PHOTO GALLERY
'The Grand Budapest Hotel' Cast