When an NFL quarterback throws for over 500 yards, five touchdowns and nearly sets the league's all-time single-game record for passing, he deserves to win the game. For Dallas quarterback Tony Romo, however, Sunday's tilt against Peyton Manning and the Denver Broncos did not end that way -- and so naturally Romo, with his ill-timed interception, turned into the goat.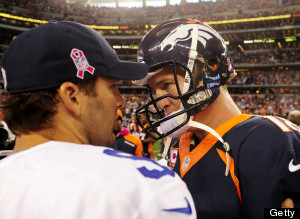 Tony Romo talking with Peyton Manning after Denver's 51-48 win Sunday. Manning called Romo's play "awesome." (Getty Images)
Welcome to Romo's world. For 58 minutes, he out-dueled Manning and played the game of his life. Short throws, seam routes, fly routes -- everything was working. Romo managed to bring the Cowboys back from double-digit deficits twice, and take a 7-point lead with minutes remaining. But of course, no lead is ever safe against Manning...
The obvious answer is to say, "You should not have thrown that interception. Take the sack and move on to the next play." But that would not be fair, or at least not on this particular Sunday.
With the Denver offense humming, Romo knew he had to put points on the board on the final drive. The undefeated Broncos now have 230 points this season, the most by any team through the first five games. Romo's offensive line broke down and allowed a brutal sack on first down and forced him into second-and-16. Under duress again, he made a bad decision that eventually led to the game-winning Matt Prater field goal.
But this loss should not be laid at Tony Romo's doorstep.
The Dallas defense -- that same, revamped Monte Kiffin Cover-2 defense -- was awful. Manning did whatever he wanted, apart from a single mistake, his first pick of the season. He couldn't have looked more comfortable, totaling 414 passing yards and five touchdowns. It's something he's done for five straight weeks, and the Cowboys will not be the last defense he shreds this year.
But be fair to Romo: This is a guy who has been criticized for not being a leader or a winner or a big-game player. Yet when he performs to the point that Manning himself calls his play "awesome," he still doesn't notch a win.
For Dallas, a 2-3 start is hardly an issue in the long run. The NFC East has never been worse, and a 7-9 season could very well win the division. At some point, one has to expect that Romo will find himself in the role of the scapegoat again, and -- for one Sunday at least -- he deserves better.
REAL LIFE. REAL NEWS. REAL VOICES.
Help us tell more of the stories that matter from voices that too often remain unheard.