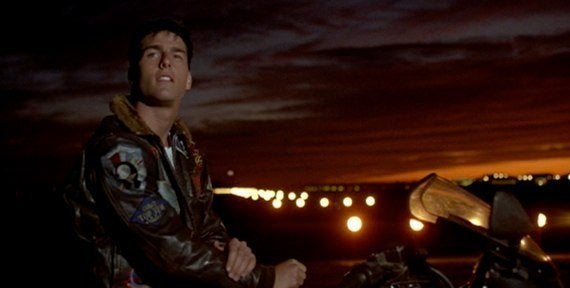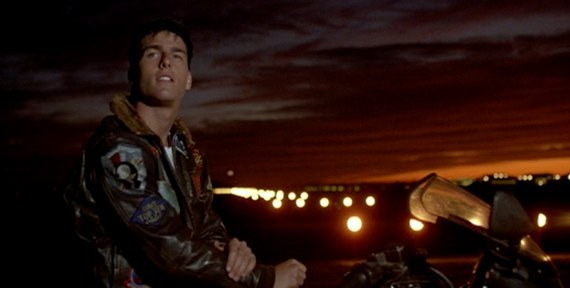 In 1986, Top Gun was the first movie I loved that adults seemed to love, too. And when I write the word "adult," I'm mostly referring to my father. My father never understood the appeal of any of the Star Wars movies and is the only living human that I know who fell asleep in a movie theater during Ghostbusters. But, boy, he loved Top Gun (and, later, Days of Thunder, too). When the news of Tony Scott's suicide broke on Sunday night, I was overcome with, arguably, unreasonable sadness for a man that I had never met. But, his films played a role in my personal relationships that I always realized, but never fully appreciated.
Looking through Scott's filmography, the thing that really stands out - with a couple of exceptions, for different reasons - is how he could take a script that could have easily become a hack job of a film and turn it into something great and even (at times) iconic. I mean, Top Gun could have been something forgettable - something more comparable to an Iron Eagle type movie - with a less skilled director. (And keep in mind, Top Gun was far from a sure thing just because of Tom Cruise's involvement. His biggest hit to date was the now three-year-old Risky Business and he had just come off of the box office bomb Legend.) Days of Thunder could have quickly turned into something like Driven. Even what turned out to be his last film, Unstoppable -- a movie that just screamed "schlock" from the trailers - turned out to be yet another well-made and (in this case) surprisingly good action movie.
Tony Scott never had the true masterpiece. He never had an Alien or a Blade Runner like his older brother Ridley (though, a case could be made for True Romance - hold that thought). But, Tony Scott knew how to make an action movie enjoyable. Tony Scott knew how to make iconic moments. Tony Scott knew how to make you remember when you first heard Pete Mitchell ask permission for a flyby in Top Gun; with whom you first saw the standoff in True Romance with; what you thought when a football player pulled out a pistol in The Last Boy Scout. Tony Scott never seemed too interested in making his masterpiece, but he excelled at making moments that you do not forget.
The most interesting film in Scott's canon is, by far, True Romance. A critical darling, True Romance was a proverbial leap and bound over his previous work, but it failed at the box office - something Tony Scott wasn't particularly used to experiencing. His next film, Crimson Tide (a movie, for the record, I enjoy immensely) made a heap of money - and that was the last we saw of anything that resembled True Romance. I've often wondered what kind of director Scott would have been if True Romance would have done reasonably well at the box office. Would Scott have sought out more truly great writers like Quentin Tarantino to collaborate with? Tony Scott never garnered any Academy Award nominations, but, if nothing else, True Romance proved he certainly had that capability.
Over the weekend, I was chatting with Jeremy Smith from Aint It Cool News. The discussion focused on directors who were a big part of our childhood who, sadly, don't get the recognition today that they deserve. (The focus of our conversation was on Hal Needham, the director of Smokey and the Bandit, The Cannonball Run and Hooper.) Tony Scott was not part of that discussion, but, perhaps he should have been. But that's the thing: Tony Scott was always around. Perhaps he didn't get the recognition that he deserved, but he was still very much a part of the zeitgeist. But I never once thought to myself, Man, I cannot wait until the next Tony Scott movie comes out, even though I certainly did feel that anticipation. I took him for granted.
Over the next few days, we'll certainly learn more and more about why Mr. Scott made the decision that he made - reports are already surfacing that he had inoperable brain cancer. But, I always assumed that the man who made the first movie that my father and I both enjoyed together had more left. I just always assumed there would be another Tony Scott movie coming. And now, knowing that there won't be, makes me incredibly sad.
Mike Ryan is senior entertainment writer for The Huffington Post. You can contact him directly on Twitter.
Calling all HuffPost superfans!
Sign up for membership to become a founding member and help shape HuffPost's next chapter