WASHINGTON -- In a case of unfortunate timing, voters outside of Los Angeles received a pro-gun robocall from Republican House candidate Tony Strickland a day after a mass shooting at the University of California Santa Barbara.
SantaClarita.com posted audio of the robocall on Saturday, in which Strickland, a candidate for California's 25th congressional district, touts his commitment to Second Amendment rights and support from pro-gun groups such as the National Rifle Association.
A spokesman for Strickland's campaign said the robocall was scheduled prior to Friday evening's shooting, in which a 22-year-old gunman stabbed three people to death and fatally shot three more before apparently taking his own life.
"Our thoughts and prayers go out to the families and victims of this tragedy," Strickland spokesman Evan Handy told The Huffington Post. Handy did not respond to a follow-up email asking if the campaign was going to suspend the robocalls.
Strickland previously served as a state senator for California's 19th Senate district, which happens to include Santa Barbara County. The timing of the robocall is clearly incidental, but reflects a tendency among many Republican candidates to cozy up to the NRA and promote their pro-gun records without giving much thought to the prevalence of gun violence across the country.
"They talk about gun rights. What about Chris' right to live?" Richard Martinez said of his son Christopher Martinez. "When will this insanity stop? When will enough people say, 'Stop this madness?' We don't have to live like this. Too many have died. We should say to ourselves, 'Not. One. More.'"
Read the full script of Strickland's robocall here:
Protect our gun rights, vote for Tony Strickland for Congress. Tony Strickland has a history of protecting our Second Amendment rights and will do the same in Congress, Tony Strickland was a founding member of the NRA Member Council and former California Rifle and Pistol Association Legislator of the Year.

Tony has been a longtime supporter of the rights of citizens to keep and bear arms and will continue to oppose, and actively fight, any legislation that would take away our Second Amendment right to bear arms. As the founder of the Freedom Firearms Coalition and with a lifetime 'A' rating from the NRA, we can count on Tony Strickland to protect our constitutional rights.

On June 3rd, vote for Tony Strickland for Congress. This call was paid for by Strickland for Congress.
Update: May 27 -- Lee Rogers, Strickland's Democratic opponent, issued a statement Tuesday condemning the robocall's timing.
"I'm outraged that without a thought for the victims and their families who he formerly represented, Tony Strickland used this opportunity in the moments after a tragedy to wave his flag of unwavering support for the NRA to try rally more votes," Rogers said. "This is another example of how Tony is tone-deaf to the needs and values real of people and even to the beliefs of rank and file members of the NRA who want to stop gun violence through universal criminal background checks."
Rogers, a podiatrist from Simi Valley, California, added that he supports universal background checks and expressed his condolences to the Isla Vista victims and their families.
Despite Rogers' suggestion that Strickland used the tragedy for political gain, Strickland's campaign said the pro-gun robocalls were pre-scheduled. However, the campaign did not indicate any plans to suspend the robocalls in light of Friday night's shooting.
Before You Go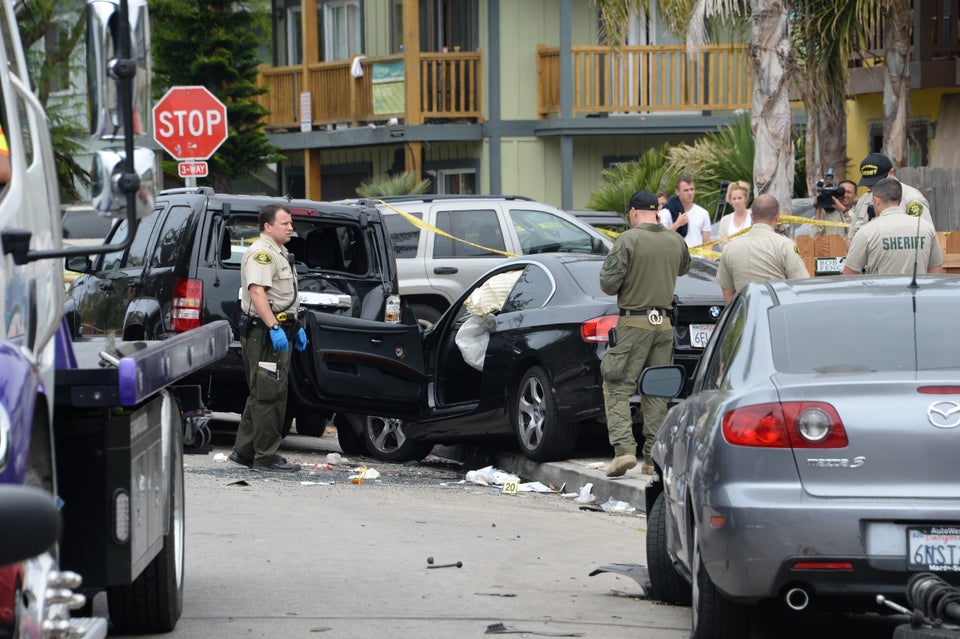 Santa Barbara Shooting
Popular in the Community