Is someone kidding around with beloved breakfast cereal mascot Tony the Tiger with a series of viral videos showing him helping a sex worker, a suicide bomber and a police officer who savagely beats a female suspect?
Or is a food terrorist trying to commit a cereal killing by making Tony look bad?
Kellogg Co. said it had nothing to do with what it called "offensive" videos posted this week showing its Frosted Flakes mascot behaving badly. Evidence uncovered by The Huffington Post suggests a well-known food activist, Jani Leinonen, may be involved.
The latest video shows a battered woman named Anna seated inside a California cafe.
"Last night I experienced the worst physical abuse of my life, for no reason," reads a description of the video at tonyisback.com. "I feel so humiliated, betrayed, my whole body is aching. I am angry but I have not found the courage to fight back. I was so lost, but Tony came and encouraged me to go ahead with my plan to show people."
Tony the Tiger, in the video, encourages Anna to go through with her "plan" by eating a bowl of sugary Frosted Flakes -- "They're grrrrreat," he says in his trademark shout.
After eating a bit of the cereal, Anna stands up and shows she has a bomb strapped to her chest, which detonates as the video ends.
Actress Gina Ferranti shared a video still shot from the film on Instagram, The Huffington Post's investigation shows. Ferranti lists the role on her acting resume, which identifies the director and production company responsible for "Tony."
Ferranti, through her agent, declined to comment. The "Tony" listing on her resume was removed Friday night, after this article was published.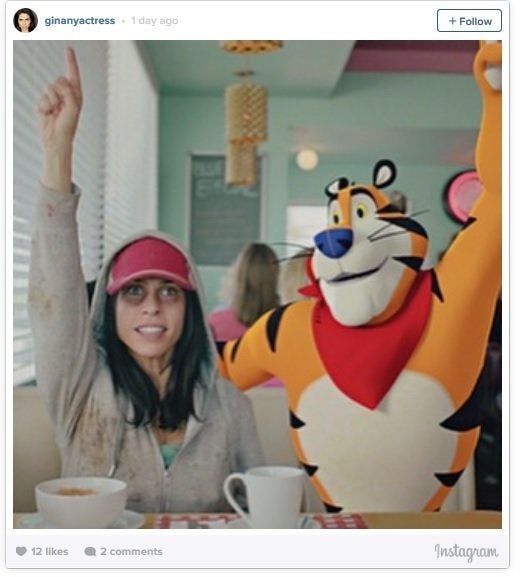 Ferranti's resume identified the "Tony" director as Jani Leinonen, an artist from Finland who has been linked to a group of health-food activists called the Food Liberation Army.

The organization was responsible for the Jan. 31, 2010, theft of a life-size Ronald McDonald statue from a McDonald's fast food restaurant in central Helsinki, according to NPR.org. The kidnappers threatened to decapitate Ronald unless McDonald's answered questions about the quality of its food and its work ethics. Finnish police identified Leinonen as a suspect and jailed him for 30 hours, according to a report on the art news website we-make-money-not-art.com.
Leinonen didn't respond to a request for comment from HuffPost on Friday.
In her resume, Ferranti identified the company that filmed "Tony" as Route 1, a Los Angeles-based firm that provides production services.
Route 1's website says the company has worked with a number of well-known corporations, including Kellogg. Route 1's show reel includes two commercials for Kellogg's Special K products. The website was taken down after this article was published.
Route 1 recently shared a photo on its Facebook page that shows its "amazing crew" with Jani Leinonen at the Malibu Pier.
"Thank you Tero, Jani, Anti, and Jani #2 for trusting us with your amazing project," the post reads.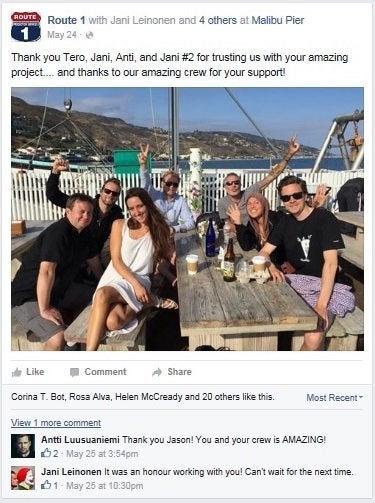 Route 1 says on Twitter it is a "sister company" of First Breath Films, which boasted of its "controversial" new films in a May 22 Facebook post: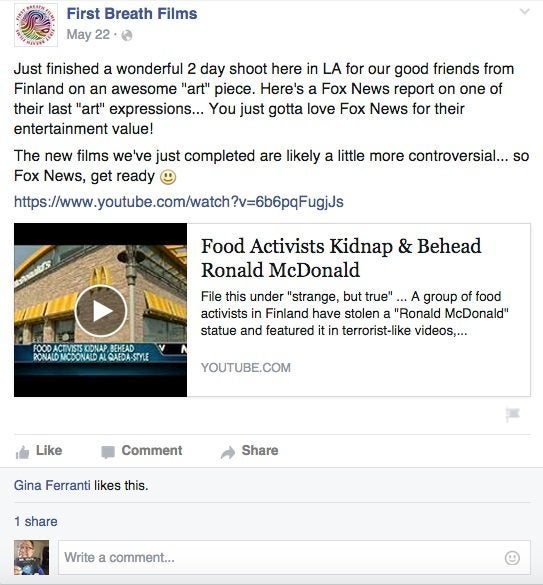 Route 1 responded to a HuffPost query on Facebook. An unnamed person wrote to say "my boss said to tell you" that Route 1 is a "service company" hired by artists and production companies and has "no say or input into the content in any way."
Jason Lehel of First Breath Films on Friday night said his company "has nothing to do with the Tony shoot."
A Kellogg spokesperson, who replied to questions without providing a name, said Friday that the company has no relationship with Leinonen, but didn't say whether it had worked with Route 1.
"As a company grounded in the values of integrity and respect, we recognize people's right to creative expression," the Kellogg spokesperson said in an email. "We also believe these videos are offensive and make light of serious issues that deserve real dialogue. Tony is a beloved icon and we will protect the integrity of our brands and our characters."
UPDATE: Oct. 13 -- HuffPost has obtained copies of Los Angeles film permits, which list Tantrum Productions and Route 1 as the production companies in the videos. Tantrum Productions did not respond to a request for comment from HuffPost.
This article was updated earlier to include comments from Route 1 and First Breath Films and to note that the listing for the "Tony" video on Ferranti's online resume and the Route 1 website both were taken down Friday night.