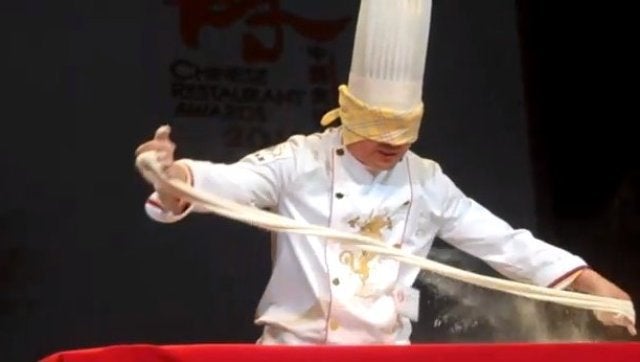 Ever gotten to see a champion noodle-puller in action? You're in luck, that's just what we have for you today. Inside Scoop SF reported that chef and television personality Martin Yan announced M.Y. China restaurant's new executive chef: Yong Dong Wu.
Wu's claim to fame? He pulled 16,000 noodles at the 2011 HSBC Chinese Restaurant Awards (Food Republic says that Coolio was the opening act??). The process of hand-pulling noodles is a Chinese tradition with a centuries-long history. The dough is repeatedly smacked, twisted and stretched into smaller and smaller strands until they are the right consistency. It can take years to master this technique. We'd say Wu has done it and then some.
Check out Tony Wu's amazing skills in the video below.