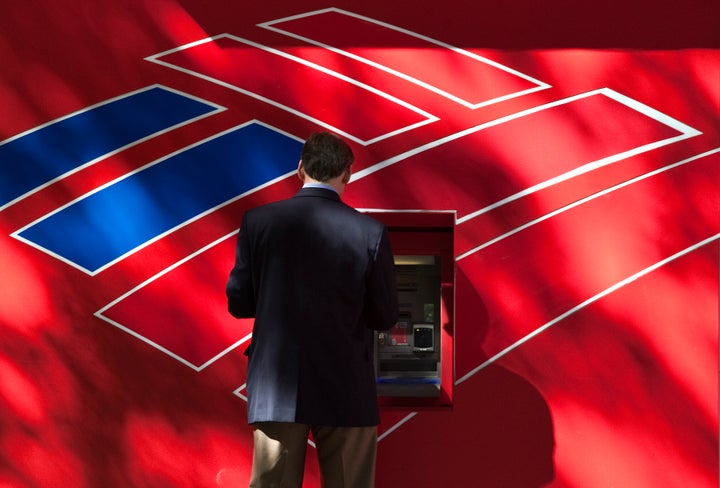 You may think that being a too-big-to-fail bank is just one long, consequence-free romp, but it does come at some cost: an enormous and growing legal tab that will probably swell beyond $100 billion, all told.
See, when you're an immense sea-creature of a bank, you naturally have your tendrils in a lot of different holes, which means you're ever more likely to get yourself into trouble by doing stuff like accidentally-on-purpose manipulating interest rates or lying to investors about the quality of putrid mortgage junk you sell them.
Of course, you're far too big to go to jail, so you don't ever have to worry about that. But that doesn't mean your victims won't come after you with the one thing they have at their disposal: lawyers.
Big banks around the world are probably looking at $100 billion in legal costs for all of the various lawsuits they're defending, covering misdeeds from the financial crisis to the Libor scandal, the Wall Street Journal guesstimates.
That may be too conservative.
The big six U.S. banks alone have already agreed to cough up $62.6 billion in settlements, according to research firm SNL Financial. Bank of America is the dubious leader of this group, having paid $41.6 billion in settlements all by its lonesome in just the past three years. Wells Fargo is a distant second, at $8.3 billion, and JPMorgan Chase is a close third at $7.8 billion. The rest of the Big Six include Citigroup, Goldman Sachs and Morgan Stanley.
The bulk of these lawsuits involved the banks selling crummy mortgages to investors, and there could be another $25 billion in legal costs on that front alone, the WSJ suggests, citing research by Compass Point Research & Trading. That gets you close to the WSJ's $100 billion in a hurry.
This doesn't even begin to cover the potential legal liabilities for manipulation of the short-term interest rate known as Libor. As the WSJ points out, Macquarie Research has estimated the total cost to banks could be $176 billion. The low-end estimate for potential Libor liability is almost nothing, about $8 billion. But when it comes to these sorts of things, it's usually best to err on the side of caution, particularly if you are a bank trying to set enough money aside to cover your bills.
And new scandals come to light just about every day in the banking sector, in what must feel like an endless nirvana for plaintiffs' lawyers. For example, if you don't have standing to sue banks over manipulating Libor -- and if you have ever borrowed money or traded derivatives, you may well have a shot -- maybe you'll have better luck with the unfolding gold-price manipulation scandal.
Of course, this does not begin to account for the non-stop hellfire of regulatory probes and settlements afflicting the banks, particularly the biggest ones. JPMorgan Chase, for example, is under investigation for its disastrous London Whale trades, Libor manipulation, electricity-market manipulation, poor money-laundering controls, mortgage foreclosure practices, and more. The New York Times reported a fresh regulatory headache on JPMorgan's list this morning: It's under investigation for maybe not giving authorities a timely heads-up about Ponzi-schemer Bernie Madoff.
All in all, being too big to fail, or prosecute, still seems like a pretty good deal.
Calling all HuffPost superfans!
Sign up for membership to become a founding member and help shape HuffPost's next chapter
BEFORE YOU GO
PHOTO GALLERY
Bankers Who Want To Break Up Big Banks