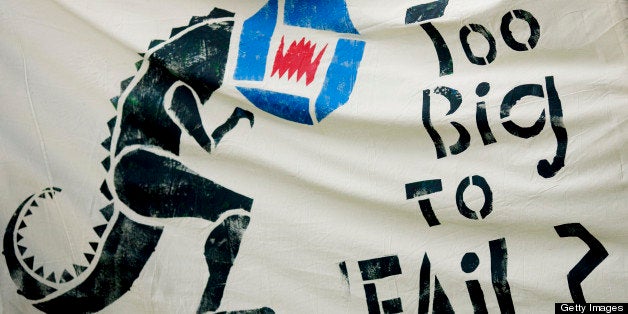 America's biggest banks want you to believe that they get no special advantage, no subsidies, from being too big to fail. And yet people keep finding evidence of those subsidies.
The latest is World Bank economist Deniz Anginer, in a study for Bloomberg Markets magazine. Anginer estimates that the six biggest U.S. banks have saved $82 billion in borrowing costs since 2009 because investors believe the government will never let them fail and thus don't charge as much to lend them money as they do smaller banks. The report will be published in the June issue of the magazine.
Together with dirt-cheap government borrowing programs, Bloomberg estimates these banks -- JPMorgan Chase, Bank of America, Citigroup, Wells Fargo, Goldman Sachs and Morgan Stanley -- have saved $102 billion since 2009 because of their size advantage.
This estimate is actually a little smaller than the $83 billion-per-year subsidy that Bloomberg View, Bloomberg's op-ed arm, touted earlier this year. In fact, several studies have come up with different numbers for the subsidy, evidence of just how tricky it is to measure.
Mortified, the big banks have joined forces and hired some political helpers, including Republican Tony Fratto and Democrat Stephanie Cutter, to push back against the momentum for breaking them up, the Wall Street Journal wrote earlier this week.
Hilariously, big bank officials briefly considered pushing smaller community banks -- which don't enjoy the subsidy that the big banks get and are thus at a competitive disadvantage -- to help them with the pushback, the WSJ reported. Wisely, they dropped the idea.
"This settles it -- any implied big bank subsidy is rapidly evaporating," he wrote.
Watching Fratto in action, Graham, Fisher & Co. bank analyst Joshua Rosner tweeted:
Calling all HuffPost superfans!
Sign up for membership to become a founding member and help shape HuffPost's next chapter
BEFORE YOU GO
PHOTO GALLERY
Bankers Who Want To Break Up Big Banks