The U.S. Department of Justice appears to have neither conducted nor received any analyses that would show whether criminal charges against large financial institutions would harm the economy, potentially undermining a key DOJ argument for why the world's biggest banks have escaped indictment.
Testimony by a top Justice official and fresh documents made public on Wednesday during a House financial services committee hearing revealed that financial regulators and the Treasury Department did not provide warnings to prosecutors weighing the economic consequences or fallout in the financial system of criminal indictments against large financial groups. DOJ also could find no records that would substantiate its previous claims that it weighed potentially negative economic or financial impacts when considering criminal charges, said Mythili Raman, acting assistant attorney general for the criminal division.
Wednesday's revelations are likely to increase criticism of the Obama administration, which has been accused of a lackluster enforcement record against big banks in the financial crisis and other matters.
It also may put further pressure on the Justice Department to strengthen future prosecutions. Recently, instead of filing criminal charges against large financial groups, federal prosecutors have begun to file criminal cases against subsidiaries. Observers including lawyers at Weil, Gotshal & Manges LLP, a top defense firm, have warned that Justice may expand its limited use of criminal indictments in part due to public pressure.
Leading Democratic and Republican lawmakers, including Sens. Sherrod Brown (D-Ohio), Jeff Merkley (D-Oregon), Elizabeth Warren (D-Mass.), Carl Levin (D-Mich.) and Rep. Patrick McHenry (R-N.C.), have pilloried the administration for its approach, which they allege has been focused on settlements at the expense of justice.
The lawmakers, and others, may be encouraged to apply even more public pressure on efforts to crack down on big banks. Past missteps by the Obama administration and by big banks have added momentum to efforts to forcibly break up large financial groups.
The hearing comes as DOJ, Treasury and financial regulators battle perceptions that they consider some large financial institutions are either too big or too important to the economy to fail. Congressional Republicans and some leading current and former regulators have claimed that the 2010 law overhauling financial regulation known as Dodd-Frank failed to end "too-big-to-fail." The Obama administration and most regulators insist that if the problem has not yet been solved, it soon will be.
Attorney General Eric Holder told Congress in March that some banks were "too large," impeding attempts to bring criminal prosecutions. Holder's comment is perhaps the most explicit public admission of concern by a senior Obama administration official regarding big banks.
Though Holder has since attempted to walk back those comments, at the time he said that the size of large financial institutions "has an inhibiting influence -- impact on our ability to bring resolutions that I think would be more appropriate." He further told lawmakers: "And I think that is something that we -- you all -- need to consider."
DOJ officials have previously defended the lack of criminal charges against banks suspected of wrongdoing in large part by pointing to the so-called "collateral consequences" associated with filing a criminal indictment against a leading financial institution.
Two examples occurred in December, when HSBC, the U.K. banking giant, settled allegations that it violated U.S. sanctions and facilitated the movement across the U.S. financial system of tainted money by Mexican drug cartels, and UBS, the Swiss bank, settled claims it manipulated world interest rates.
At the Justice Department's news conference to announce the HSBC settlement, Lanny Breuer, then-assistant attorney general for the criminal division, was asked why the agency did not pursue a criminal indictment.
"If you think that by doing a certain thing you risk either a charter being revoked, you think that counterparties in a massive financial institution may go away, you think that there is a risk that many, many innocent people will be harmed from a resolution," Breuer said, "and by another resolution you think you can mitigate the risk of innocent people suffering, the economy being affected, and you can hone in on those and the institutions and address the issues underlying. To the Department of Justice, that's a very real factor, and so it is a factor you consider."
Asked whether jobs were a factor in DOJ's decision, Breuer replied: "Collateral consequences were absolutely a factor."
Criminal charges in the financial services industry can be the equivalent of a corporate death sentence. The failure of Arthur Andersen, one of the five largest accounting firms in the U.S., was due to a criminal indictment related to accounting fraud at Enron.
During a separate news conference to announce the UBS settlement, Breuer said: "In the world today of large institutions where much of the financial world is based on confidence, one of the things we want to ensure as we come forward to a right resolution is to ensure that counterparties don't flee an institution, that jobs are not lost, that there is not some world economic event that is disproportionate to the resolution we want."
Holder then stepped in and quickly added: "The impact on the stability of the financial markets around the world is something we take into consideration. We reach out to experts outside of the Justice Department to talk about what are the consequences of actions that we might take, what would be the impact of those actions if we want to make particular prosecutive decisions or determinations with regards to a particular institution."
In letters to Congress from the Treasury Department, Federal Reserve and Office of the Comptroller of the Currency, made public by McHenry, top financial policymakers said they could find no records of such analyses that had been shared with DOJ.
In one letter, Tom Curry, OCC chief, said that Breuer had contacted him prior to the agency's settlement with HSBC, but all he did was explain to Breuer during a single phone call how the agency revoked banks' charters, or their legal license to operate.
In another, Ben Bernanke, Federal Reserve chairman, said that in the HSBC case, all that the Fed and DOJ discussed was how to "better coordinate information sharing".
"This meeting did not include discussion of the views of the Federal Reserve on collateral consequences of prosecuting any institution, either specifically or as a general matter," Bernanke added.
Alastair Fitzpayne, Treasury assistant secretary for legislative affairs, told Congress: "We have not identified any analyses prepared by the Department of the Treasury for the DOJ regarding the potential prosecution of large, complex financial institutions."
During a March hearing, David Cohen, Treasury undersecretary for terrorism and financial intelligence, said that DOJ had asked Treasury for "guidance" on the potential impact a criminal charge against HSBC could have on the financial system.
Cohen said Treasury told DOJ it was "not in a position to offer any meaningful guidance."
Treasury documents obtained through the Freedom of Information Act by Public Citizen, an advocacy group, appear to show that the agency made no attempt to conduct any such examination internally.
The letters, testimony and documents obtained by Public Citizen and shared with The Huffington Post, appear to undermine a separate May letter to McHenry from Peter Kadzik, Justice principal deputy assistant attorney general, in which he told McHenry that DOJ has "contacted relevant government agencies to discuss such issues."
"Those government agencies include domestic regulators, as well as foreign regulators where the financial institution is multi-national or is otherwise based," Kadzik wrote.
DOJ's Raman said Wednesday that the agency had not found any internal records concerning threats to the economy or the financial system when weighing criminal indictments against big banks in past cases. She also said the agency could not locate any such documents from U.S. or foreign regulators.
Breuer did not return a call seeking comment.
DOJ representatives declined to comment beyond Raman's testimony.
Before You Go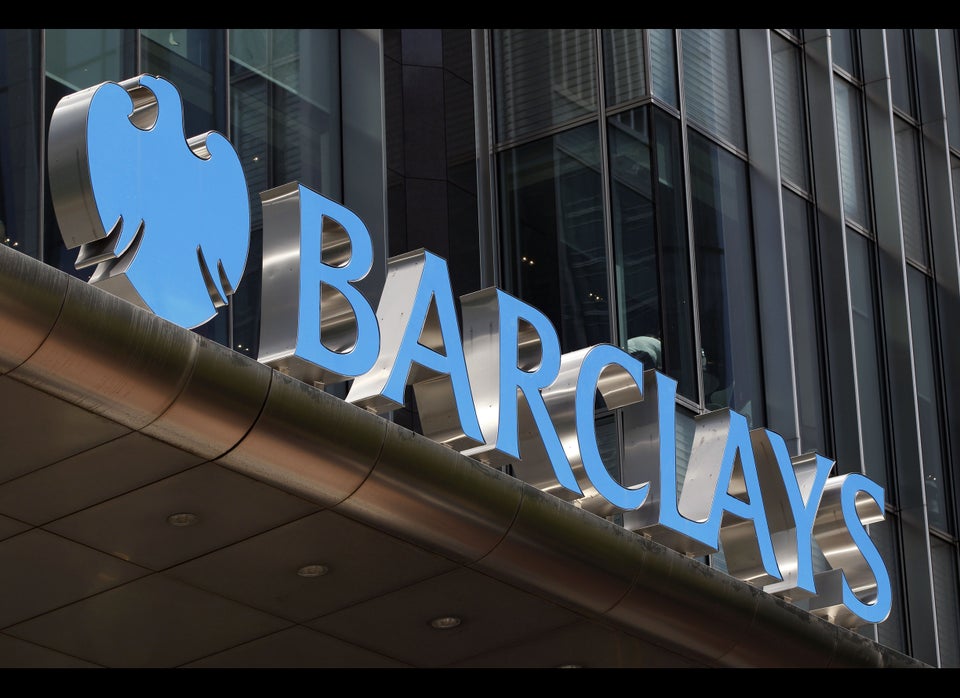 Bank Tied To Libor Scandal
Popular in the Community