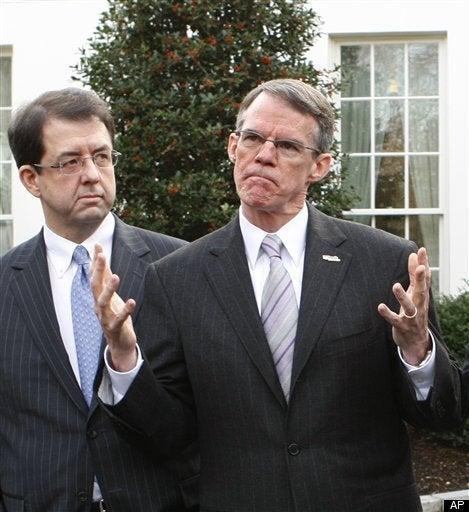 Megabank CEOs didn't have time for President Barack Obama when he gave a major speech on Wall Street in September, but they had no trouble making it to Capitol Hill this morning to plead their case to the 20-something staffers who can help them stop reform in its tracks.
Kicking off a two-day event designed to "help" legislative aides who will be writing the rules designed to rein in and reform Wall Street, the CEOs made it clear that they would be there "anytime" a young, confused congressional aide needed help understanding a complex topic.
"Call us, say we met in Washington," said Richard Davis, chairman, president and CEO of U.S. Bancorp. "We'd love to help."
The two-day "Financial Services University" is being organized by the Financial Services Roundtable, one of the industry's most powerful lobbying groups.
"You'll be involved in actually writing the legislation that will affect our futures," James Smith, chairman and CEO of Webster Bank, one of the country's 50 largest banks, said. Robert Kelly, CEO of Bank of New York, nodded his head in agreement.
The banks the CEOs head collectively hold about $500 billion in domestic assets. Many of the staffers in attendance were barely out of college, but will be in a position to draft the rules that will govern how these banks will make their money.
"We're actually good people. We're actually trying to do the right thing. We want to support regulatory reform -- the things that make sense," said U.S. Bancorp's Davis.
"I'm a big believer in fixing stuff at the root causes of the financial crisis," said Kelly. He reminded the staffers that one of the top reasons behind the collapse -- a liquidity crunch -- didn't require legislative action, so they didn't have to worry about that.
He didn't mention the factors that led to the liquidity crunch, including highly leveraged bets made possible by the dearth of smart regulation that then blew up and nearly took down the financial system. Banks, of course, fought for the right to make those bets and pushed back against regulation.
The bankers told the staffer they supported efforts to:
Reduce the number of regulators. Kelly said the U.S. has "zillions."
Create a systemic risk regulator, which would watch out for the system as a whole (this is currently lacking).
Give the government wind-down authority for large, systemically-important nonbanks, like an AIG or pre-collapse Lehman Brothers and Bear Stearns.
Maintain preemption, the principal that federal rules take precedence over tougher state and local rules. "We need uniform national standards," said Smith. Without them, he argued, there would be "costs and inefficiencies. We ask that you keep that in mind... When writing legislation, remember we're the people trying to help people achieve their financial goals."
The bankers spoke of how much recently-passed credit card and overdraft reform measures will hurt their companies. Davis said the measures will cost his firm $800 million a year -- something that will hurt his company's shareholders, who Kelly chimed in were simply "average Americans."
They both neglected to mention the fact that the $800 million in revenue they're losing is money that's taken out of the pockets of "average Americans" through what are largely considered to be unfair and predatory fees.
Many top bankers have gone to the White House when summoned; Davis and Kelly specifically met with Obama there just this past December. But their mass non-attendance at Obama's September Wall Street speech, in which the president outlined what he expected from the financial community, was widely seen as a sign of disrespect.