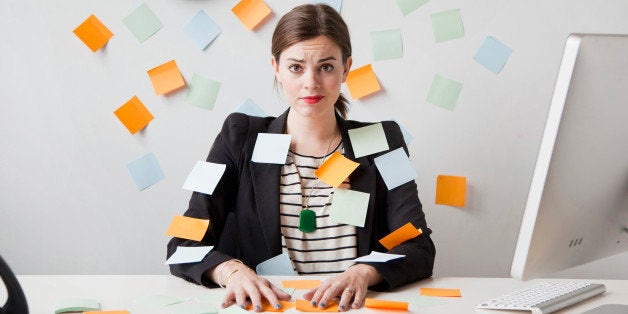 Ping, ping, ping. The sound of incoming text messages punctuates my flying fingers as I Google-chat my co-worker while maneuvering my iPhone to respond to the incoming texts.
The messages are from our three kids. I balance my iPhone over my laptop and quickly type responses in and out of text bubbles while taking care not to message the wrong person.
I enjoy my multi-tasking parenting role, but the irony of my situation doesn't escape me. My texts deliver advice about how our teenagers can better balance their academic and extracurricular activities while I simultaneously keep an eye on my inbox so I don't miss a beat at work. It's the end of the first day of school, and the relaxed pace of summer days has instantly switched to busy.
I was intrigued by a story on Rewire Me that suggests it's not so much being busy that matters as it is how we describe it and think about it and subsequently tell others about it. Our words and thoughts matter -- perhaps more than how much we're doing.
That's not to say we should fill our proverbial plates so full that we go from busy to buried. To me, balance is achieved by looking at our daily tasks from a spiritual perspective. It involves first checking our motives and then reminding ourselves why being active and involved is contributing to our own and others' well-being.
I typically look to Scripture for inspiration on balancing my schedule. Jesus seemed overwhelmingly busy sometimes. So much so that he'd retreat to the mountain to escape the multitudes for peace and quiet. Yet the work he did has impacted humanity for thousands of years. I'm frankly glad he didn't let up on his schedule!
At one point he escaped the crowds and went up a mountainside where his disciples followed him. He ended up giving them one of his most famous lessons, known today as The Sermon on the Mount. From that came a precise road map for leading a fulfilling and peaceful life.
Jesus taught that even if your faith is really tiny -- like a mustard seed -- and your problem is mountain-sized, what feels like a minuscule amount of faith can move it. I love that faith doesn't have a material weight. Instead, its impact is far superior to the tasks we face. When balancing my work/life scale I often think about how vital it is to grow that seed, to nurture my spirituality so that it moves the seemingly mountainous problems. Spiritual growth will never weigh you down.
Arianna Huffington, whose bestselling book Thrive offers tips on living a balanced life, says today's work world is somewhere between the dark ages and the renaissance. We're somewhere between old modes of working and new breakthroughs. You don't have to do everything, she reminds her readers, recommending that altering just one thing in our lives at a time can help tip the balance towards normalcy.
Huffington points out that study after study shows meditation and mindfulness training profoundly affect every aspect of our lives -- our bodies, our minds, our physical health and our emotional and spiritual well-being.
My spiritual work as a Christian Science practitioner has given me a new view of mindfulness -- one that puts the one divine Mind at the center of my prayerful meditation. In that quiet, thoughtful space I seek divine wisdom to efficiently and effectively solve my problems and balance my affairs.
It's tempting to think I don't have time for things related to my spiritual growth, and yet I've come to see how I can resist those thoughts to choose what's best for me.
Recently, I blocked out a weekday evening, which meant getting carpools for the kids and planning carefully for dinner and homework, so I could devote more time to prayer. It's making all the difference, and I'm defending this commitment just like the time I calendar for daily walks.
So yes, I'm busy, but focused on being busy in a balanced kind of way.
Related