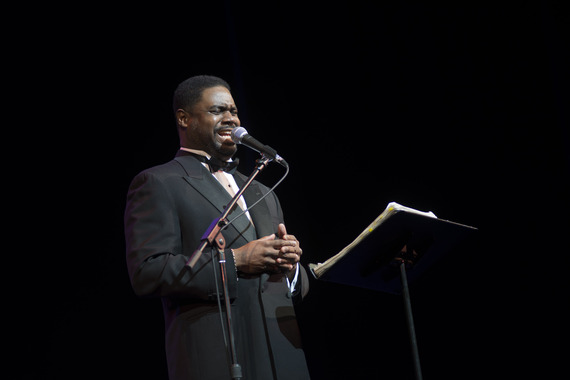 By: Pat Johnson
Grannies on Safari
Most classical music lovers are familiar with George Frederic Handel's Messiah. I include myself among them. There has been a multi-year performance of this iconic classic at the Auditorium Theater attracting fans from across the Midwest in January to also celebrate the Martin Luther King, Jr. Holiday.
I found uniqueness in this January celebration because the Messiah that I recently attended was a sublime musical mixture of Jazz, Blues, Gospel, Swing, Classical and Scat, titled Too Hot To Handle. This contemporary arrangement was the brainchild in 1992 of three men, Martin Alsop, who conceived the idea, and Bob Christianson and Gary Anderson who arranged it. They have weaved together the musical ethos of Europe and the U.S.A. that honors 'the 'king of kings.'
As I entered the Auditorium I could feel excitement in the buzz around me. My seatmates commented that this was their eighth Too Hot To Handle. Another person added that he has chosen seats in different sections of the theater over the years to hear the "sparkling" resonances of orchestra, chorus, and soloists throughout the theater. A senior woman, sitting near me, commented that she came every year 'to be inspired.'
As I looked at my program I read that my favorite Tenor in the whole world, Rodrick Dixon, would return as one of the soloists. I was thrilled. I was introduced to him a decade ago when he was one of the Three Mo' Tenors. The two other soloists, Karen Marie Richardson and Alfreda Burke, were accomplished and enthusiastically received by a full house audience.
Part of the excitement of my first To Hot To Handle experience was the participatory element: the engagement between audience and performers. Martin Alsop has said, "It's a great story (The Messiah), but I also think that it requires some kind of audience participation. It becomes an active listening experience when you are allowed to stand up or clap your hands." And stand up and clap we all did, throughout this two-hour oratorio feast of music that ended with the rousing Hallelujah Chorus.
The 100 voice choir, 50 member symphony orchestra, and three soloists of Too Hot To Handle worked together seamlessly and elegantly to present a memorable performance as well as tribute to Martin Luther King, Jr. Charlie Gardner, Board of Trustees Chairman, summarizes the intent and motivation behind this stellar yearly event:
"Too Hot To Handle has become a King Holiday for many Chicago families and centers on Dr. King's global vision of a 'beloved community' that embraces the philosophy of change through non-violence. In a time when violence continues to plaque our great city, we are proud to present a celebration that promotes a positive and unified community through music".
It was a memorable music evening. If I find myself in Chicago early January next year I will be seated at Too Hot To Handle too.
PHOTO GALLERY
Too Hot to Handle Chicago Auditorium Theater
Calling all HuffPost superfans!
Sign up for membership to become a founding member and help shape HuffPost's next chapter