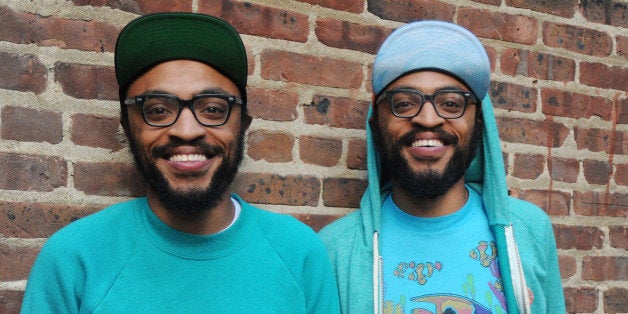 HuffPost Comedy Editors spend all day looking at funny things on the Internet. Now, they have a podcast. This is, "Too Long; Didn't Listen."
We also try out a new segment called, "Would You Rather?" in which we choose ridiculous questions out of a book I bought in college to see how well the guys know each other. Let's just say, some of the questions are easier to answer than others.
Listen to Episode 5 (below) and look out for The Lucas Bros. on "Friends of the People," starting Tuesday, Oct. 28, at 10:30 p.m. ET on TruTV, and on Friday, Oct. 31, when they appear on "The Tonight Show Starring Jimmy Fallon."
Intro:

I introduce the guys and we realize it's going to be pretty much impossible for you to tell Keith and Kenny's voices apart.

01:28 - Everyone Just Calm Down

Have you noticed that Christmas is starting earlier and earlier each year? We sure have. We're also fed up with all this rampant "pumpkin spice" hysteria and the fact that there's barely any pumpkin in pumpkin pie. Basically, this entire season needs to calm down.

05:59 - So, What's Your Deal?

I get to know the Lucas Bros. by asking about their SEO problem when Googling "Lucas Bros. Moving Co.," and their previous jobs together: working for the cable company and doing nothing on the tax payers' dime at a VA Hospital. We also find out if twin ESP is a thing (spoiler alert: it's not), why the guys dropped out of law school when they were 90 percent finished, and the one thing they always argue about (hint: it's not pepperoni pizza). Oh, and that one time a man in a thong totally stole their thunder.

18:22 - Would You Rather?

We play a round of "Would You Rather?" to see how well the guys know each other. For instance, would you rather get rid of all the world's lawyers or cigarettes? Would you rather be a starving artist or a wealthy but corrupt politician? You know, all of life's most important questions.

27:14 - Make It Stop

Finally, we vent our frustrations. Why do people always ask you if they can ask you a question, or ask for a favor? We discuss putting an end to vapid small talk before analyzing the disturbing phenomenon that is an "artisinal mayonnaise" store in Brooklyn. Please, someone make that stop.

Calling all HuffPost superfans!
Sign up for membership to become a founding member and help shape HuffPost's next chapter
BEFORE YOU GO
PHOTO GALLERY
Comedians We Love