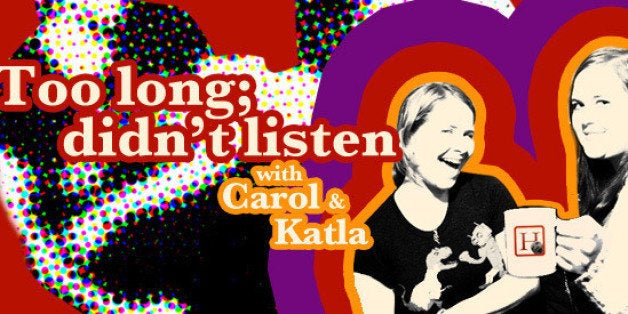 HuffPost Comedy Editors Carol Hartsell and Katla McGlynn spend all day looking at funny things on the Internet. Now, they have a podcast. This is "Too Long; Didn't Listen."
They say that the third time's the charm, which might explain why the third episode of our podcast was so charming! Comedians Kevin Barnett and Josh Rabinowitz of upcoming TruTV sketch comedy show, "Friends Of The People," dropped by to talk about some of the week's most eyebrow-raising stories, including a tri-breasted woman, an epic on-air quitting and the realization that the Miss America pageant might just be the worst thing ever.
Listen to the third installment of TL;DL (below) and catch up with Episode 1 and Episode 2 while you're at it.
Intro

Kevin and Josh say their names into a microphone so you know whose voice is whose!

00:40 - Everyone Just Calm Down

We discuss the three-breasted woman hoax that took the Internet by storm this week and actually find a way to describe it as, "A story of triumph." Seven minutes later, we dive into the news that noted tall person Vince Vaughn and noted phone booth user Colin Farrell have been cast in "True Detective" season 2, despite the fact that Kevin has never seen the show. We also break the news to the Twitter community that they are not television producers. Sorry, guys.

11:40 - So, What's Your Deal?

Kevin and Josh tell us how "Friends Of The People" came together and how each of the seven cast members operate as actors, writers and executive producers on the show. We also talk about the authenticity that comes with a New York-based comedy series and Kevin and Josh reflect on where they thought they'd be now when they started their comedy careers just five years ago.

24:04 - Hey, You Know Who's Great?

This week's hero is none other than former Alaskan local news anchor Charlo Greene, who quit her job to focus on marijuana legalization in the most badass way possible: by saying "F*ck it, I quit" live on air. Why do we love seeing people dramatically quit their jobs? To quote Kevin, "That's the dream."

26:30 - Make It Stop

After watching John Oliver's incredible segment on the Miss America pageant, we thought we wanted it to go away completely. But then we remembered all the beautiful young women out there whose only dream is to wear a bikini with heels and dabble in ventriloquism. WHAT ABOUT THEIR DREAMS?

Calling all HuffPost superfans!
Sign up for membership to become a founding member and help shape HuffPost's next chapter
BEFORE YOU GO
PHOTO GALLERY
16 Best People Ever On The News